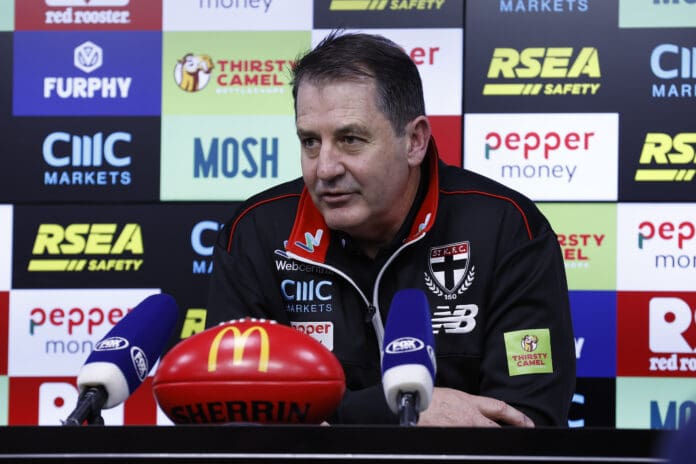 St Kilda coach Ross Lyon has stated he will 'sharply' review his side's disappointing fade-out after the Saints gave up a 22-point half-time lead to fall to the Blues by 19 points on Sunday afternoon at Marvel Stadium.
The Saints, who succumbed to Carlton's dominant seven-goal-to-one second half, have dropped three of their last five contests and sit nervously in seventh position on the ladder, with a number of hungry clubs bearing down from outside the eight.
Addressing the media post-game on Sunday evening, Lyon, visibly disappointed, lamented where it all went wrong for his side.
"It was very disappointing," Lyon began. "To half-time we were pretty solid, the game was panning out how we thought, and to be truthful the game panned out in the second half how we thought it could if we didn't control those areas.
"They just dominated, and it just lived in our back half. Our backs were a bit exhausted, and our midfield, it's been pretty good all year, [they] just couldn't touch it, they didn't lay a glove on it.
"We were just trying to get traction but at the end of the day, you've got to win the ball. It was very difficult but that's the game they've (Carlton) been playing, so that's the challenge for everyone that plays them, but there's a lot of good teams out there that can handle that."
Entering Round 22 just a half-game inside the top-eight, Lyon addressed the query of how his Saints move forward from here.
"It's a conundrum, it's a juxtaposition, isn't it?" started Lyon. "We've identified it, we'll review it, and there's no recrimination. Sometimes you just get beaten, it's hard to swallow because [we] didn't exactly see it coming.
"We're going to review sharply, take some learnings. It's not always about the ladder, it's just about improving your footy and feeling good about yourself, so we all just feel a bit low at the minute. We all had our chest out at half-time feeling good and we didn't get it done. There's no secret recipe."
Vital key forward Max King was one of Lyon's inclusions last Thursday ahead of Sunday's game, returning from a shoulder injury suffered in early July.
Initially predicted to miss the remainder of the season, King's recovery went exceedingly according to plan, with Lyon dubbing his Round 21 return as 'courageous' as he managed two goals from nine possessions against the Blues.
"Yeah, I haven't spoken to him (yet), it was a pretty courageous effort (to be able to return so early)," Lyon stated. "He'll be better for the run, [he'll] probably have a bit more confidence in his body, he was involved in some big contests. He was fine."
Ross advised the Saints 'came out healthy' from Sunday's defeat, confirming there were no injuries of note sustained against the Blues ahead of an all-important bout with Richmond next Sunday afternoon, back at Marvel Stadium.