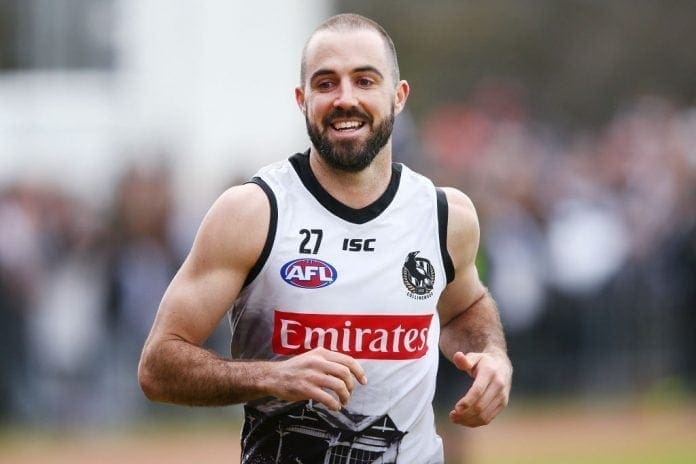 Collingwood vice-captain Steele Sidebottom could be handed a four-week suspension by the AFL for breaching multiple COVID protocols, reports AFL Media.
The report states that Collingwood and the AFL have discussed the potential sanctions on Tuesday, with Lynden Dunn, who also breached protocols, likely to be handed a one-match ban.

Sidebottom's potential heftier suspension is reportedly due to the AFL arguing that players should be better educated now by the possible repercussion of such actions.
The suspension will be announced on Wednesday, with Collingwood believing a two-match ban penalty for Sidebottom would be fairer.
"Police officers located a 29-year-old man in Hanmer Street, Williamstown, on Sunday morning, 28 June, just before 7.30am," Victoria Police told AFL.com.au.
"He was not charged with any offence and after speaking to police was conveyed home."
The pair were reportedly drinking at injured teammate Jeremy Howe's house on Saturday night.
It is believed that Sidebottom and Dunn then caught an Uber to Dunn's house, while Sidebottom kicked on at former Magpie and part-time employee Daniel Wells' house.
Seven News reports that Sidebottom was found on a street in Williamstown on Sunday morning and was driven home, not charged with any offence.
Sidebottom and Dunn and not permitted back at the club until they have passed COVID tests.