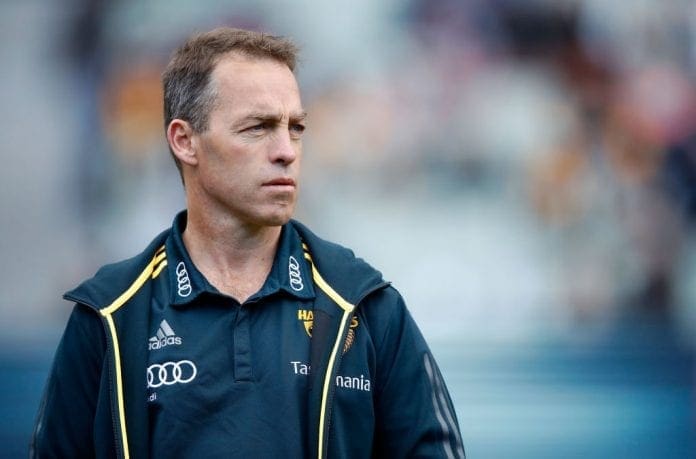 The shocking news of Alastair Clarkson's premature exit from Hawthorn has rocked the AFL world, with the four-time premiership coach now set to depart at season's end at the very latest.
Following the breaking report by The Age's renowned journalism duo Caroline Wilson and Sam McClure, fans and members of the media were placed into a state of disbelief.
Many were quick to their response on social media or the radio waves, with Hawthorn fans in-particular looking to express their lament in the decision.
Speaking on SEN, host Gerard Whateley was one of many to criticise the club for their decision to part ties with their champion coach.
"It's an unmitigated disaster," Whateley said.
"Jeff Kennett believes he is cleverer than every other person in the room and he fancies himself as the master politician – he has failed Hawthorn on absolutely every front as he has tried to manoeuvre this.
"It's very difficult to understand on what authority he would continue to hold the presidency at Hawthorn.
"He (Kennett) is entirely culpable for it."
Twitter soon exploded following the news, with an outbreak balanced by shock and reproval.
Is that the right way Clarko leaves the Hawks? Very poorly handled. A legend shouldn't go like that. What a terrific person and coach. #oneofthegreatest

— dustinfletcher31 (@dustinfletch31) July 30, 2021
News of Alastair Clarkson's demise as coach was being passed around out very early this morning. @HawthornFC is leaking like a sieve.
The issue has been handled terribly.
Very un-Hawthorn like.

— Stephen Quartermain (@Quartermain10) July 30, 2021
This is not the way a legend of the Hawthorn football club should be treated. It makes me so sad that it has come to this. Clarko deserved a better ending.

— Nat Edwards (@Nat_Edwards) July 30, 2021
One response on SEN was perhaps NSFW for listeners, but might have accurately expressed how many fans are feeling.
This caller pretty happy with clarko not being there 🤣 pic.twitter.com/Ay5bdhBLIC

— Mattboy Slim (@freshtildeathau) July 30, 2021
The news also drew attention to Wilson's hard stance on the ongoing reports of a rift at Waverley in the weeks after the announcement of a coaching handover between Clarkson and Sam Mitchell.
Many jumped to laud Wilson's stance after being heavily criticised for doubling down on her initial report.
A few people owe Caro an apology @FootyonNine

— Kane Cornes (@kanecornes) July 30, 2021
Caro has not got a footy story wrong this year, She picked the EXACT time bucks would leave, She's backed herself in over Clarko and copped flack for it, She's the GOAT

— Mellyroos 💚💛 (@melly300313) July 30, 2021
Did someone say… KFC?

Incredible. Footy never sleeps. Well done Caro, held the line! #clarko.

— Ryan Daniels (@FootyRhino) July 30, 2021
Caro doesn't get 1% of the credit she deserves and cops about 1,000% more hate than she deserves

— Daniel Jack Paproth (@pappy90) July 30, 2021
Not the biggest fan of Caro but credit where credit is due, her tenacity to stick to her guns is so admirable

— Josh Barnstable (@JBarney1994) July 30, 2021