With Essendon fans set to embark on an 18th season since their last finals win, they could be forgiven for reaching far and wide for an example of what lies ahead, or, perhaps,  a cautionary tale of what they must avoid.
2023 could effectively be called the ground floor for the Bombers after bringing in Brad Scott to replace Ben Rutten before hitting the draft heavily for a second straight year. 
As those who don red and black every weekend prepare for another campaign requiring patience, there's a tale that is taking place 10,533 miles away. One of another big club being forced to reckon with a changing identity.

On Sir Matt Busby way, the largest club in the English Premier League, and arguably the world, acts as a warning sign of what lies ahead when conservatism is preferred within an ever-changing landscape.
Manchester United are in year one of yet another rebuild, with the Carrington-based club yet again embarking on a new journey in pursuit of their former glories. United is the Premier League's most successful team, having claimed 13 league titles and crowned top-flight champions of England on 20 occasions. 
The last of those league titles came in the 2012-13 season, the final campaign under legendary manager Sir Alex Ferguson. Since then, the cobwebs have crept in. United's last silverware came in 2017 when they won the League Cup and the Europa League. 
That's now a five-year drought edging towards six. 
While Essendon is only able to vie for one trophy each season, they haven't hoisted any silverware since 2000 and it's well documented they haven't won a final since 2004, with Kevin Sheedy overseeing both those feats.
Essendon - whose similarities with the Red Devils go well beyond the mutual love of red and black - are the AFL's joint most successful team with 16 premierships to their name. 
Throughout United's struggles over the best part of the last decade, they have routinely turned to favourite sons of the past to sprinkle the magic dust of success over the current incarnation. This has been done with little to no results. 
It's not a path too dissimilar to the one the Bombers have walked since 2004. 
In their struggles and pursuit of what has been, Manchester United have regularly turned to key figures in those successes in an effort to raise the bar. After Ferguson retired, his replacement David Moyes, was sacked in his first season and replaced by Ryan Giggs, who was still an active player at the time.
Giggs' interim run came and went quickly, but upon the sacking of Jose Mourinho during the 2018-19 season, United turned to 1999 Champions League hero Ole Gunnar Solskjær, with the Norwegian hailed as the next cab off the rank. 
Though the architect of one of the greatest nights in Manchester United history, the Solskjær experiment came and went by 2021 and it was back to the drawing board. Upon the failure of Matthew Knights' bid to replace Sheedy, Essendon turned to their most recent premiership captain in James Hird. 
The long-sleeve advocate took the reins from 2011 through to 2013. He was then suspended in 2014 after the Bombers' infamous drug saga; returning in 2015 before facing the axe prior to the end of the year.
Hird hadn't undertaken a standard apprenticeship as an assistant coach before he was given the top job at Tullamarine. It was a decision almost certainly based on what had been achieved 12 years prior.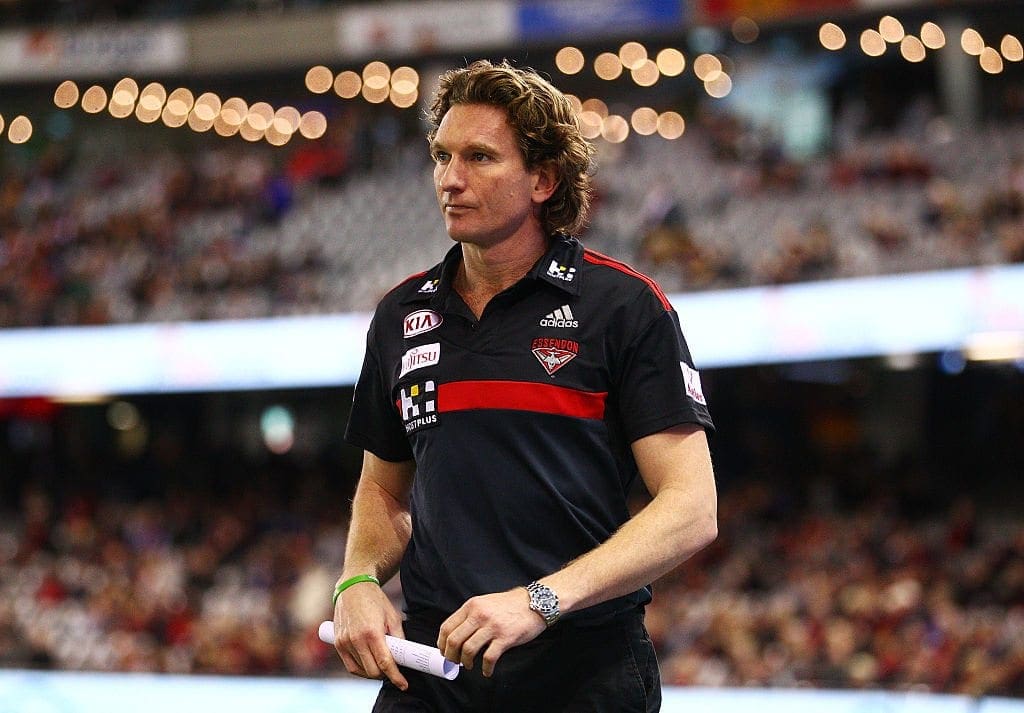 The tenure of the Essendon great came to an end in a seemingly inevitable manner, given the Bombers' carefree choice to walk down the yellow brick road. Like it did for Solskjær at United, the good vibes and fun times ran dry much too quickly. 
In hindsight, it hardly comes as a shock that Hird wasn't the man to take Essendon to the top of the mountain, crowning them as the game's most successful club. You need only look at the current AFL coaching landscape to note the level of apprenticeship required to secure a hotly contested senior coaching role.
While Hird came and went, there's a perhaps overriding shadow still hanging over the Hangar. One that seems to cause more harm than good.

Kevin Sheedy is Essendon's greatest-ever coach and is in the discussion for the best coach in the game's history. The back-pocket plumber coached 634 games between 1981 and 2007, winning 386 of those contests. After his departure from Windy Hill, Sheedy flew north to the Giants before making his heralded return to the Bombers in 2015 as General Manager, Commercial Development and Innovation. 
Then, in 2020, Sheedy made the move to the club's board of directors. 
While not always leant on as much as Sheedy, Ferguson's aura still occupies acres of real estate at Manchester United. Undoubtedly United's, and the English Premier League's, greatest manager, the Scotsman retired at the end of the 2012/13 season after 27 years in the corner office at Carrington.
Ferguson played a major role in appointing his replacement; a replacement that failed to see out an entire season and one he oversaw from his behind-the-scenes role as club director and ambassador.
'Fergie' has very much embraced his retirement, and has failed to involve himself heavily in United's array of poor decisions made across the past decade. However, with a seat at every game at Old Trafford, and many away day appearances, Ferguson's shadow has loomed over those following in his footsteps. 
At Essendon, the looming shadow of the club's biggest figure has caused his own qualms in recent times, with Sheedy using his position on the board to petition for the return of Hird once Rutten's desk had been cleared.
Upon the appointment of Scott as coach ahead of the club's best and fairest evening, Sheedy admitted he had cast his vote for Hird. While entitled to do so, publicly stating one's position against the incoming senior coach won't be seen as helping anyone at Tullamarine.
"I am extremely disappointed that the comment from my club was that it was fully endorsed, when in fact I voted for James Hird to be the coach of Essendon,'' Sheedy told the Herald Sun following Scott's appointment.
"Now, I would've expected that to have been written and that in the end the board actually won that vote.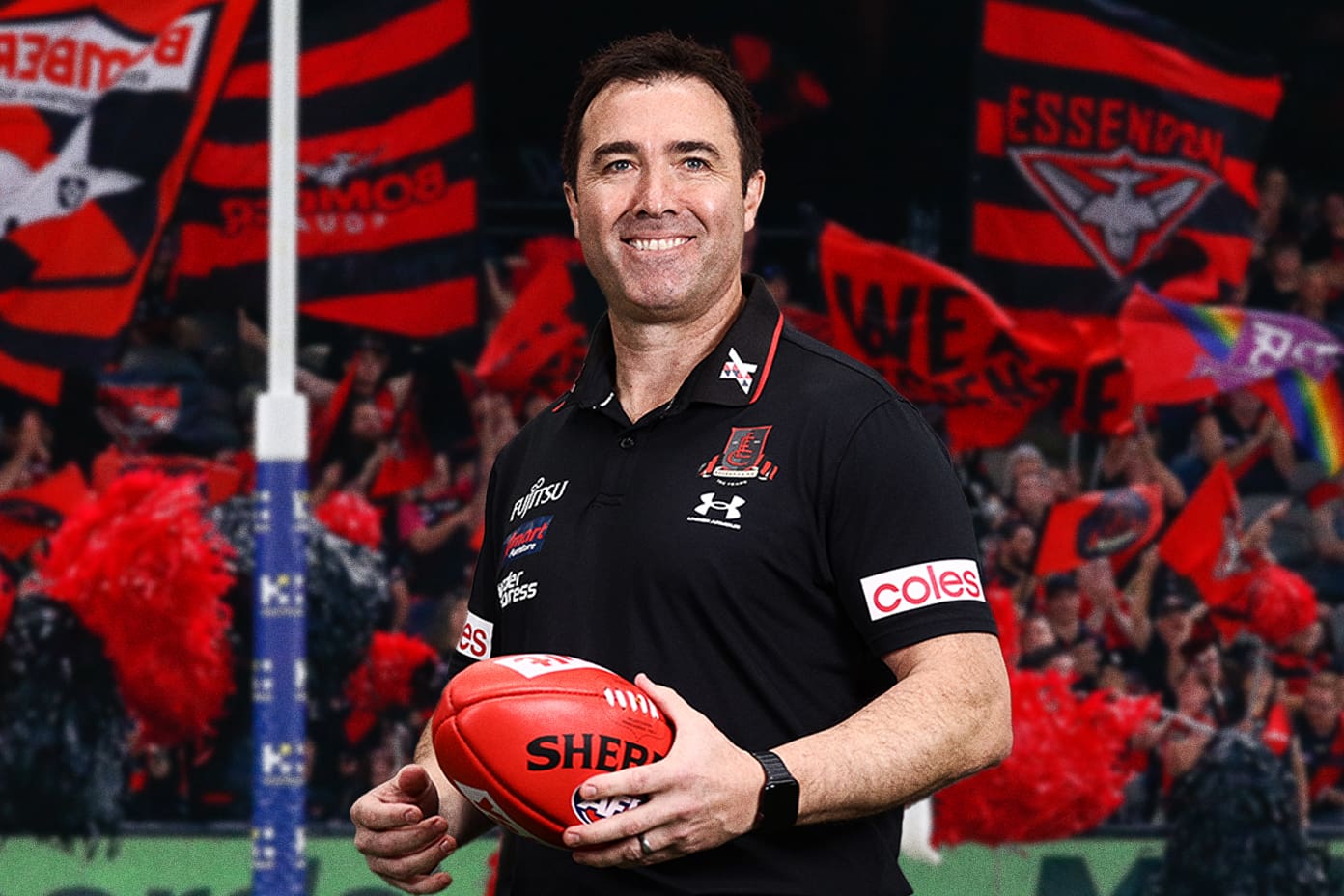 "But I want to make sure all the fans know that I voted for James Hird and I'm extremely disappointed with the report that went out from the Essendon media department.
"I'm not happy. 
"Don't tell the Essendon fan base an untruth.
"This is what happens when you bring new people into the club.
"I actually felt insulted that Hird would think I voted against him after what he's done for our club.''
Given Sheedy's pull and reverence among Bombers' fans, his willingness to voice his position may act as fuel for the already rippling flames. 
Scott may or may not be the correct appointment. He may not be the up-and-coming coach fresh out of the assistant coach's seat, but he isn't an Essendon person or wasn't before his appointment. His experience in a multitude of environments can only serve the club well during his time in charge. 
Having come from a relatively successful coaching tenure at North Melbourne before working as the AFL's General Manager of Football, Scott has worked within other environments, gaining the experience required to identify issues inside Essendon's locker room and psyche.
With more than two decades elapsing since their last crowning glory, Essendon must leave no stone unturned in their bid to move with the times and catch up to the modern AFL environment. It is time to truly embrace those from outside the four walls and follow what has been successful in the last decade or sooner, as opposed to what last saw the Bombers fly up.

Yet, if this warning remains unheeded, the tale of how even the mightiest will fall can be found on club football's brightest stage. A tale that has proven precise so far.