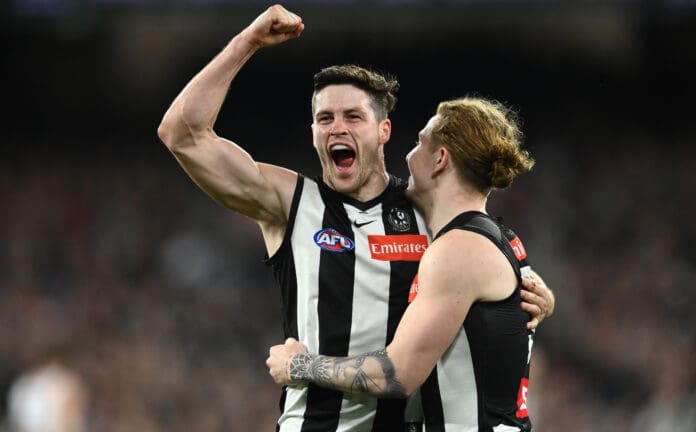 As we reach the last Saturday of September, we decided to throw in our predictions for this year's grand final. The Pies and Lions have a very memorable finals history, most notably the 2002 and 2003 deciders which were both won by Brisbane.
In 2023, both sides have serious firepower that will be on full display for all to see. Defensively, the Pies general and skipper Darcy Moore will be sure to lead from the front whilst opposing key defender Harris Andrews will look to do the same.
The midfield battle is where the game will be won. Jordan De Goey put on a clearance masterclass in the Pies' preliminary final win over the Giants. The Lions will most likely look to nullify his influence with Josh Dunkley after the former Bulldog did the job on Patrick Cripps last week.
Up forward, the Lions' twin towers of Joe Daniher and Eric Hipwood will have a huge say in who comes out on top. The former has found fantastic form in this finals series and is no slouch for performing in big games at the MCG. With the Pies losing Dan McStay to injury, Craig McRae has put his faith in new recruit Billy Frampton to take his place.
With all this taken into account, we've listed our predictions for the grand final, including the winner, margin, Norm Smith Medal, first goalkicker and some potential headlines for Sunday's papers.
A trio of Magpies earned the most votes for the Norm Smith Medal among our 10 sets of predictions, while nobody could agree on who will kick the first goal as Collingwood enter the grand final as the big favourites in the eyes of our team.
Mitch Keating:
Winner: Collingwood
Margin: 11 points
Norm Smith: Darcy Moore
First Goal: Lincoln McCarthy
Sunday Headline: Miraculous Moore leads Magpies to sweet 16
Jack Jovanovski
Winner: Brisbane
Margin: 6 points
Norm Smith: Lachie Neale
First Goal: Jack Ginnivan
Sunday Headline: Lion Kings down Fly's Pies in extra-time cliff-hanger
Frank Seal
Winner: Collingwood
Margin: 11 points
Norm Smith: Jack Crisp
First Goal: Bily Frampton
Annie Ireland: 
Winner: Collingwood
Margin: 9 points
Norm Smith: Steele Sidebottom
First Goal: Jordan De Goey
Sunday Headline: Pendles and Sidebottom wind back the clock in grand final number five
Nick Splitter: 
Winner: Collingwood
Margin: 26 points
Norm Smith: Jordan De Goey
First Goal: Brody Mihocek
Sunday Headline: Pies fly into the history books with #16
Ed Carmine: 
Winner: Collingwood
Margin: 9 points
Norm Smith: Steele Sidebottom
First Goal: Will Hoskin-Elliott
Sunday Headline: Side by side, Fly's Pies tame Lions
Phoenix Trinidad:
Winner: Collingwood
Margin: 19 points
Norm Smith: Jordan De Goey
First Goal: Charlie Cameron
Josh De Sa: 
Winner: Collingwood
Margin: 17 points
Norm Smith: Nick Daicos
First Goal: Zac Bailey
Sunday Headline: Daicos dazzles as Pies avenge '02 and '03
Charlie Cosgrove:
Winner: Collingwood
Margin: 18 points
Norm Smith: Jack Crisp
First Goal: Jamie Elliott
Sunday Headline: Fly's Pies reign supreme
Lachie Fagan
Winner: Brisbane
Margin: 6
Norm Smith: Josh Dunkley
First Goal: Bobby Hill
Sunday Headline: Lions conquer the football jungle
Prediction totals:
Winner: Collingwood 8, Brisbane 2
Norm Smith: Jack Crisp 2, Jordan De Goey 2, Steele Sidebottom 2, Nick Daicos, Darcy Moore, Josh Dunkley, Lachie Neale
First Goal: Bobby Hill, Jamie Elliott, Zac Bailey, Lincoln McCarthy, Charlie Cameron, Will Hoskin-Elliott, Brody Mihocek, Jordan De Goey, Billy Frampton, Jack Ginnivan