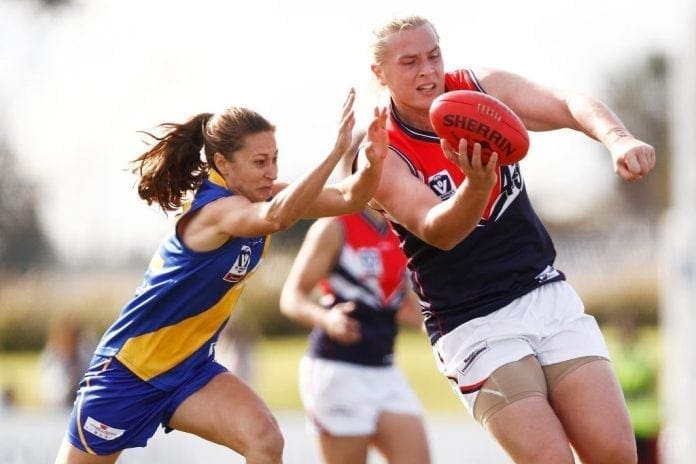 Transgender footballer Hannah Mouncey is prepared to take legal action against the AFL to play first-grade football in Canberra.
Mouncey confirmed on Twitter last night that she will begin legal proceedings against the league and its Gender Diversity Policy unless she is granted the opportunity to play top-level football in Canberra.
The recent publishing restrictions on Facebook doesn't mean we can't deliver you all the latest news, rumours and results in the AFL. As avid footy fans, we will continue to bring you all the latest news for free, available via Zero Hanger, Zero Sports, Twitter and Instagram.

You can also sign up for our newsletter, delivering all the latest NRL content to you in an instant. Sign up here!
It must also be noted that the current policy states that even if a player satisfies all criteria the AFL sets out, the AFL reserves the right to refuse the player the ability to play and no reason needs to be given https://t.co/2Q0ASXib1T

— Hannah Mouncey (@HannahMouncey) January 15, 2021
Mouncey previously made an attempt to play AFLW, but now has no interest in playing in the league.
Currently, Mouncey is allowed to play AFL Canberra Second Grade, but said that it would be unfair to other players for an AFLW or VFLW player to play at that level.
Mouncey hopes that her actions will help the transgender community receive respect in the sporting community.
"I and many others have sat back and watched as racism is shouted down, sexism is shouted down; as society and the wider sporting community makes it clear that neither are acceptable in 2021," Mouncey tweeted.
"In the age where all manner of abuse is called out the moment is it seen or heard, transphobia it seems largely goes unchecked.
This is not ok, the message it sends to trans adults and kids all around the world is not ok and to not take action when it is so obviously needed is not ok either."