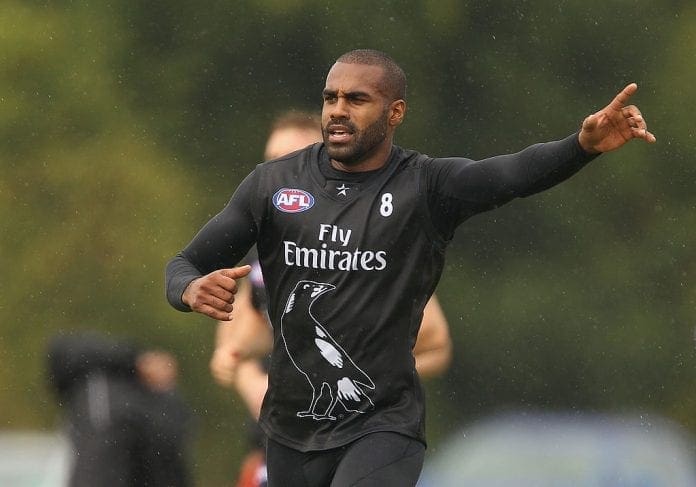 Ex-Magpie Heritier Lumumba has responded to the public apology letter issued from the club's players in response to the the racism report, labelling it a "tool for damage control".
An independent "Do Better" 35-page report was leaked by The Herald Sun on Monday and found Collingwood guilty of "systemic racism".
Magpies president Eddie McGuire held a press conference on Monday in response to the report and acknowledged that the club was striving to improve their stance in the "fight against racism," but failed to apologise to those who have suffered in the past in a move that was highly criticised.
All 150 AFL, AFLW and netballers at Collingwood released an apology note on Thursday, which can be read below.
Sorry.

As athletes we are sorry to anyone who, through their association with our club, has been marginalised, hurt or discriminated against due to their race.

Through our silence we feel responsible for these injustices. We acknowledge it is not enough to simply show support for the principles of anti-racism and inclusion. We will confront the history of our club in order to learn, heal and determine how best to walk forward together.

Over the last 72 hours we have had the opportunity to digest the DO BETTER report. We also apologise to those members, fans and community who feel guilt and shame as a result of the systemic racism that has occurred within our organisation.

To all the young people who dream about one day pulling on the black and white stripes, we pledge as athletes to continue to help create a club that allows ALL of us to thrive, regardless of race.
Lumumba shared his thoughts on the letter on social media on Friday, questioning why a number of players were part of the apology and not the club's administration.
"My response to the recent letter from CollingwoodFC players: I don't doubt the sincerity of players when they say they are ashamed of staying silent and have been shocked by the contents of the leaked #CFCDoBetter report," Lumumba wrote on Twitter.
"However, a few things should be noted.
"It's strange that young players – who are not responsible for the administration and culture of the club – have issued an unconditional statement acknowledging harm when the management and leadership of the club have yet to do so.
"'All staff and players' surely includes black players and staff, as well as players and staff of colour. Why should they be apologising for racism?"
Lumumba also took aim at the club's PR department, declaring Collingwood had attempted to discredit him since he departed the club.
"Unfortunately, this feels like the club using the genuine sentiment of some players and staff as a tool for damage control. This explains the lukewarm public response to the letter," he added.
"I continue to be overwhelmed by Collingwood members and fans expressing their shame and remorse over the club's past, as well as their frustrations that the club cannot simply do the same."
2/ It's strange that young players – who are not responsible for the administration and culture of the club – have issued an unconditional statement acknowledging harm when the management and leadership of the club have yet to do so.

— Héritier Lumumba (@iamlumumba) February 5, 2021
4/ Do the '120 staff' who apparently support the statement include people from Collingwood's PR team like Stephen Rielly, who have actively tried to discredit me over the past few years?

— Héritier Lumumba (@iamlumumba) February 5, 2021
6/ I continue to be overwhelmed by Collingwood members and fans expressing their shame and remorse over the club's past, as well as their frustrations that the club cannot simply do the same.

— Héritier Lumumba (@iamlumumba) February 5, 2021
A few months ago, Nathan Buckley sent me an email inviting me to come back to Collingwood to see 'how much the club had changed.' Thanks Bucks – just want to know, do you still stand by these comments? Simple yes or no will do. @ncb_cfc
https://t.co/ragl2fwWJ1

— Héritier Lumumba (@iamlumumba) February 5, 2021