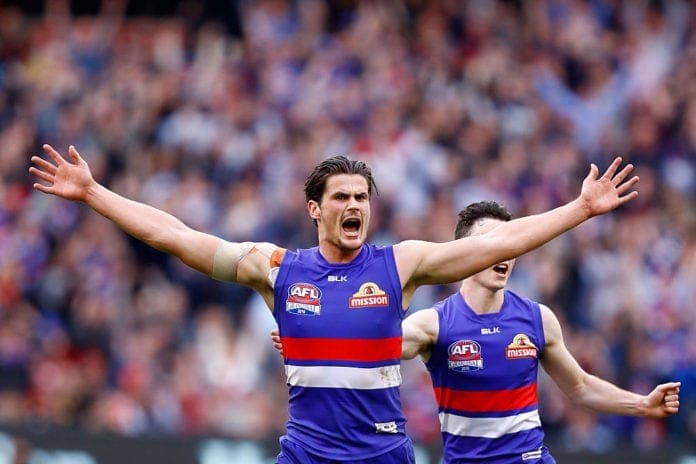 Former Western Bulldogs player Tom Boyd has opened up on the mental toll of his football career, detailing his personal struggles in an interview with A Current Affair this week.
Boyd called time on his AFL career at the end of 2019 after just 61 games to focus on his mental health.
The 2017 premiership hero has dedicated his pot-football life to raising awareness and removing the stigma associated with mental health issues. He detailed his battle with sleep during his playing days.
"I was barely sleeping before a game. The fear was (driven by) my desire to do well, the pressure and responsibility I felt to play well, what I expected of myself, but also the fatigue I was facing after really not sleeping," Boyd said.
He said the rigours of the AFL system came with a harrowing mental strain, including one memorable and severe panic attack on the way to training.
"I thought I was having a heart attack. I thought I was going to die," Boyd continued.
"With all the millions of thoughts running through my mind at this stage, I was lucky that the one that stuck was, 'Hey, I need help'."
Writing his memoir has made Tom Boyd feel 'grateful' for his football career. pic.twitter.com/YFECbuU7N3

— Whateley (@WhateleySEN) August 2, 2022
Boyd began to seek professional treatment from a psychologist as his six-year AFL career wore on, and during the 2019 season he made the momentous decision to retire from footy at 23 years old.
"It was really, 'I don't enjoy this anymore. It's not that I'm depressed or sad or angry. I've dealt with my issues'," he said.
"What I found was that hanging on didn't work. It made me less capable. What actually made me more resilient was going, 'I don't have all the answers. I need the support and the access to the collective wisdom of others."
Boyd began his career at the GWS Giants after being taken at pick no.1 in the 2013 draft. After just one year in Sydney, he received a mammoth contract offer from the Western Bulldogs to join the club in 2015, priced at $7 million over seven years.
Both revelations weighed heavily as both his talent profile and contract value drove public expectation.
"At that exact moment in time, I was 18 years old, pretty uncertain about how I was going to translate that at the top level. Super uncertain about my own capabilities and I get a life-changing offer that just about knocked me off my chair," Boyd continued.
He will long be remembered for a career-best and match-winning performance in the 2016 Grand Final, with his three goals, eight marks and 14 hit-outs playing a decisive role in delivering a premiership to the Western Bulldogs.
"It's something that to this day puts a massive smile on my face," he reminisced.
How well does Tom Boyd speak? Articulate and authentic. Great interview with @Tonaaayy_ and @mjrowland68 on @BreakfastNews. pic.twitter.com/biOGKau297

— Peter McConnell (@McAlmanac) August 2, 2022
Boyd began to write his novel Nowhere to Hide during the height of the Covid-19 restriction period.
He hopes his public story and hard copy memoir will resonate with readers, encourage people to seek help and enhance our understanding of mental health.
If you or anyone you know needs help: