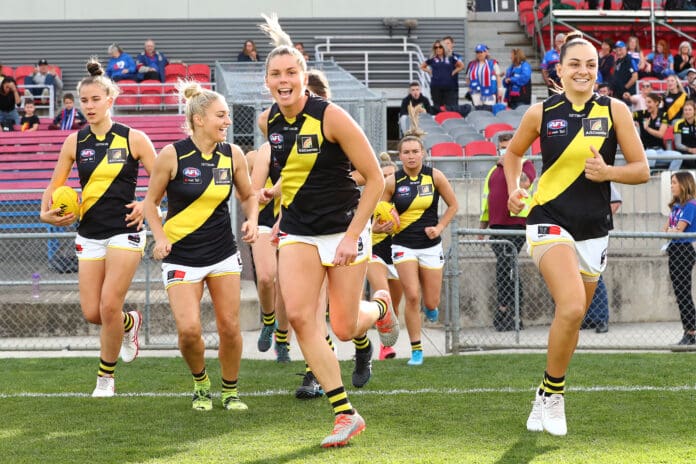 Richmond forward Katie Brennan has been named as the Tigers' captain for the upcoming season.
2022 will be Brennan's third campaign as skipper at Punt Road, having first taken on the role as the Tigers' inaugural captain after moving from Whitten Oval.
Brennan's continued support as leader of the Tigers comes after her stellar 2021 season, where she booted 14 goals from her nine appearances to claim the half-forward spot on the All-Australian team.
Next year will see Brennan captain her sixth total season in the AFLW, having previously led the Bulldogs between 2017-2019.
The Tigers forward will be joined by midfielder Sarah Hosking and defender Harriet Cordner as vice-captains for 2022.
"We took big some big steps under 'Ferg' (Ryan Ferguson) last season and are excited about what we can achieve in 2022," Brennan said in a club statement.
"As leaders, we take responsibility in really driving the standards and we are rapt by the way the girls have been embracing that this off-season.
"Harriet and Sarah, of course as well, they have been terrific since coming into our group on and off the field and I cannot wait to work with them again this year."
Meanwhile, Saints star Hannah Priest has been named to lead an extensive new-look leadership group at Moorabbin.
After previously having four captains lead St Kilda's women's side, Priest will take on a standalone role as the club's skipper for 2022.
Priest will be supported by vice-captains Rhiannon Watt and Kate Shierlaw, while Bianca Jakobsson and Tilly Lucas-Rodd have been named as further members of the Saints' leadership group.
St Kilda have also confirmed the inception of an emerging leadership group, with Rosie Dillon, Tarni White and Nicola Xenos set to also hold down roles in a leadership capacity.
Preist expressed her gratitude to be named captain of St Kilda, speaking on the internal excitement at the club ahead of the new season.
"I'm honoured and humbled to be appointed captain of St Kilda. It's a great privilege," Priest said, per the club's website.
"I've learnt so much over the past few years when it comes to leadership, especially last season alongside Kate, Rhi and Cat, but taking on the mantle myself will be an exciting and challenging next step.
"We've got such an amazing group of girls who I'm really proud to lead, and I'm looking forward to seeing how our group can grow moving forward."
The new AFLW season is set to commence in early January, with the league yet to confirm the 2022 fixture.