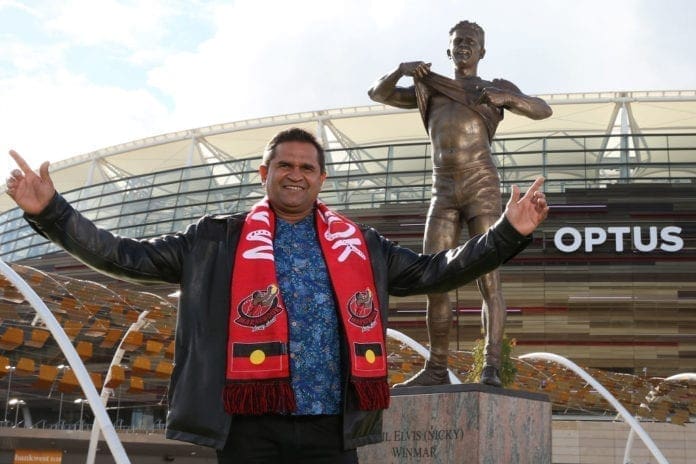 Although the celebrations of Sir Doug Nicholls Round are set to officially coincide with the AFL's Round 11, the St Kilda Football Club were on the front foot Monday afternoon, launching a new eye-catching Indigenous guernsey and their Point + Be Proud program, as well as filmmaker Peter Dickson's latest documentary project.
Dickson, the brother of late former Hawk and cinematographer, Rob, announced to the Saints' at-capacity 'Junction Room' that his newest documentary titled 'The Ripple Effect' was constructed to help prominent Indigenous athletes speak of their experiences as First Nation's people.
Dickson then aired 'The Ripple Effect' trailer for the entire playing squad and media at RSEA Park.
Aboriginal and Torres Strait Islander viewers are advised that the video below may contain images and voices of deceased people. Viewers are warned that there may be words and descriptions that may be culturally sensitive.
Inspired by Nicky Winmar's story, this is The Ripple Effect.

Coming soon. pic.twitter.com/I1lS60OYSN

— St Kilda FC (@stkildafc) May 17, 2021
Even though Winmar's heroic tale of boldly standing proud in the ugly face of racism acted as Dickson's muse, the award-winning filmmaker also spoke with Indigenous former Olympian Nova Peris and current Richmond players Bachar Houli (AFL) and Akec Makur Chout (AFLW), amongst others, about their life experiences.
The documentary also features present Moorabbin man Ben Long, as well as St Kilda's Indigenous Welfare Support and Development Coach, former Bomber, Nathan Lovett-Murray.
In June of last year, Lovett-Murray spoke to The Age and explained that Dickson's hour-long film was designed to convey "the ripple effect of bullying, racism and how it impacts on a person's mental health".
Long, 23, sat alongside Winmar and Dickson at the Q&A session at Linton Street, speaking about the importance of Winmar's historic raising of the jumper at Victoria Park in 1993.
"Nicky taking a stand in that moment definitely paved a way for myself and every young Indigenous player in the system now," the former second-round draft pick said.
"Obviously, with racism, we still have a lot to work on, but to Nicky and that moment - it's very special."
EDITORIAL: It's time to tackle online abuse
The designer of the Saints' 2021 Indigenous guernsey, St Kilda Team of the Century midfielder, Nicky Winmar, also spoke about the importance of the film and hoped it would affect future generations of Australians.
A passionate Winmar alongside his creation. @zerohanger pic.twitter.com/ivqirlyYmm

— Ed Carmine (@ed_carmine) May 17, 2021
"I've got five grandkids," Winmar explained.
"I want to see their safety throughout their schooling days, as well as growing up, and working well later on.
"It [the documentary] is what we want to put into schools, and let the people know in the working force and the next generation, that bullying and harassment... we've got to put a stop to that.
"We're only here for a short time, if we want to be, but it's just the next generation that is so important."
Winmar - "the bullying and harrassment has got to stop." @zerohanger

— Ed Carmine (@ed_carmine) May 17, 2021
Dickson was impassioned when speaking about his work, claiming that although he had never been subjected to racism on a personal level, he believed the educational film would assist citizens of all walks of life in becoming more empathetic.
"Initially, it was daunting for me," the director said.
"You would tend to think that an Indigenous person would tell this story.
"I'm telling a story that I want everyone in Australia to see, all of the kids to see, not just the Indigenous audience.
"I think coming from me, it helped tell this story, as I was telling it from both perspectives.
"I don't know what it's like to suffer racism, so, what I learnt through this is that I sort of got a feeling of what it is like... That is what I am trying to portray in this film.
"I think what people can take out of it is to have some empathy for what goes on in this country."
Despite the 'heavy nature' of the documentary, Dickson conceded that it may not eliminate racial hatred, but it was a step in the right direction.
"It emotionally tore me apart. It's so heavy and intense," he said.
"It still makes you emotional thinking about it, but I'm glad I finished it."
"We're not going to solve racism with this documentary."
When prompted for what his purpose for creation was, Dickson was emphatic.
"It's opening up the discussion again," he said.
"This will hit them in the face. That's exactly what I've tried to do.
"I just hope that some change occurs out of it."
Peter Dickson: "We're not going to solve racism with this film, but... its opening the discussion again. This will hit them in the face. It's a pretty heavy way of looking at it."

— n 1 c k (@nicksplitter) May 17, 2021
The film, alongside the club's aforementioned educational program, will be rolled out in schools across the nation in an effort to kickstart tough conversations with this country's youth.
With one of the Saints' greatest ever players working hand-in-hand with a no-nonsense defender - and one of Australia's greatest contemporary sporting storytellers - you can be sure that more than just a ripple is likely to emanate from the trio's public stance.
St Kilda will wear their Winmar-designed guernseys against North Melbourne at Marvel Stadium on May 29 as part of Sir Doug Nicholls Round, and once again when they face Sydney at the same venue seven days later.
'The Ripple Effect' will air this Saturday night on Channel 7, following the conclusion of the Dreamtime Game.