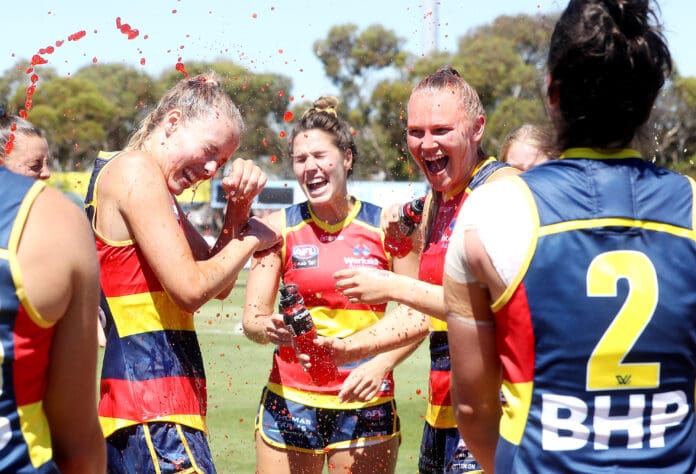 Crows head coach Matthew Clarke has stated that it was only natural for his murder to have celebrated after serving the Lions an ice cold dish of revenge in Round 1.
After falling to Brisbane in last season's grand final by a neat three-goal margin, Clarke's  collective picked the eyes out of Craig Starcevich's pride last Sunday in what became an eight-goal turnaround between meetings.
Speaking this afternoon, the premiership winning steward claimed that given the strength of the competition, even the current ladder leaders weren't immune from letting their hair down after a job well done.
"I think any time you win a game of AFLW you should celebrate. They're bloody hard to win," Clarke told Zero Hanger.  
Embed from Getty Images

Although their first, and arguably most important, win for the season is already in the books, Clarke suggested that grins were dulled quickly within the locker room, with a steely focus on what lies ahead returning.
"You need to make sure you really soak it up, but the reality is that reasonably quickly, you turn your attention to the next game," Clarke continued.
"It's such a short season that every game is critical. There's just no let up, that's the reality."
As their bout against the reigning premiers has already been fought and won, Adelaide could be forgiven for believing the toughest point of their sprint-like season was behind them.
But with clashes against Melbourne, Carlton and the Western Bulldogs currently scheduled between Rounds 4 and 6, there are still hurdles along the straight that require hopping.
This weekend's fixture will also be seen as an 'eight-point' contest, with Darren Crocker's Kangaroos hopping across the border with a point to prove.
After a record-breaking outing by Ashleigh Riddell against the Cats last week, and the near certain reinjection of Emma Kearney, Clarke believed Sunday's clash at Norwood Oval would be won at the coal face.
"It's going to be a cracking contest through there," he said.
"In their trial game, they [North Melbourne] played Kearney through half-back, so we'll see if they go with that again or whether they push her back through the middle."
The former ruckman also saw fit to pay an early level of respect to the entirety of the Roos' engine room.
"In terms of depth of midfield, they're probably in the top-three within the competition," Clarke praised.
"To a large part, that will dictate the outcome of the game. Whichever side is able to get on top in that area will be really significant."
With the likelihood of North ruck Kim Rennie missing her side's trip to the City of Churches after sustaining a head knock last Saturday, Clarke believed his coaching counterpart may shift dual All Australian Emma King back into the centre circle.
The 48-year-old also held the view that hybrid threat Jasmine Garner remained a chance to provide headaches for his defensive unit.
Yet, even if a keen eye had been cast across the Roos' roster, Clarke remained coy about his own selections.
Afforded another day to tinker with his selections, the former ruckman hinted that there would be very few alterations from the squad that slayed the Lions' last weekend.
However, Clarke was willing to admit the Crows' camp had been "impacted" by recent Covid results.
"At this point, we're not in a position to release names…but we're certainly not as heavily impacted as some teams across the border," he divulged.
Still, the former Tiger, Bear, Lion, Crow and Saint was steadfast in his view that the virus would not move any of his magnets.
"All things being equal, and [with] a clear set of Rapid Antigen Tests over tonight and tomorrow, we'll be ready to roll," Clarke offered.
"If we make selection changes, they won't be Covid related."
Adelaide and North Melbourne will meet at 2:40pm ACDT this Sunday on the noticeably narrow surface of Norwood Oval.