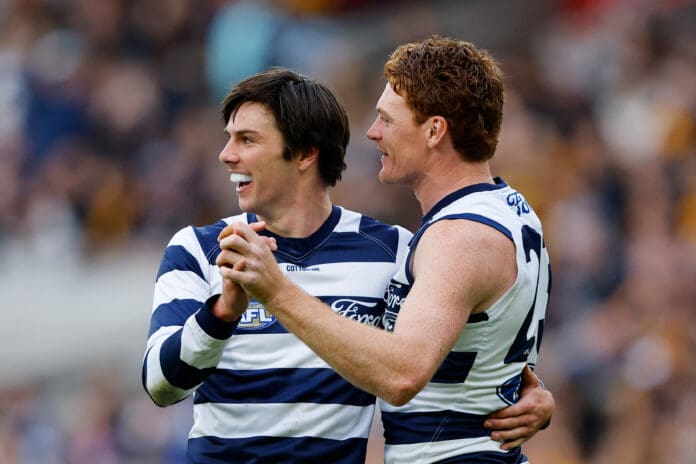 Geelong's contingent of fresh faces and emerging talent have been lauded by their senior coach in the wake of Thursday's upset win over Melbourne.
Without key senior figures for the clash at Kardinia Park, Geelong entered their home affair not listed as favourites in a rare circumstance for a Chris Scott-led side.
The Cats' engine room was without premiership pair Patrick Dangerfield and Cam Guthrie due to rib and toe injuries respectively, placing a greater reliance on recruits Tanner Bruhn and Jack Bowes for the matchup with Melbourne's lethal midfield pack.
Bowes would enter the contest within the second quarter as Geelong's tactical sub, with an early personnel change required after a worrying collision between teammates Gary Rohan and Jeremy Cameron that left the latter requiring medical treatment and a subsequent trip to the hospital.
Bruhn enjoyed his best performance as a Cat since making the switch from GWS over the off-season, with the 21-year-old collecting 19 possessions, six clearances, five score involvements and two goals in attending the third most centre bounces among Geelong's midfielders at 12 overall.
Despite a short game, Bowes recorded 11 CBAs of his own, working across the forward third of the field as a link-up player, while Geelong's third trade recruit in Ollie Henry also showed further signs of what's to come for the future, having three shots on goal from his 11 disposals.
Speaking after the victory, which has the Cats currently sitting one spot outside the top eight on percentage, Scott gave all three of his new, developing role players strong plaudits for their efforts in the contents.
"I think it's a great opportunity and I think we're focusing mainly in our midfield," said the Cats coach at the cessation of his 300th game as Geelong coach.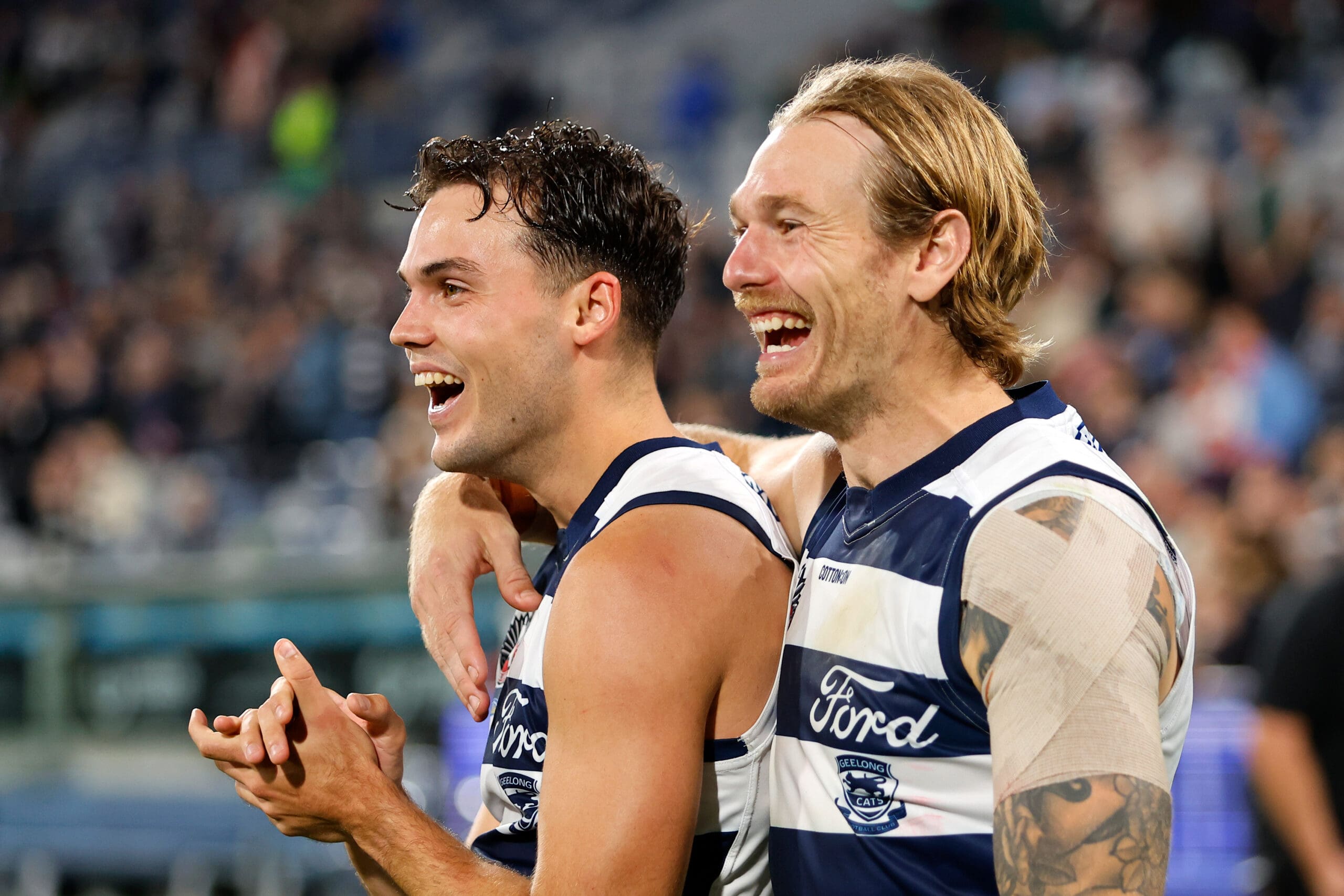 "I thought Tanner Bruhn was fantastic. Jack Bowes has come back. Jack was a loss to us when he hurt his calf and missed a month or so. Ollie Henry (too). We've been really clear, our expectation was never that they're going to come in and improve us straightaway. They're a long-term play for us.
"But we're not asking them to be patient. We want them to let themselves go and show the world what they can do, and I thought those three, in particular, had really good moments in the game.
"It's a difficult one. Cam Guthrie and Patty Dangerfield are out, (against) Petraccaa. You're not wishing for it, but there is a silver lining there. Those guys can come in.
"It's not the first game this year when the game has been on the line and Bruhn and others have been in there needing to stand up."
Defender Sam De Koning was another standout from Geelong's burgeoning group of kittens, with the fourth-year Cat going head-to-head with Demons livewire Bayley Fritsch.
The performance from the young backman came after an interrupted first half of 2023 for De Koning, who has dealt with a series of setbacks that have hindered his campaign that has come off the back of a breakout premiership season last year.
Scott was of equal praise for De Koning's outing against Melbourne, noting he hadn't been mentioned alongside the likes of Bruhn, Bowes and Oliver due to the high standards the defender has already reached.
"We generally don't explain in great detail the preparation of our players. We think that's sort of commercial in confidence in a way," Scott said. "I'm prepared to explain a little bit more (on) some of the hurdles that Sam's had to overcome.
"The facial fracture was one, he had a concussion before that, he had a series of injuries through the pre-season. He's just never really got going.
"I probably didn't include him in that group because I regard him as an All-Australian level player. He's not building, he's at his best, he's there.
"I thought tonight was a really good step forward. It's still going to take a little bit of time with him to get to his best, but that's a nice prospect if he can improve on tonight."
Thursday's win has Geelong placed as a live chance to move into the finals frame this weekend should Adelaide be handed a significant loss by Collingwood on Sunday at the MCG.
The Cats will then have another opportunity to leap up the ladder next week when they travel to the SCG to face the Swans in Round 16.