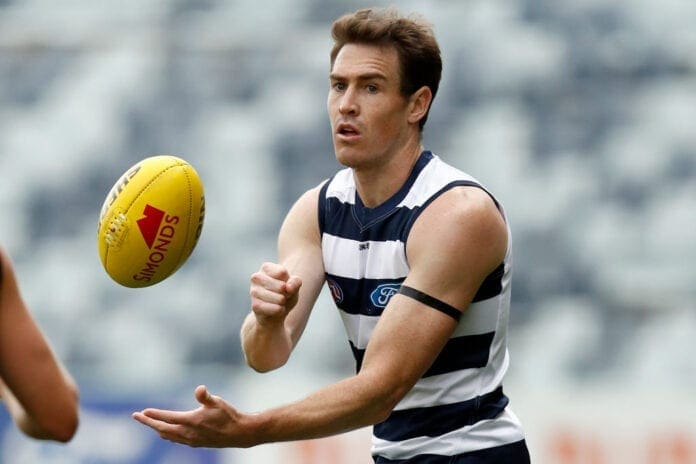 The Cats have provided an update on concussed forward Jeremy Cameron, who was hospitalised yesterday evening following a sickening accidental collision with teammate Gary Rohan, while senior coach Chris Scott addressed Cameron's situation on Friday night and spoke highly of Rohan, who was visibly bothered following the incident.
On Friday, Geelong announced Cameron was discharged from the hospital in the early hours of Friday morning after being cleared of any initial concerns.
He will continue to be monitored by Geelong's medical staff.
Cameron, who was collected high by Rohan as he was coming full-speed from a separate direction during the first quarter of Thursday night's win over Melbourne at GMHBA Stadium, immediately felt the effects of the contact and had to be taken from the ground via a medical cart, with Scott later revealing Cameron had been admitted to hospital.
Jez was discharged from hospital in the early hours of this morning 💙

Following further assessment at the hospital, he has been cleared of any initial concerns and will continue to be assessed and monitored by the Club's medical staff.

— Geelong Cats (@GeelongCats) June 23, 2023
Scott, speaking post-game to the media after his 300th game as Geelong's coach, started by speaking about how Rohan was able to pick himself back up and help the Cats secure victory.
"When you lose one of your best players so early, especially in those circumstances, it can put everyone on the back foot," said Scott.
"I thought in some ways, especially Gary Rohan, who was really rattled by it, as one would expect, his approach and maturity to really attack the game (was pleasing), and if anyone won the game for us it was him, so I'm really proud of him and others as well."
Scott, while not knowing too much about Cameron's current situation in hospital, was quizzed about the star forward's wellbeing.
"Look, I don't really know [how he currently is], he's been taken to hospital and that can sound dramatic, but I haven't got an update yet, that'll come in time, but I certainly haven't had any indication that it's a horrible situation, but any time one of your players needs to be taken to hospital, even if it's for observation, leaves us all a bit shaken," the two-time premiership coach said.
Addressing the unfortunate role Rohan played in the situation, Scott provided a detailed response, commending the match-winning forward's character on and off the field.
"I can't really speak to how other people see him, so I'll just speak about the way I've seen him since he came to our club," Scott started.
"He is so willing to play his role, and it's a role that is hard for some people on the outside to understand, and I don't just mean on the field as well, the way he is around the club, he's someone that I admire, he's so likeable.
"It feels to me like he's having a few (game-defining) moments like this, I don't generally individualise, but to my eye, Rohan was the most dangerous player on the ground, and because he is the person that he is, it (Cameron's concussion) did rattle him, and I kind of respect him more for that, because he's not a sociopath, he's got some empathy for one of his best friends, who he's accidentally knocked out, and so the way he could refocus on what the team needed was very admirable."
The Cats' win was a crucial one as they continue to maintain touching distance of the top eight, with Geelong's next game coming against Sydney at the SCG in Round 16.