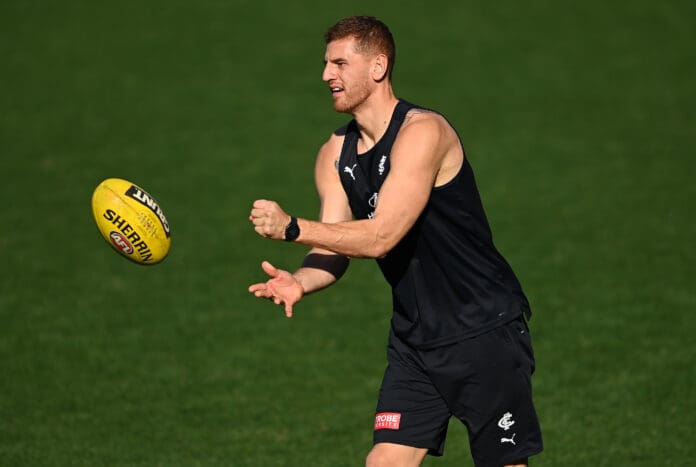 Former Blue Liam Jones remains hopeful the door hasn't been shut on an AFL comeback, with the ex-Carlton defender potentially having "another two or three" years left in his football career.
Jones called time on his 161-game tenure with the Blues and Bulldogs after the AFL introduced its mandated COVID-19 vaccine stance late last year, forcing the Tasmanian out of the competition due to his hesitancy to receive the jab.
The 31-year-old has since moved to Queensland to join QAFL club Palm Beach Currumbin for the 2022 season, looking to remain competitive should an opportunity in the top flight arise.
Jones is currently waiting for the AFL to remove its vaccine mandate as the nation looks to move on from the pandemic and return to normality, however, the league hasn't hinted at any changes coming anytime soon.
The protocols leave Jones on the outer of the AFL ahead of next month's Mid-Season Draft intake, but should the league stunningly drop the mandate, the key defender would still require an exemption after retiring instead of being delisted at the end of last year.
That places any likely return date for Jones to next season, which would mean the North Hobart product will be required to prove his capabilities after a 12-month stint in the QAFL.
Despite competing at a lower level, Jones remains confident he can make a return to the top flight and play at a similar standard that had him highly regarded at Princes Park.
Speaking to The Herald Sun, Jones' manager Shane Casley confirmed his client has his sights set on an AFL comeback, holding the belief he has plenty of food footy left to offer,
"I speak to him weekly. That was our plan on going to the QAFL, to play the highest level of footy we could this year and things might change next year. That is in our thinking," Casley said.
"He is probably the best nick of his career and mentally probably in a pretty good state now so he's probably at his peak.
"He is 31 this year, the Tassie boys are normally late maturers, he thought he had three years in him from this year so he's probably got another two or three in him.
"I think if he got a chance to play AFL footy, you have got to look at any (club), so we will see what happens. I think if he gets through the year and things change I am sure there will be a few clubs that will at least look at him."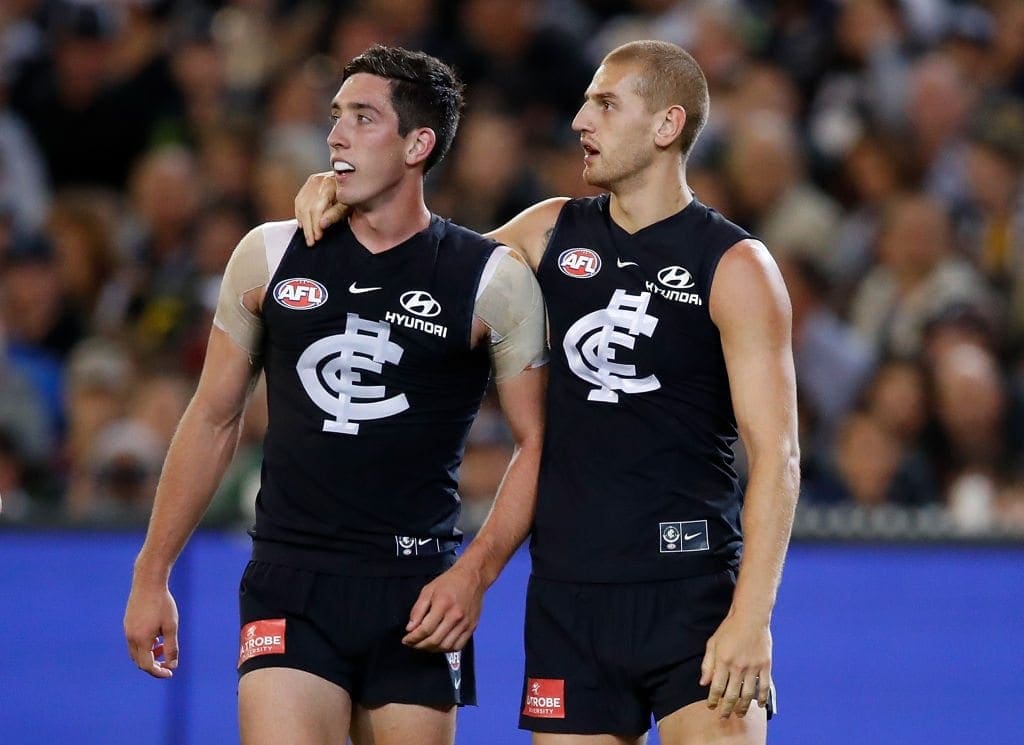 Casley's comments echo those of Jones' from earlier this year, where the Palm Beach Currumbin recruit told 7 News of his plans for the 2022 season.
"I've been training really hard and I feel like I'm as fit as I've ever been," Jones said in January.
"In my opinion, I feel like I've still got my best football ahead of me."
Carlton could consider reuniting with their former defensive tall for the 2023 season, having shown the foundations of a premiership push under senior coach Michael Viss this season.
The Blues looked to Bulldog Lewis Young to fill the void left by Jones in the off-season, while Voss has experimented in moving maligned swingman Mitch McGovern to defence this season.
Injuries to McGovern and Oscar McDonald have left the Blues' backline depleted this year, while the club nurses Caleb Marchbank back into football after a string of setbacks have kept him off the park since 2019.
Carlton are currently sitting pretty in the top four of the AFL after an 8-2 start to their first season under the watch of Voss.