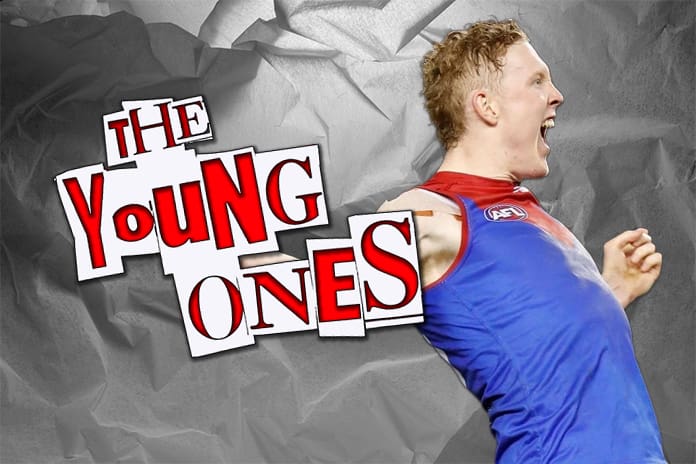 On September the 2nd, 1996, 21-men achieved footballing immortality when they were named in the V/AFL Team of the Century.
The monumental task of selecting this great side has not been rebooted since it was announced 25-years ago.
At Zero Hanger, we have looked at the next generation of superstars and created a side of players born entirely after September 2nd, 1996.
Maybe in another 100 years, some of these bright stars may find their spot in the galaxy of footballing immortals...
Defenders
The role of the 21st-century defender has changed monumentally since 1996. Defenders are the key to a solid foundation that wins you games. They not only have to look after their man but must read the play and intercept where they can.
Zone defence is now the new norm, as coaches spread their defenders around the 50 as a cluster.  These six defenders are the best of the best.
Magpies defender Brayden Maynard slots into the back-pocket of our side and narrowly matches the criteria by 18 days.
The explosive Collingwood backman has risen through the ranks at the Holden Centre since joining the club via the 2014 National Draft, playing 138 games across his seven seasons in the black and white.
Since debuting in 2015, Harris Andrews has been named full-back in two All-Australian sides (2019-2020), is ranked elite for spoils (8.6) and elite for intercept marks (3.8). Andrews has also finished in the top six of the Brisbane Lions B&F in the last two years and finished with the most marks (181) for the 2021 AFL season.
Essendon's 2020 B&F winner, Jordan Ridley, is one of the best medium defenders in the game. Back-to-back selections in the 22-Under-22 team, Ridley is rated elite for kicking, averaging 15.5 a game going at 87.1% by foot. In Round 3 of this year, Ridley had 35 disposals, including nine rebounds and three contested marks.
2021 was a breakout season for Callum Mills. Across 18 games for the Sydney Swans, Mills averaged 27.5 disposals a game and finished the season with 18 Brownlow votes. The Swans Midfielder/Defender also averaged 5.3 tackles a game, showing his willingness to defend, and averaged 6.3 score involvements a game, which also shows his ability to impact the play further up the ground.
Former No.1 draft pick, Jacob Weitering has been named in the under-22 side three times. The key defender won Carlton's B&F in 2020 and went from strength to strength in 2021 averaging eight spoils a game, 3.2 intercept marks and 10.6 effective kicks. Weitering has been a beacon for the Blues down back and was unlucky to miss the 2021 All-Australian side.
The Leading goalkicker for the 2015 TAC Cup season, kicking 10 goals in a game twice, Blake Hardwick has turned himself into a durable defender for Hawthorn since moving down back after Luke Hodge's retirement. Hardwick averaged 20.9 disposals for the 2021 season, including 9.5 pressure acts, 406.6 metres gained per game and finished second in the Peter Crimmins Medal.
Midfielders
Three outstanding junior midfielders have found their niche at the highest level. Hugh McCluggage and Clayton Oliver both won the Morrish Medal for being the best player in the TAC Cup and Sam Walsh won the Larke Medal as the best player in the 2018 NAB Under-18 National Championship.
McCluggage has been a key cog for the Brisbane Lions midfield, finishing third in their 2019-20 B&F and second in 2021. He averaged 25 disposals for the season, 6.5 score involvements and 4.5 inside-50s for the season.
Although McCluggage occasionally gets the yips in front of the big sticks, he is one of the most reliable midfielders finding a target inside-50 in the league.
As well as being the premium midfielder of this side, Clayton Oliver is one of the premium midfielders of the competition. Touted as a contested beast when he was drafted to Melbourne in 2015, Oliver has delivered for the Demons in spades with two B&Fs, All-Australian honours on two occasions and won the 2021 AFL Coaches' Champion Player of the Year Award.
With 435 contested possessions for the 2021 season, Oliver broke the V/AFL record and took his game to the next level. In the Demons record-breaking season, Oliver averaged 31.6 disposals, 17.4 contested disposals, 5.4 tackles, 7.2 score involvements and 7.4 clearances, including 4.5 stoppage clearances.
Considering most of the greats reached their peak by the age of 27, it's amazing to think how much Oliver has achieved by the age of 24.
Another star destined for footballing immortality, Sam Walsh is the quintessential midfielder. Some would say he was constructed in a lab.
At the age of 21, Walsh finished the 2021 season with 30 Brownlow Votes (the same amount Chris Judd polled in 2011), an amazing effort when you think Carlton missed out on the top eight. To go with the 2019 NAB Rising Star, Walsh has also made the 22-under-22 side three years on the trot and topped off 2021 with All-Australian honours and Carlton's B&F.
Walsh averaged 8.5 effective kicks a game, 8.9 ground-ball gets and 6.5 score involvements. Already an important piece to Carlton's midfield, Walsh's influence will only grow larger as he gets older.
Forwards
Winner of the 2021 AFL Mark of the Year, Shai Bolton has achieved many things in a short amount of time. A dual-Premiership hero for Richmond, gaining more experience in the midfield his poise and flair.
Bolton became a damaging player averaging 4.8 inside-50s and 6.1 score involvements, both ranked elite for his position. Bolton's damaging pace and thumping kick will see him push forward a new Tigers era.
The big Astro, Aaron Naughton is the quintessential forward for the Western Bulldogs. 47 goals for 2021, Naughton also took 65 contested marks, making his presence felt around the ground. B
ack-to-back 22-under-22 selections, Naughton is ranked elite for his position with an average of 6.1 marks, 5.9 score involvements and nearly four shots on goal a game. If Naughton can fix up his set-shot, he will definitely kick more than 50 goals for 2022.
At 19-years-old, Josh Dunkley was a premiership hero in the Bulldogs' drought-breaking run in 2016. He played every game from Round 10, showing composure in all four finals.
After a slow start in 2017 and 2018, Dunkley rose to a new level in 2019, becoming a permanent fixture in the Bulldogs midfield. After Round 7, Dunkley averaged 31.94 disposals, 6.65 tackles and 6.47 clearances. In Round 19, he became the first player in history to register 35 disposals, 15 tackles and two goals in a game. After an ankle and shoulder injury in 2020 and 2021, Dunkley forced his way back into the Bulldogs side and played in the 2021 Grand Final, finishing with 25 disposals.
Drafted by the West Coast Eagles after a 77-goal season in the WAFL for Subiaco, Liam Ryan has provided many highlights since debuting in Round 1 2018. Although quiet in his first season, Ryan took an important mark in the 2018 Grand Final.
With under two and half minutes remaining, Ryan, who was out of position, took a huge pack mark, quickly played on and hit up Dom Sheed. You know what happened next.
Showing glimpses of brilliance (including the 2019 Mark of the Year), Ryan was selected in the 2020 All-Australian side with 26 goals from 18 games. He averaged 1.71 goals and 5.1 score involvements in 2021.
Harry McKay has been one of the AFL's biggest risers in 2021. The Coleman medallist was a goliath up forward for Carlton and finished with 58 goals from only 19 games.
Mckay's seven-goal, five-behind Easter Weekend effort was a breakout game for the young forward. He was rewarded with his first All-Australian selection and finished third in Carlton's B&F.
McKay's average of 3.6 marks inside-50 and 2.6 contested marks proved vital for the Blues.
Bayley Fritsch's story is one for the ages. He was overlooked by the Eastern Ranges and soon won the Rising Star in the Eastern Football League for Coldstream. He had a back fracture in his first season at Casey Scorpions in 2015, then won the 2017 Fothergill-Round-Mitchell Medal, his second rising star award, and was drafted to Melbourne in 2018.
Starting out as a floating half-back, Fritsch found his home in front of the sticks, booting 59 goals in 2021. This included six goals in the Demons' drought-breaking premiership win. He kicked the Demons' first two goals of the third quarter, to bring them back from a 19-point deficit and kicked another two in the last quarter, producing the first six-goal haul in a Grand Final since Darren Jarman in 1997.
Followers
Following in the 'large' footsteps of Aaron Sandilands, Sean Darcy has made his presence felt in his short career thus far at Fremantle.
Darcy topped off his breakout 2021 season with a Doig Medal and took his ruck game to the next level. Averaging 16.6 disposals and 28.5 hit-outs, Darcy was a force to be reckoned with. He also averaged six score involvements a game and 4.7 clearances, including 35.2% hit-out to advantage rate, this is ranked elite by AFL standards.
Starting the engine room for this side is Tim Taranto from the GWS Giants and Darcy Parish from Essendon. Two midfielders who have developed into their roles, Taranto was crowned Giants champion at only 21-years-of-age in the year they played their infamous 2019 Grand Final.
In 2021 the Giants were swamped with injuries to key players, which saw Taranto stand up in the midfield. He averaged 26.5 disposals, including a stunning 15.5 kicks, 5.3 tackles and 4.3 clearances per game.
Taranto also showed promise as a resting half-forward, kicking four goals in the first half of the Giants' Round 22 win over Richmond.
Joining the likes of Sean Darcy and Harry McKay, Darcy Parish's career exploded in 2021. After spending his first five seasons out of position, Parish strung together two months of scintillating football.
In a 10-game period from Round 6 to Round 16, Parish averaged 36.2 disposals, 7.2 inside-50s, 9.2 clearances and polled 20 Brownlow Votes, including six maximum vote games.
Parish was rewarded with the 2021 Anzac Day Medal for his 42-disposal, two-goal effort against Collingwood and won the Yiooken Award for his 44-disposal game against Richmond in the 17th Dream Time clash at Optus Stadium.
Interchange
Now we find ourselves with an extremely talented interchange. These boys would make the starting 18 of any club in the competition.
Andrew Brayshaw has not missed a beat since he was drafted to Fremantle in 2017. Possessing all the qualities of a midfielder of the highest calibre, Brayshaw 28.4 disposals and 4.7 tackles a game in 2021.
His most impressive game was against Richmond in Round 20, finishing with 39 disposals, 12 tackles and eight clearances.
The most popular footballer on social media, Bailey Smith's skill with the Sherrin sometimes comes second to his social presence.
'Bazlenka' can play. In just his third season, the 20-year-old played all 26 games, averaged 23.6 disposals and 429.2m gained. Smith's influence during his debut finals series was monumental.
A clutch goal on the opposite foot to sink the Lions in the semi-final, followed by a four-goal haul against Port Adelaide at Adelaide Oval in the Preliminary Final. Smith has all the right calling cards to be a star of the competition.
Alongside Taranto, Jacob Hopper turned into a damaging midfielder in 2021 and was rewarded with selection in the All-Australian 40-man squad. Hopper averaged 26.3 disposals, 6.3 clearances and 8.7 ground ball-gets a game. His standout performance came in the Giants one-point loss to the Suns in Round 17 2021, Hopper had 41 disposals, 12 inside-50s and 11 clearances. A future leader for the Giants, Hopper will take his game to a new level in 2021.
Shocking injuries have curtailed Jade Gresham's last two seasons and have diminished just how good this midfield/forward is. State of Origin honours in the 2019 Bushfire Appeal game, Gresham finished the season averaging 22.63 disposals, 4.79 inside-50s, 4.54 clearances and was rewarded with selection in the 22-under-22 side.
Stress fractures derailed Gresham's bubbling 2020 season. With shortened quarters, Gresham still averaged 17.64 disposals and more clearances (4.64) than his 2019 campaign.
Gresham was in hot form at the start of this year, with 29 disposals, 10 inside 50s and nine clearances against Melbourne. The next week he suffered a shocking Achilles injury. If he can get his body right, Gresham will be a dynamic half-forward.
With a touch of spice to this formidable side, I have added Zac Bailey as our substitute. Already with the game-changing ability, Bailey finished 2021 with 31 goals and averaged 18.33 disposals.
In Round 12, Bailey kicked four blinders in only three quarters against Melbourne and showed his potential as a future midfielder with 26 disposals, three goals, seven inside 50s and nine clearances against Adelaide.
When talking about the Team of the Century, we are discussing the greatest to ever play the game. We will see these names among the stars, joining the firmament of V/AFL Immortals?
Only time will tell.
Best 22 born after September 2, 1996:
BP: B. Maynard (CO) FB: H. Andrews (BL) BP: J. Ridley (ES)
HB: C. Mills (SY) CHB: J. Weitering (CA) HB: B. Hardwick (HW)
W: H. McCluggage (BL) C: C. Oliver (ME) W: S. Walsh (CA)
HF: S. Bolton (RI) CHF: A. Naughton (WB) HF: J. Dunkley (WB)
FP: L. Ryan (WC) FF: H. McKay (CA) FP: B. Fritsch (ME)
RU: S. Darcy (FR) RR: T. Taranto (GW) RO: D. Parish (ES)
INT: A. Brayshaw (FR) INT: B. Smith (WB) INT: J. Hopper (GW) INT: J. Gresham (SK)
SUB: Z. Bailey (BL)