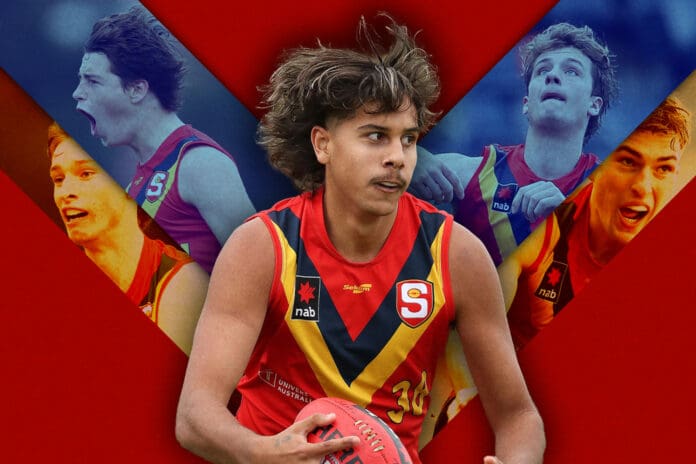 South Australia's 2022 draft pool is full of versatility and high-ceiling players, making this class an interesting one for recruiters in this year's National Draft.
Across the SANFL and National Championships, several standouts have been making their names seen. Mattaes Phillipou is an exciting prospect full of potential, while Max Michalanney has been an outstanding SANFL Reserves performer.
Other impressive SA youngsters have shown glimpses of brilliance, and could yet develop into solid AFL regulars.
Mattaes Phillipou (Woodville-West Torrens)
Position: Midfielder/Forward
State League Club: Woodville-West Torrens
Community Club: PHOS/Henly HS
Date of Birth: 27/12/04
Height: 192cm
Weight: 83kg
Projected to be selected around Pick 10, Phillipou is the highest-rated South Australian in the 2022 NAB AFL Draft.
The 192cm midfielder is a highly versatile player, uniquely strong at both ground level and in aerial contests. The Woodville-West Torrens prospect is more than capable of going forward and booted 12 goals in eight Under-18s SANFL appearances.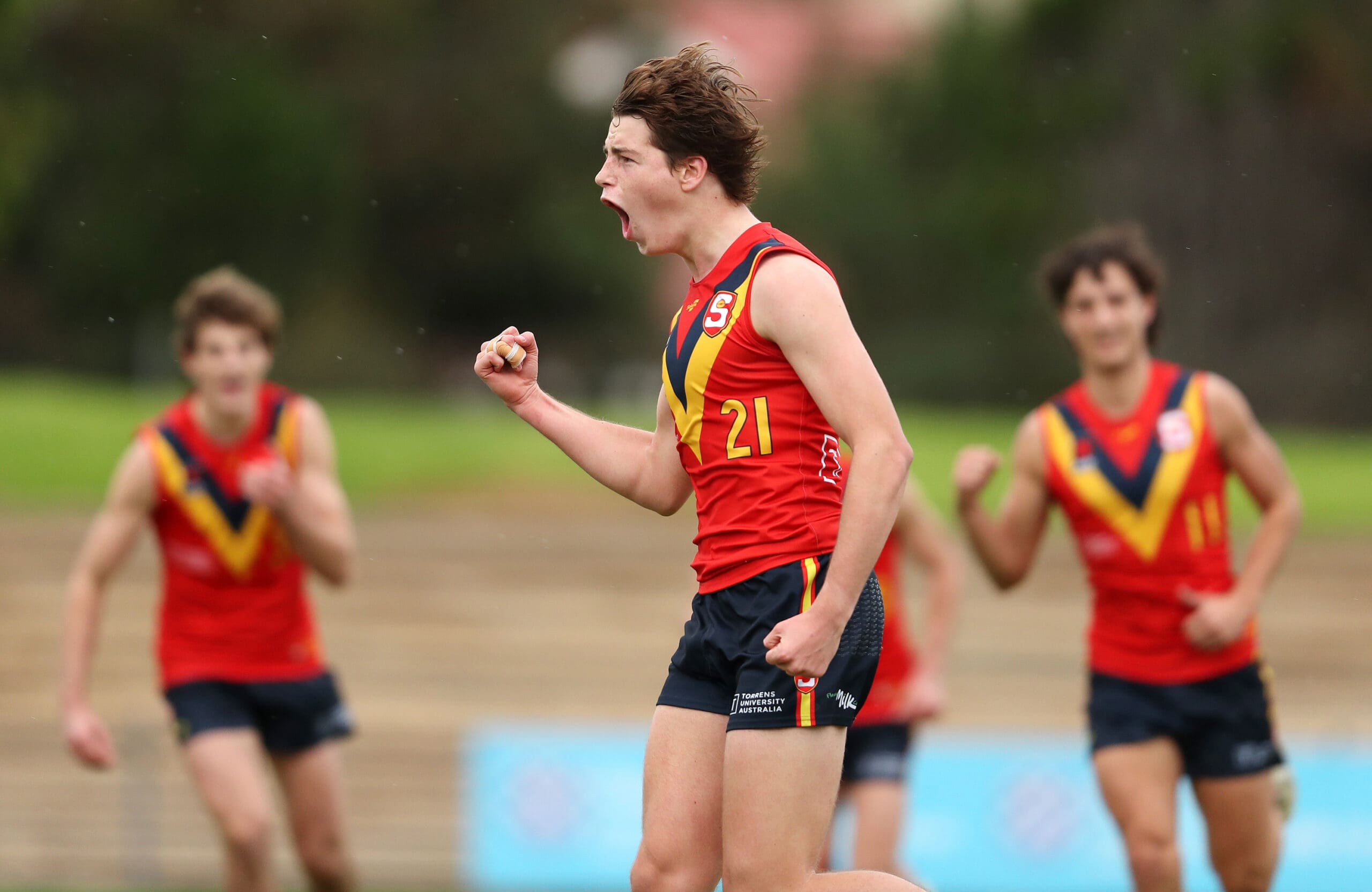 Phillipou averaged 28 disposals in the Under-18s for Woodville-West Torrens, making use of a penetrating left foot and his strength in the contest. His performances in the National Championships were also impressive before soreness slowed him down.
Five days younger, and Phillipou wouldn't be eligible for this year's draft. There's a lot of upside in this tall midfielder, which is why he was even touted as a potential No.1 pick during the year.
However, the 17-year-old's kicking accuracy has been inconsistent, as has his opportunity to play at the senior level, which could see him fall lower into the first round. An interesting player to watch as he makes the step into AFL football.
Isaac Keeler (North Adelaide)
Position: Forward/Ruck
State League Club: North Adelaide
Community Club: South Augusta
Date of Birth: 23/04/04
Height: 198cm
Weight: 89kg
Another SA prospect with a massive ceiling, Isaac Keeler has shown a lot of potential in his top-age season.
The Adelaide Next Generation Academy player can play as a key forward or ruck, with an abundance of athletism and mobility. Keeler was South Australia's best forward in the National Championships and averaged 1.3 goals in the SANFL Under-18s for North Adelaide.
Keeler's ability to win clearances in the ruck and find the ball below his knees highlights his versatility. Even at a desirable 198cm height, the key forward is comfortable snapping the ball and has impressed with his goal sense.
Keeler averaged 17.9 disposals, 4.2 marks, 3.3 clearances and tallied 19 goals to take North Adelaide's Under-18 side to the Grand Final.
Max Michalanney (Norwood)
Position: Tall Defender/Forward
State League Club: Norwood
Community Club: Glenunga
Date of Birth: 26/02/04
Height: 192cm
Weight: 78kg
Michalanney was one of three South Australians to make the Under-18s All-Australian team, and has impressed season-long in a defensive role.
The young key defender has been able to shut down opposition talls and small forwards, using his 192cm frame and ability to read the ball in the air.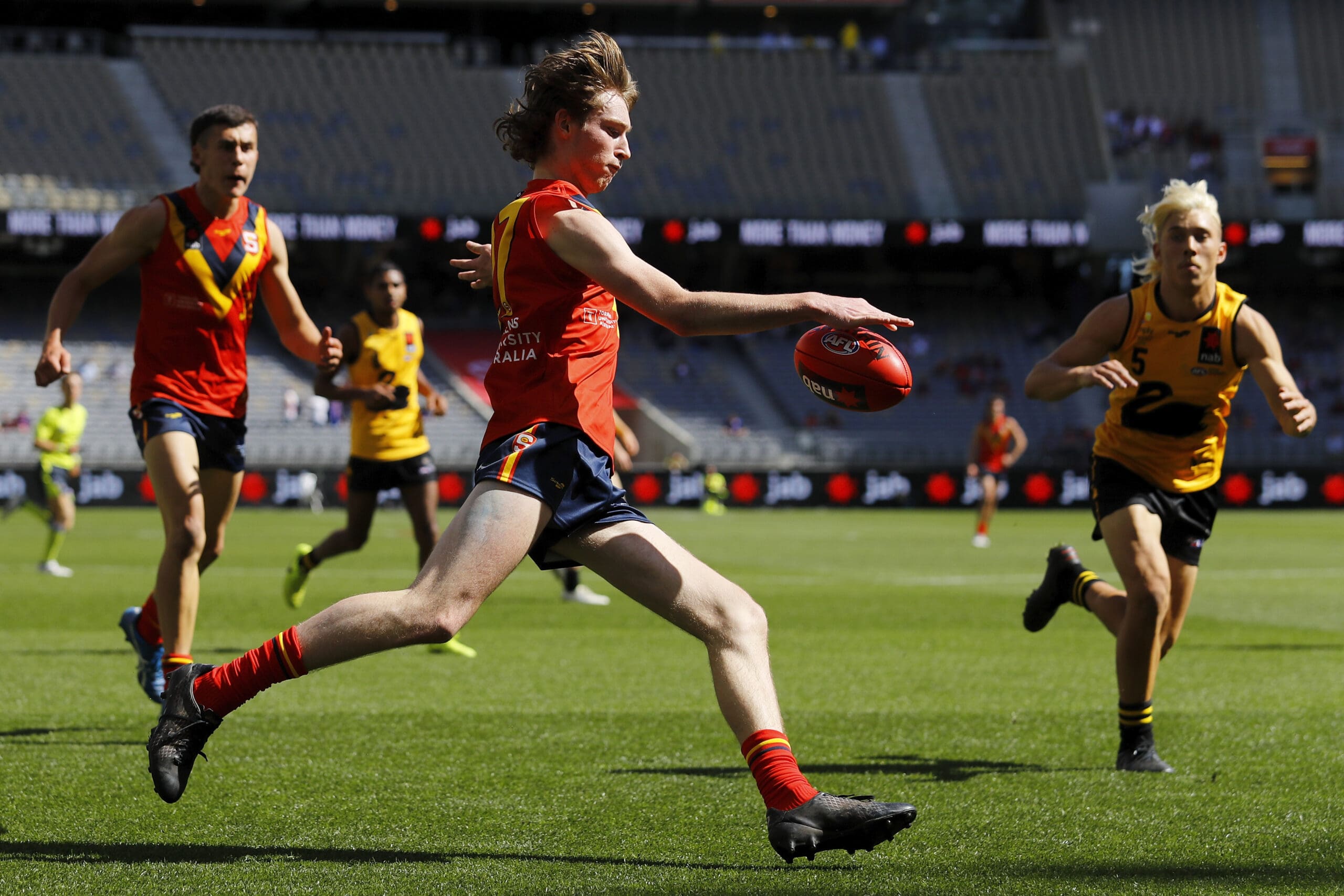 While he impressed in the National Championships, Michalanney found a near-permanent role in the SANFL seniors. He played seven games for the Norwood reserves and three for the Redlegs' first team, including two finals.
The 18-year-old has shown glimpses of his speed and ball use at times, providing rebound run in a best-on performance against the Allies.
Michalanney is connected to the Adelaide Crows via the father-son rule, as his father played over 200 games for affiliate club Norwood.
Harry Barnett (West Adelaide)
Position: Ruck
State League Club: West Adelaide
Community Club: Goodwood Saints
Date of Birth: 22/01/04
Height: 202cm
Weight: 97kg
The best-performed ruckman in the National Championships, Harry Barnett is an exciting prospect for any club looking at their ruck stocks.
Much like other top SA talents, Barnett is able to play across multiple positions. His forward work has been impressive, showing a strong aerial game, while his intercept marking has also been a feature.
Barnett carried his strong West Adelaide Under-18s form into the National Championships, averaging 12 disposals and 15 hit-outs.
At 202cm, the SA ruckman is a tall, physical player. He's shown glimpses of follow-up clearance work, but his big frame and jump have given his teammates an edge in the stoppage.
Adam D'Aloia (Woodville-West Torrens)
Position: Midfielder
State League Club: Woodville-West Torrens
Community Club: Henley
Date of Birth: 09/04/04
Height: 186cm
Weight: 86kg
The South Australian captain has shades of Jack Graham, who, like Adam D'Aloia, led the Croweaters in the National Championships as a tough inside midfielder.
Winning the South Australian MVP in the competition, D'Aloia was the state's most impactful player, but he hasn't gained much attention heading into the draft.
Like Graham, who slid to Pick 53 in 2016, D'Aloia's running ability and ball use have been put in question. There's time for him to improve his weaknesses, however, and it's his strengths that make him a high-value pick.
D'Aloia has one of the best inside games in this draft class, and he's been able to do it against big bodies. In the SANFL reserves, the 18-year-old averaged 23 disposals, 6.3 clearances, and 7.4 tackles.
Both his defensive and clearance games are well-developed, but some of the questions around his burst from the stoppage may see him slide deeper into the draft.