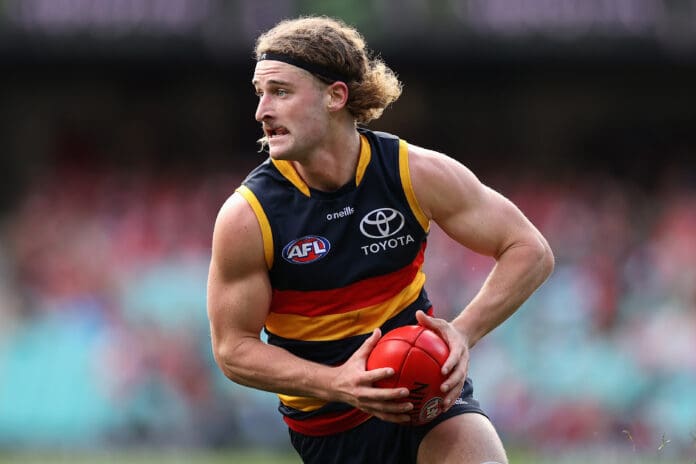 Adelaide midfielder Sam Berry has made a statement in 2022, with the hard-edged Crow taking his opportunity in the senior side with both hands.
Berry is building a very good season since breaking into the team after starting the year in the SANFL, and has become a key barometer for the Crows and their fortunes.
Averaging the most tackles per game in the AFL (9.4 per game), Berry is also second for accumulative tackles behind teammate Rory Laird, having recorded 139 tackles, while Laird boasts 142 at 8.4 per game.
Speaking with Zero Hanger, Berry said he wasn't taking for granted the opportunity to play AFL football week in and week out.
"My year started in the SANFL and it kind of sucked watching the AFL team play the first few games," Berry said.
"It was good to finally get my chance and play in the midfield in a bit of a different role to last year which has been great. I've been slowly progressing which has been nice. "
With tackling and pressure acts being such a strong feature of the 20-year-old's game, he said that he finds the defensive side of the game is a fair way to measure how he is playing each week.
There's nowhere to hide when it comes to pressure, if you're not applying any it's purely effort based and the stats will find you out.
Berry said that for his game, there's no alternative but to lay tackles and apply pressure on the opposition.
"For me it's a non-negotiable," Berry stated.
"It's purely just effort. It's a good way to show that I'm working hard and running both ways and trying to put the heat on if the ball's not in my hands or in my area."
The former Gippsland Power product spent most of last weekend's win standing next to Carlton captain Patrick Cripps. Cripps was one of the best players on the ground and Berry said he took lessons despite a strong individual and team performance.
He added that he was thriving off the challenge of taking on the competition's very best midfielders every week.
"You learn so much from quality players like Cripps," said Berry.
"He's so incredibly strong and his patterns and timing are elite. He's probably the best stoppage player in the competition and he's different to myself. He's much bigger and much stronger so it's a great challenge to play against people like that because you have to play him different to a Lachie Neale or someone like that."
The loss of captain Rory Sloane to a ruptured ACL at the start of the year saw a slot for a competitive inside midfielder to stand up and come into the side, and Berry has filled that void as well as could be expected.
However, despite not being on-field to impart his knowledge, Berry says Sloane and other experienced heads have been incredibly helpful in developing his game across the season.
"Sloaney is unbelievable," Berry said.
"Despite not being on the field with us, during the week he's a massive help. Watching vision with him and things like that, he's just got so much knowledge about the game and we're pretty similar players with similar builds and strengths so I can take so much from him.
"Rory Laird and Ben Keays are the two I've done the most work with. Lairdy's ability to show up week in, week out and just be so consistent is incredible. They've been great with body stuff and communication at stoppages."
After leading the AFL tackle count heading into last weekend and being overtaken by Laird, Berry said while there was no competitive banter creeping in just yet, he'd happily take the title off his mentor before the season is out and finish with plenty of momentum.
"It's not really competitive I think he's nearly got the league in disposals, so he can have that one and I'll have the tackle one," Berry laughed.
"The finish line is pretty close. Personally, just three quality games would be great."