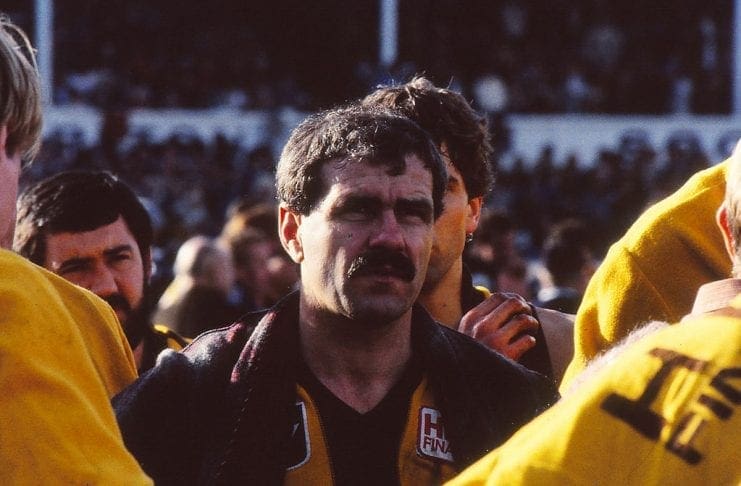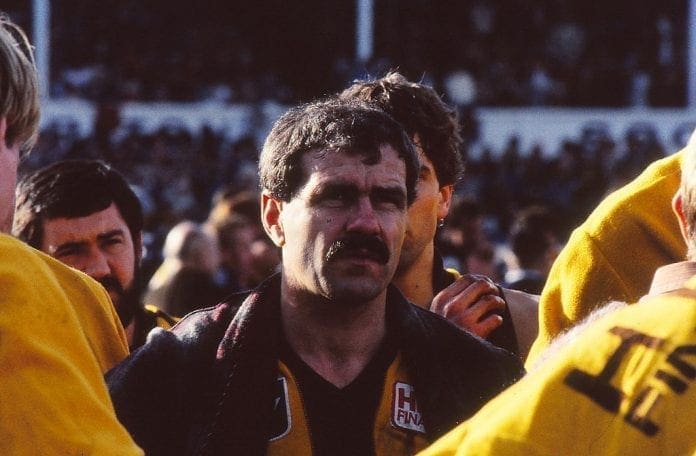 Every November millions of men attempt to grow hair on their upper lip to promote awareness for men's mental health.
Some of these attempts are disastrous, some are glorious, but all are grown for the right reason.
Back in 2003 two mates, Travis Garone and Luke Slattery, shared a beer in Fitzroy and pondered why the moustache went out of fashion.
The conversation snowballed and the idea of using the moustache to campaign for men's mental health and prostate cancer awareness was decided. They found 30 willing participants and now Movember is a yearly tradition around the globe with up to 20 countries contributing.
Since 2003, 6,538,699 men and women have joined the cause, whilst more than 1250 men's mental health projects have been funded.
Over the years the 'mo' was there flying the flag in Australia's greatest sporting moments. From John Bertrand's black chevron in the 1983 America's Cup, to David's Boon Walrus worn when smashing the winning runs against England in Australia's 1989 Ashes win, the moustache is a quintessential part of Australia's sporting folklore.
Pogonotrophy (the art of growing facial hair) dates to prehistoric time. The name itself was developed by the Scottish as 'mystax', which developed into 'moustakion' by the Greeks and was officially defined in 1580 by the French who refined it to 'moustache'.
It came into its own in England with the Stuarts who were the first Monarchs of the United Kingdom in the early 1600s. King James I and his son King Charles I (both Scottish) brought back the 'mystax' energy and grew a moustache and goatee with distinction.
Facial hair was bigger than the Beatles in the military and made a big return with British soldiers in the Crimea War (many grew facial hair to survive the extremely cold weather across Russia).
On their return home, many soldiers took on a similar appearance to Max Gawn and were celebrated as heroes by the public just like the skipper was in September of this year.
So popular was this form of follicles fashion, moustaches even became compulsory in the British Army.
It's an historic day as we celebrate one of the game's greats!

Hard to believe Mick wasn't born with a moustache. pic.twitter.com/UEPOlmeFJX

— AFL (@AFL) April 30, 2015
Across the world in Australia, the moustache was becoming a fashion statement within the colony, with many early Australian Rules stars growing facial hair.
From the fledgling days of our indigenous code until the gloss-coated days of the present, the popularity of the moustache may have both peaked and troughed, but some of the greatest names to ever play have come bristle clad along the way.
While never seeing his 28th birthday, Carlton's George Coulthard was regarded as the greatest player of his era.
Having also played test cricket for Australia, at 22-years-of-age, Coulthard became the youngest Test umpire when he officiated just the third official match in history.
Supporting a sturdy short handlebar moustache (a wide thick moustache), Coulthard was named Champion of the Colony three times and led the VFA goal-kicking three times as well.
Described as a player with God-like skill, Coulthard even survived a shark attack in New South Wales in 1877, enhancing his mythical status. Also, a fierce competitor on the field, Coulthard was suspended controversially for the remainder of the 1882 season after fighting with an opponent, which led to the crowd invading the pitch and fighting with the police.
Still, Coulthard became one of the earliest members of the '27 club' following his tragic death from Tuberculosis just a year later.
Peter Burns was the first Australian rules footballer to reach the magical 300-game mark.
Known more commonly by his nickname 'Peter the Great', Burns was sneakily coerced to join South Melbourne on a train ride while journeying to meet with Essendon officials.
Burns sported a thick chevron moustache (shaped to angle downwards towards the corners of your mouth) that covered his top lip. He also had a herculean build and won four premierships with South Melbourne (which included a 65m place kick to win the 1890 premiership).
Mullets, moustaches and short shorts: How AFL players have changed over the decades http://t.co/gaXQLC3n7M pic.twitter.com/SrnNbWbnVg

— ABC News (@abcnews) September 29, 2015
After retiring in 1902 at 36-years-of-age, Burns would go on to be Geelong's timekeeper until the cessation of the 1941 season.
Jack Reedman is one of the very few Australian sportsman to captain their state in two sporting codes and did so with an English moustache (similar to a handlebar, the English moustache was slimmer with the ends curving slightly upwards).
Reedman was a tactical mastermind captaining the South Australian football side for 11-years. Reedman moved to South Adelaide in 1889 and captained them in 172 consecutive games for five premierships before moving back to North Adelaide and captaining them to a further two flags.
The man from Gilberton also became the first player in Australian rules history to play 200 consecutive games (an Australian record he held until Jack Titus passed it in 1943).
After retiring with a South Australian football games record of 319, 'Dinny' moved to West Adelaide, coaching them to a premiership and the champions of Australia title when they defeated the VFL Premiers, Carlton.
Reedman was also a fantastic all-rounder, playing one test in 1894/95 for Australia and scoring 3338 runs at 23 and 118 wickets at 32.10 in 81 First-Class Matches
Anthony Daly was a goal-kicking legend in South Australia. Across 18-seasons and five clubs, 'Bos' kicked a then record 556 goals, including a 23 goal blitz against SAFA strugglers Adelaide (not linked to the Adelaide Crows).
Daly's 88-goal debut season in 1893 was a state record until passed by Ken Farmer in 1930 and a national record before Sandgroper Hugh 'Bonny' Campbell bettered it in 1926.
Daly played in seven premierships, won the SAFA/SANFL Goal-kicking seven times and did most of it with a thick walrus moustache (a moustache that is long and hangs down at both sides of the mouth) which could be seen from space.
The finest footballer of his era, Albert Thurgood was Australian rules' first icon and the number one draw card for many years.
A superstar in the VFA, Thurgood was also a trailblazer across the Nullarbor accompanied by his pyramid moustache (moustache that do not grow beyond the corners of the mouth).
Thurgood was a prodigiously long kick, proving able to reach 80 yards (73.1m) with a punt, 90 yards (82.3m) with a drop kick, and once launched a place kick 107 yards (98.48m) at training.
'Albert the Great' was by far the most dominant player in the early VFA competition. He was named the best player in the game three times and twice booted 63 goals in a season, his haul of 63 in 1894, was 33 more than any other player in the competition.
After three premierships with Essendon, Thurgood crossed the Nullarbor for work and played four seasons with the Fremantle FC (not linked to Fremantle Dockers) kicking 128 goals in four seasons and winning another two premierships.
In 1923 the Argus regarded Thurgood as the greatest, stating "…A.J. Thurgood is the best all-round man I ever saw (sic) play the game in Victoria…he was a match-winner; a man who could do the seemingly impossible and turn a forlorn hope into victory."
Players to outscore the entire opposition side in a V/@AFL Grand Final
1901 - Albert Thurgood - ess v coll
2019 - JACK RIEWOLDT - RICH v GWS

— Swamp (@sirswampthing) September 28, 2019
The moustache renaissance ended abruptly after the 1900s as soldiers in World War I had to be clean shaved as their gas masks would not fit tightly around their face if they had facial hair.
More than 200,000 underage men listed to fight, many of whom weren't old enough to grow a moustache, so only the high-ranking generals had a distinct coverings for their upper lip.
Many punters between World War I up until the 1960s believed the moustache had gone the way of the dodo. While still celebrated across the globe, the moustache was only used by elder statesmen from the war period and was rarely seen in Australian culture.
After World War I, hygiene for males was paramount and the clean-shaven look was in. I struggled to find any footballers of note across Australia with moustaches between the two Wars.
The 'Hollywood' look was in during the 1950's and many men across Australia flocked to their barbers to get a short back and sides haircut with a clean-shaven face.
Moving through the years, the late 1960's saw a cosmic shift in the evolution of the moustache. Teenagers growing up through the late '60s and early '70s looked at the clean-cut shave and short back and sides as old fashioned, facial hair was no longer seen as scruffy and quickly became a symbol for rebelliousness and anti-conservatism.
Footballers in Australia started growing moustaches as a symbol of a devil my care attitude and rugged manliness.
The Richmond Football Club wholeheartedly jumped on the moustache train and were followed by North Melbourne, Carlton and Hawthorn.
The Tigers' glory period between 1973-1982 featured up to 10 footballers who wore the moustache with gusto.
Robert 'Bones' McGhie, David Cloke, Dale Weightman, Rex Hunt, Emmett Dunn, Mark Lee, Kevin Morris, Mick Malthouse, Michael Roach, Brian Taylor, Bryan Wood and even coach Tony Jewell all had prominent hair on their upper lips.
A few of these footballers like Hunt, Jewell and Dunn were policemen, which shows that the moustache was de rigueur in the police force during the same period.
Two key footballers in this period for the Tigers, Cloke and Weightman, both had universally loved moustaches. Cloke's hungarian moustache (bushy moustache that covers the upper lip and is style to the sides) made him look more like a circus strongman in a football jumper instead of a spotted leotard.
Almost as famous as his moustache, Cloke's mullet was legendary through his 333 games.
A key figure in the Collingwood/Richmond trading wars, Cloke was dominant in the ruck or up forward for both clubs. Retiring in 1991, Cloke is the only player in history to poll three consecutive best on ground performances in his last three games and having hung the boots up just shy of his 37th birthday, was the oldest player in history to kick eight or more goals in a game (his last game).
Cloke's 1980 Premiership teammate Dale Weightman was a tenacious rover for the Tigers and showed loyalty during their mid-80's crisis. A testament to Weightman's skill, 'Flea' always lifted for interstate games, representing Victoria with distinction.
He became a rare type of footballer who played better when up against a better standard of opponent and it's all the more remarkable when you consider he was a known diabetic.
Weightman's short horseshoe moustache (a full moustache with vertical extensions grown on the corners of the lips and down the sides of the mouth to the jawline) was usually found at the bottom of a pack.
Fighting the Tigers for dominance in the mid '70s was the Ron Barassi led North Melbourne side who also competed with them in the upper lipholstery department.
Barassi's own chevron moustache (shaped like a chevron, that covers your whole top lip) was legendary at North Melbourne during their Premiership era. 1977 captain David Dench also had a beauty, as did Doug Wade who kicked more than 1000 goals, and so too did their South Australian star, Malcolm Blight.
In the ruck were the 'Galloping Gasometer' Mick Nolan and Barry Goodingham who both terrorized oppositions with their horseshoe bikie moustaches. Both footballers had killer nicknames, Nolan was nicknamed after the large Gasometer which lurked behind the Arden Street Oval, due to his towering status of 194cm and 135kg. While Goodingham was nicknamed 'Lurch' after his uncanny resemblance to the Addams Family butler.
Following on from North Melbourne's era of dominance, Carlton became the hairiest football club in the land.
Between 1979 to 1982, Carlton had the most facial hair in the competition. Premiership Captains, Alex Jesaulenko and Mike Fitzpatrick,  along with Val Perovic, Peter Bosustow, Ken Hunter, Jim Buckley, Ken Sheldon, Phil Maylin, Percy Jones, Wayne Harmes and Warren Jones all had distinguishable moustaches at some point in their career.
Jesaulenko, who's thick black chevron moustache would have made his Ukrainian father proud, is remembered for the outrageous mark he took in the 1970 Grand Final. Famous for being the last footballer to captain-coach a Premiership in 1979, 'Jezza' who injured his ankle in the last quarter, hobbled up to the dais and lifted the Premiership cup with retiring teammate and fellow 'tash' enthusiast 'Percy' Jones.
One of the few old greats to not keep their moustache after retirement, Mike Fitzpatrick became a club legend with his parted painters brush 'tash' (covering the width of the mouth, usually worn short, with slightly rounded corners).
Small for a Ruckman at 191cm, Fitzpatrick's lion-heart won Carlton many games, as he was often able to manoeuvre larger ruckmen off the ball with his strength.
Off-field, Fitzpatrick was a Rhodes Scholar and eventually became the AFL Chairman, holding the position from 2007 to 2017.
The next successful side to follow the trend was the Hawks. Many Hawthorn footballers embodied the 1980s with their mullets, beards and moustaches.
Tenacious rover Leigh Matthews, the high-flying defender Peter Knights, tough as nails midfielder Robert DiPierdomenico, durable key-defenders in Chris Mew and Kelvin Moore, son of a gun John Kennedy Jr, Norm Smith Medallist Colin Robertson, utility Rod Lester-Smith and future AFL Coach, Rodney 'Rocket' Eade, all supported various lip hamsters.
'Dipper's moustache is the one of the most famous 'tashes' in Australian sport.
Unmistakable on the field and post his career, Dipper's moustache ranged from a Hungarian (big and bushy, styled to the side) to something a bit more wild west. Dipper wouldn't look out of place in a spaghetti western, as he radiated gun-slinger energy.
His moustache had all the great qualities, it was voluminous, recognizable and was accompanied often by a five o'clock shadow and a curly mullet.
While often remembered for his follicles, DiPierdomenico was a sterling footballer who won the 1986 Brownlow Medal, five Premierships, and was named in the V/AFL Italian Team of the Century.
Peter Knights' mop of blonde hair was often see soaring over packs taking spectacular marks. Rated as one of the greatest centre half-backs of all time, Knights played most of his career with a blonde, gypsy, punk moustache.
As Knights' courage leaping for the ball frequently saw him injured, he missed out on a spot in the 1971 Premiership side, with further injuries in 1976 capping what could have been a Brownlow winning season. Despite playing just 15 games, the former champion and coach would go on to finish second in the count. Knights finished three votes behind fellow moustached rival Graham Moss and was named best on ground 11 times.
There have been many footballers throughout history that are worthy of cult status. The following footballers below are moustache enigmas, with facial hair that wouldn't look out of place walking down the hipster hubs of Brunswick and Fitzroy Streets within inner Melbourne.
Robert 'Bones' McGhie sported the Chopper Reid moustache before the career criminal did.
His cult status was birthed after the famous photo of him enjoying a cigarette on the hallowed MCG surface after Richmond's 30 point 1973 Grand Final win against Carlton.
McGhie was a fearless defender for the Tigers and was named at centre half-back in Richmond's back-to-back Grand Finals in 1973 and 1974.
Val Perovic's and Warren 'Wow' Jones' hairy upper lip turned heads. Perovic was unmistakable on field with his long hair and thick nostril warmer moustache, whilst 200cm New Zealand-born Warren 'Wow' Jones was a menacing figure on the field with his shoulder tattoos and a handlebar moustache that made him look like Daniel Day Lewis' character Bill the Butcher from Martin Scorsese's film 'Gangs of New York'.
Perovic was a crowd favourite at Princes Park, with the fans shouting 'WOOF' every time his left foot made contact with the Sherring. He also enjoyed himself off the field as was evident when he once consumed 37 Victorian Bitter cans on September 17th, 1984, with his Carlton teammates at the Cricket Club Hotel in South Melbourne.
Jones, who played as a second ruck to Mike Fitzpatrick, was a trailblazer for future tattooed footballers.
No moustache spent more time at the tribunal than the blonde broom on Carl Ditterich's upper lip.
A natural ruckman, Ditterich spent four separate stints at two clubs having gone from St. Kilda, to Melbourne, then back to St. Kilda and then back again to Melbourne.
Across 18-seasons and 285-games, 'Big Carl' had regular appearances at the Tribunal and famously missed out on the Saints 1966 Premiership due to a six-week suspension.
After moving back to Melbourne in 1979, Ditterich decided to take the field with a white bandanna, which became as signature as his 'mo'.
Derek Kickett's curly black walrus moustache and long steel wool mullet were synonymous with the outrageous '90s.
Kickett's skill was unquestionable, as he could launch booming torpedoes from outside the arc off one step and also bring down screamers.
Remarkably, Kickett spent time at seven clubs across Australia playing in the AFL, SANFL and WAFL. He played 12 games for North Melbourne, 77 games for Essendon, and 63-games for Sydney.
Leigh Matthews and Mick Malthouse developed a strong rivalry in the early 2000s when the Brisbane Lions and Collingwood squared off in the 2002 and 2003 grand finals, with the pair proving to be some of the most successful moustaches in history.
Matthews coached Collingwood to their drought-breaking flag in 1990, Malthouse coached Collingwood to their next flag 20 years later. In between, Matthews coached the Lions to a three-peat and Malthouse won two at the West Coast Eagles. Matthews' Einstein moustache was memorable throughout his professional career which spanned more than 30 years. Still, he once shaved off his mo in 2010 raising 23,000 for charity.
Mick's moustache changed across his career, it started off as a dark chevron moustache and near the end of his career became a salt n' pepper pencil thin moustache, resembling Clark Gable's famous moustache in 'Gone with the Wind'.
A plethora of modern-day footballers are championing the moustache. Jake Lever's pyramid chevron was on show in Melbourne's 2021 Grand Final win, the twin moustaches of Charlie Cameron and Joe Daniher are prowling the Brisbane forward line and creating nightmares for less hirsute defenders.
Tom Stewart's blonde painters brush and Zach Tuohy's Irish red walrus can be seen launching attacks from the Cats defence, and Dane Rampe's pool cleaner moustache is sometimes seen climbing goal-posts.
Oleg Markov's captain hook also wouldn't see him out of place as a pirate hunting for treasure with Jack Sparrow.
The future of the moustache is looking so bright that we should all be reaching for shades.
As player haircuts are becoming more and more outrageous, the moustache is following suit.
With November now upon us, the players will be putting away their shavers in celebration for a great cause and it behooves all of us to put our money where their 'mo' is.
Get around them, I say!
YOU CAN DONATE TO MOVEMBER HERE