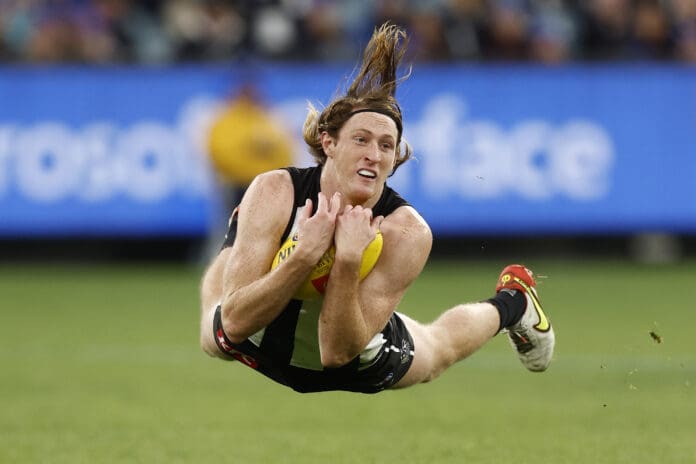 Every week we hear about the efforts of great names like Nick Daicos, Christian Petracca, Patrick Cripps and Marcus Bontempelli. However, there are many players who don't necessarily find themselves high on the stats sheet, or their strong performances have gone under the radar for so long.
This season, there have been a host of players who have started off underrated or at the lower end of the best 22 for their teams but have now found themselves as consistent and important performers, starting to earn the recognition of the AFL world.
Nathan Murphy, Jeremy Finlayson, Connor Idun, Kade Chandler and Lewis Young are just a few of the underrated players who have now found themselves as incredibly valuable players.
We've broken down their 2023 seasons and how they are faring.
1. Nathan Murphy
Nathan Murphy has emerged as an integral part of Collingwood's back six this season, sharing the load of playing on the game's biggest forwards alongside Darcy Moore. Murphy emerged as a wildcard for the Magpies last season, replacing the injured Jack Madgen in Round 10 against Fremantle and going on to play every game for the remainder of the season including finals.
Murphy has only missed one game this season after entering concussion protocols but was brought straight back into the side by coach Craig McRae, proving how important he is to this Collingwood lineup.
Heading into the 2023 season, we ranked Murphy as Collingwood's most underrated player but he has earnt the recognition he deserves for his effort. Whilst Murphy doesn't rank high on the stats sheet, his defensive one percenters and his will to put his body on the line have earnt the praise of the AFL world, his ten concussions a sign of his hard-bodied efforts.
Murphy played what McRae believed to be the best game of his career against Port Adelaide last weekend, finishing with 16 spoils, eight intercept possessions and 11 disposals at 90 percent efficiency. Murphy was awarded the Collingwood Coaches MVP for the second time this season off the back of that strong performance. Murphy also earnt the Coaches MVP back in Round 3 against Richmond after he had 12 one percenters, nine spoils, 11 pressure acts and three tackles.