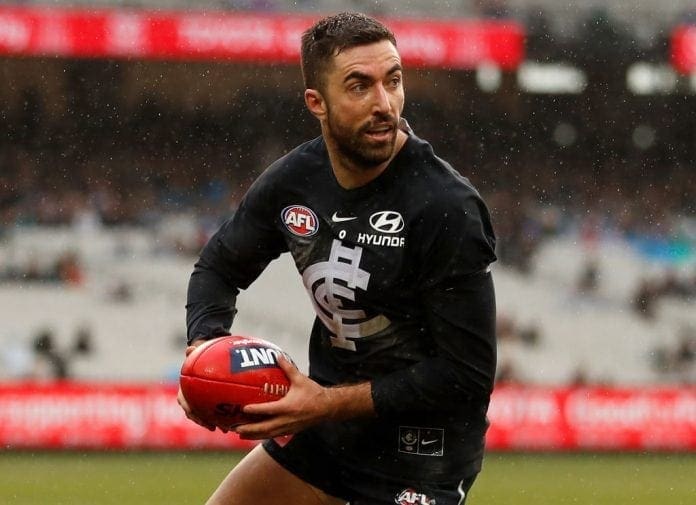 Despite hanging up the boots at the completion of last season, beloved Carlton backman Kade Simpson has divulged his desire to pick up the quill, and add another chapter to his footballing career.
In a candid interview with former teammate Dylan Buckley, the 36-year-old explained that although his time at Princes Park was over, he was still fit, firing, and knocking on the door for one last shot at glory.
The 342-gamer explained on the Dyl and Friends podcast that although he would love to pull the boots on again at AFL level, it would have to be with a team that was bound for September.
"I wouldn't play just for the sake of playing … (it would need to be) a team that's going to be challenging, that are looking like they're going to play finals," Simpson explained.
With the mid-season draft scheduled for Wednesday June 2, clubs the league over are sure to be running through the pros and cons of reviving the lightly built half-back's stellar career.
Although no side has publicly stated their interest in the former vice-captain, we here at Zero Hanger have made the case for five sides that could benefit from Simpson's wealth of experience and steady left foot.
If the sight of Simpson in anything other than a long-sleeved, navy blue guernsey is too much for you, Carlton fans, we suggest looking away now.
1. Western Bulldogs

With Luke Beveridge's boys dominating the competition at the minute, some may suggest that there is little need to add a 36-year-old to their list.
Still, with the Bulldogs' game plan based around swift movement from half-back, why not add a man that has over 1000 rebound 50s across his career?
If Simpson was brought to the Kennel, it would obviously be as back-up to Bailey Williams, Caleb Daniel and Jason Johannisen, but if their future success relies upon offensive defenders, the boys of the Bulldog breed could do much worse than bringing the former Blue in as insurance.
The fact that the Bulldogs have no spots on their list for a mid-season draft pick currently rules them out. However, should any long term injuries occur at Barkly Street, this would almost certainly change.