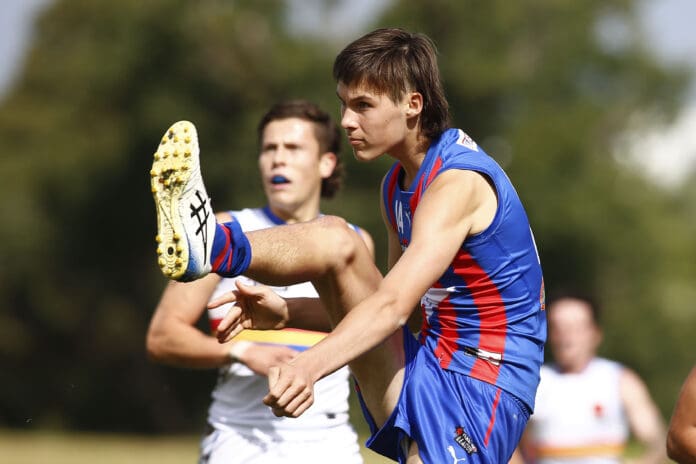 In what has been touted as a 'midfielder's draft', the value of a key-forward in this year's class of prospects is sure to a notable factor in those weighing up their plans for the future this off-season.
Several of the leading tall forwards in the 2021 crop of talented teenagers have also looked to prove their worth in being able to move into the midfield as a part-time ruckman - a strategy many AFL clubs have looked to utilise this year.
With next month's Draft nearing, AFL Talent Ambassador and veteran list guru Kevin Sheehan has provided insight into the top talents for clubs looking toward boosting their tall forward stocks.
SEE ALSO: The top medium defender options for the 2021 AFL Draft
Sam Darcy (Oakleigh Chargers)
Height: 204cm
Weight: 73kg
The Bulldogs father-son selection is seen as the best key-forward among his class, rocketing into top-five contention following a strong campaign under limited exposure in 2021.
Made just the three appearances for the Chargers, but was a key feature with Vic Metro and has emerged as a proven threat in front of goal with his ability overhead and posied goalkicking routine.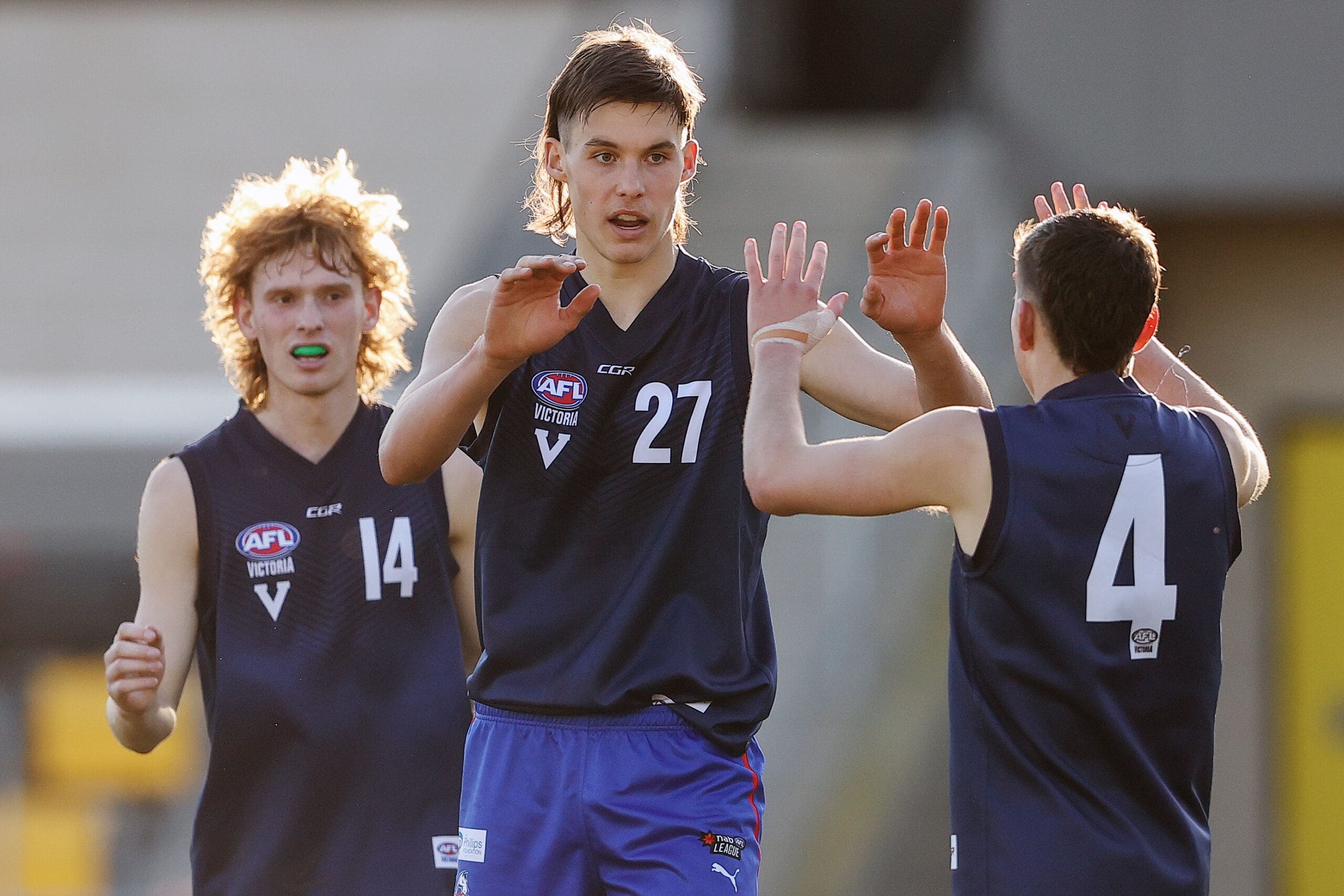 Is set to further bolster the Bulldogs' strong key-forward depths, joining 2020 No.1 Pick Jamarra Ugle-HaganNaughtonand Aaron as a promising foundation to the future at Whitten Oval.
Sheehan says: Tall forward who can also play down back or in the ruck using his athletic attributes and skill set to great effect. A one touch mark overhead he also reads the ball very well in flight and launches himself to take contested marks drawing comparisons to Max and Ben King a couple of years back.
Mac Andrew (Dandenong Stingrays)
Height: 200cm
Weight: 70kg
An athletic big man capable of sharing his workload between the attack and ruck, Andrew has shot into favouritism for an early first-round selection after making scouts well aware of his prospects.
After not being a renowned name 12 months ago, Andrew's 2021 campaign has seen him follow a meteoric rise to become the most desired tall in the National Draft.
Is a Next Generation Academy product for the Demons, however new bidding guidelines will likely see a rival club swoop on Andrew in the top 20 and fall out of reach of Melbourne.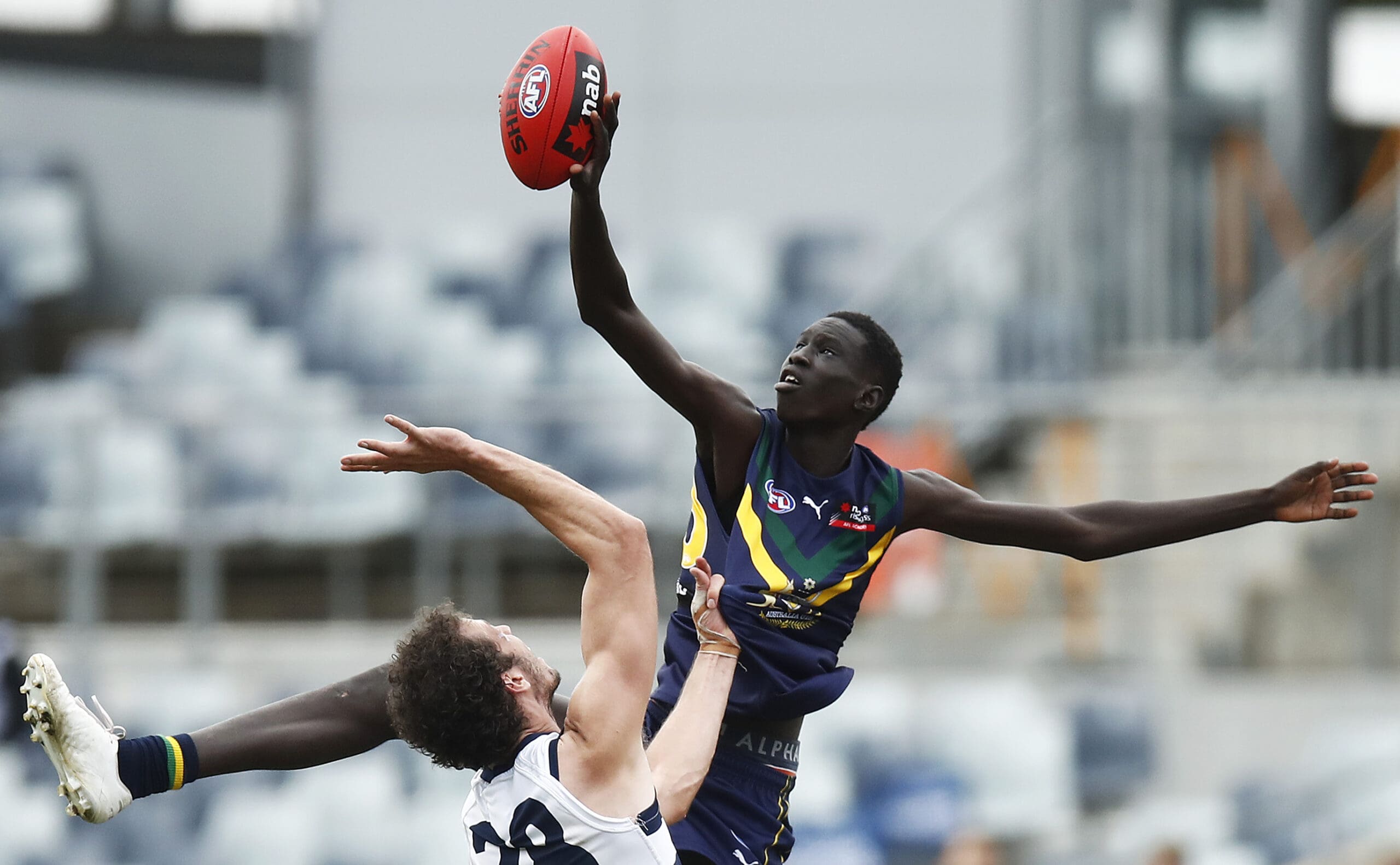 The Giants (Pick 2) and Dockers (Picks 6 & 8) are believed to be interested suitors.
Sheehan says: Emerging tall forward/ruck who showed sparkling form at the start of the year with his overhead marking, natural leap, agility and speed. His standout features propelled him into the Australian Under 18s team for its NAB AFL Academy match against Geelong's VFL team in April where he was lively.
Jye Amiss (East Perth)
Height: 196cm
Weight: 83kg
One of the hottest prospects coming out of Western Australia, Amiss has built a solid case to likely fall in the first half of the opening round.
SEE ALSO: The top medium forward options for the 2021 AFL Draft
Has booted 65 goals from 23 appearances in his time with the Royals' Colts side, including a seven-gaol haul against Peel Thunder, proving to be an accurate shot at goal.
Perhaps the second-best full-time forward in his class and would rival mercurial forward Neil Erasmus as the best talent from the western border.
Sheehan says: Has excellent acceleration on the lead, strong one touch hands as well being a strong pack mark. As his numbers indicate, he is a deadly accurate kick on his preferred left foot as well as being an unselfish and team-oriented player prominent with his goal assists. Showed a thin slice of these appealing traits in kicking two goals and setting up other opportunities for Western Australia against South Australia in NAB AFL U19 Championships game in August then suffered an injury to his knee in the AFL Grand Final curtain raiser curtailing his season.
Jack Williams (East Fremantle)
Height: 195cm
Weight: 94kg
A twin tower to match Amiss from Western Australia, Williams has risen into consideration as a potential top 30 selection ahead of next month's National Draft.
A well-balanced prospect that is more than capable in the air, looming as a constant headache for those in the opposition's defence.
Has a good eye for goal and can is also a smart user of the ball when looking to share the Sherring in attack.
Sheehan says: Tall forward who is constantly on the move and presenting as a marking target up forward for his team using his vice like grip in front and overhead to great effect. Been an outstanding player at Under 18s level in WAFL playing 15 matches and averaging 14.6 disposals, 5.9 marks and kicking 40 goals as well as being prominent for Western Australia in two of its wins over South Australia in the Under 19s matches being very prominent in final match with 16 disposals, taking 7 marks and kicking 2 goals to be among his side's best players.
Josh Rentsch (GWV Rebels)
Height: 197cm
Weight: 100kg
A tall and muscular key-forward option, Rentsch claimed the 2021 Morrish Medal alongside Calder Cannons midfielder Flynn Lakey following a dominant campaign with the Rebels.
Rentsch polled among the best in six of his nine appearances on his way to booting 14 goals for the season. Listed in a midfield-dominated draft class, the tall teenager is likely to land as a later selection compared to most on this list, however his upside could be as good as any.
Another forward that can share his workload as a ruckman - a role that is currently proving vital in the AFL - Rentsch's size and frame could see him wrestling with the league's best stalls in no time.
Sheehan says: Tall forward who plays with a real physical presence up forward for his team. A natural leader on the field he is very team oriented as well as being a strong mark both on the lead and overhead. He showcased his prowess in representing Victoria Country in AFL Challenge match this year. Developed another string to his bow this season assisting with ruck duties up forward and around the ground using his ruck craft to help his team dominate clearances.