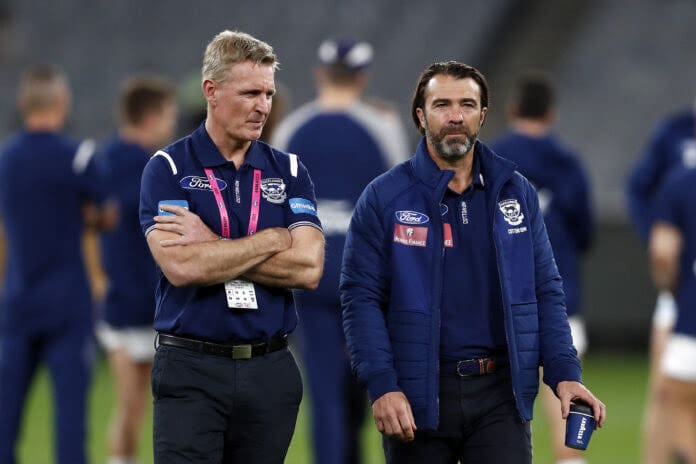 Just two rounds into the 2023 AFL season, Geelong is already in a precarious position as it pertains to its premiership candidacy, despite having just claimed the league's prize in dominant style last September.
The Cats, after being overrun by the fast-finishing, rampaging Magpies in Round 1, fell to a determined Carlton side on Thursday night by eight points, as defensive flaws were once again evident amongst a unit missing leader Tom Stewart and crucial utility Jack Henry.
Despite winning the inside 50 count (+6) on the night, the Cats succumbed to the Blues in stoppage clearances (-3), contested possessions (-14), uncontested possessions (-37), turnovers (-5), and efficiency inside 50, as they managed just 23 shots at goal from 54 inside-50s (43 per cent).
In addition to Stewart and Henry, absent for Geelong to begin the year is Mitch Duncan, whose kicking efficiency and role in the Cats' ball movement chains have been sorely missed through the opening two rounds.
Henry, meantime, offers extensive flexibility to Chris Scott, as the 24-year-old can play tall impressively at either end of the ground. Unfortunately, he remains out of Geelong's side due to continued rehabilitation from a foot injury suffered during a practice match in February.
Speaking to the media post-game on Thursday evening, Scott maintained his calmness about Geelong's situation, opting against overreacting to a second consecutive loss to begin the year, instead acknowledging the changes amongst his current side and the impact that has had.
"We always knew [that] this was going to be a hard year," Scott started. "I think we'd be saying exactly the same thing if we had won two close games (to start the season).
"So, the fact that we haven't got over the line, there's the disappointment there that's obvious, but certainly not a situation where we're really panicking.
"Some of the disjointed manner in which we're playing was a bit foreseeable [with] the shifts we've had, and even saying that, some of the new players that have come in, if you look at them in isolation, [there's] a lot to be positive about those guys.
"So, we thought we'd play poorly early in the game, again, it didn't quite look like the way we wanted to play, but we were always conscious that we were going to be different."
While admitting that things have looked different to begin the year, Scott affirmed that there's a 'quiet confidence' within the four walls at Kardinia Park.
"We've come out into this year with a view that we are going to be different, there are going to be some teething problems with a few things, and we've lost a couple of close games, but there's still a lot to like, so there's a quiet confidence about us," Scott said.
No AFL team this century has started winless through two games and gone on to win the premiership. If the Cats are capable of righting the ship and setting sail back to the promised land, they would become the first team this century to do so from the dreaded 0-2 starting position.
Cats would need to become the first team this century to win the premiership from 0-2 #AFLBluesCats https://t.co/jWf7j73rJ2

— Aussie Sport Stats (@AusSportStats) March 23, 2023
Another fun (depending on the club you support) stat? Geelong has started 0-2 under Scott just once, coming in 2015 - the only year Scott has failed to take the Cats to finals.
This club rarely begins on the back foot.
It would be ludicrous to even consider ruling out the Cats this early in the season, particularly after the feat they just accomplished. However, it's hard to argue against the fact that warning signs are present at the Cattery.
Verdict: Overreaction
Real or overreaction takes a look at both sides of the coin and dives into a hot topic within the AFL.