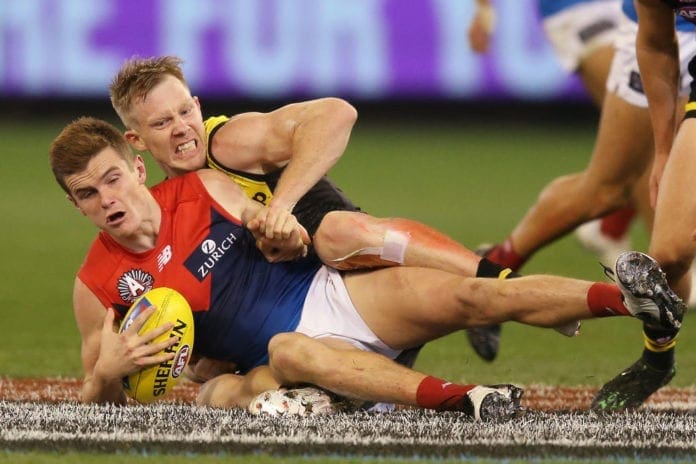 As both the players and their coaches continue their strides in season 2021, distinctive groups have broken out throughout the race.
Some, like the Bulldogs and Demons, have dashed from the starter's gun, with the desire to create lightyears between themselves and the pack.
Sadly for others, they are barely attached to the peloton anymore.
Whether first, second, third or 18th along the road to the last Saturday in September, every side and their side coaching team still have question marks over their head.

Adelaide
Was last Sunday a reality check or just a speed bump?
As things currently stand, the Adelaide Crows hold a 3-2 record after five weeks and sit on the seventh rung of the ladder.
Has their start to the season been impressive? Yes.
Is it sustainable? I'm not so sure.
After letting their half time lead slip at home against the Dockers last weekend, Matthew Nicks' murder missed a prime opportunity to steady their ship and batten down the hatches before the inevitable storm arrived.
Fog goals after the siren, but Freo too strong in the second half.#weflyasone pic.twitter.com/ThLIGWoyWD

— Adelaide Crows (@Adelaide_FC) April 18, 2021
Cast your eyes over the Crows' upcoming fixtures from Rounds 8 to 13, and you will notice one key commonality – every game is against a side they failed to beat last season.
On current form, Adelaide appear to be able to compete with the teams they face – Port Adelaide, West Coast, Melbourne, Richmond, Collingwood and St. Kilda – across this six week stretch, but after claiming the wooden spoon comfortably last season, the question remains – are they just overachieving early?
According to Stats Insider, the Pride of South Australia currently holds a 19.9% chance of making the eight by seasons end, and should victories against the Hawks and Giants be claimed over the next fortnight, then this is sure to remain stable at the very least.
If they miss these final two chances to secure their vessel before the skies darken and the waters around them become tempestuous, then you can expect this figure to have reached the ocean floor by the bye.