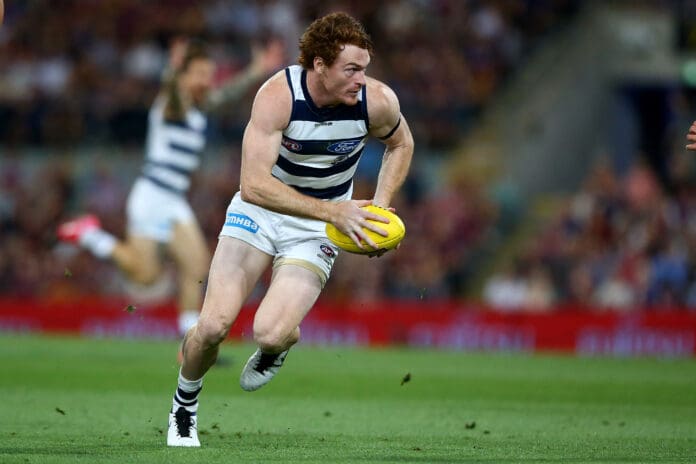 It may come as no surprise to hear Geelong speed machine Gary Rohan holds the title of the AFL's quickest player, but he's not alone on the throne.
The Cats sharpshooter's top pace of 37.8k/h was clocked in his side's season opener against Collingwood and is the quickest speed the AFL's Tracker has recorded since data began in 2017.
However, Rohan isn't the only player in 2023 to set a record pace, with North Melbourne forward Charlie Comben equalling his feat in Round 7 this year against Melbourne at the MCG.
The pair's shared speed surpassed the previous record held by current Magpie and ex-Tiger Oleg Markov, who hit a break-neck pace in the yellow and black back in 2019 with a dashing run peaking at 37.4km/h.
Comben's record-matching pace came in the same game the developing Roos forward sustained a serious leg injury that has kept the 199cm talent on the sidelines. Comben's efforts are astounding, given his leg and knee injuries history and his frame and size.
The lighting pace of Rohan and Comben sits ahead of Adelaide recruit Izak Rankine among 2023's top recordings, with the Crows small forward setting a high speed of 36.0km/h in Round 7. A speed over 35.0km/h has only been set on a further seven occasions this season, one of which was recorded by Rohan again in Round 12 at 35.4km/h - the fourth-highest speed recorded this year.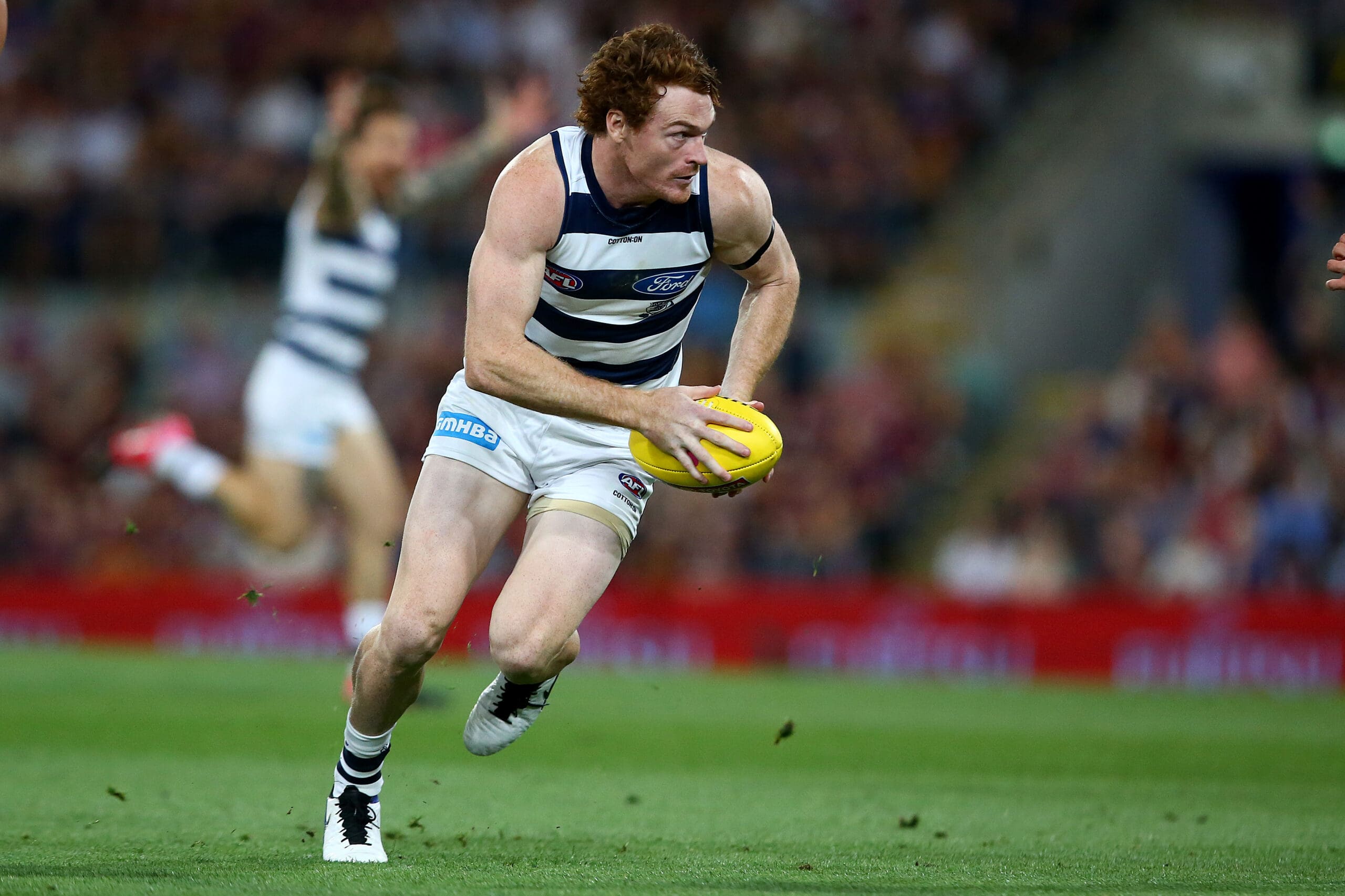 The veteran Cat is one of four Geelong players to have clocked a speed of 34.2km/h or quicker this year to be among the top 24 fastest speeds recorded - three of which are owned by Rohan. Teammates Jed Bews (twice), Esava Ratugolea and Oisin Mullin also feature among this season's quickest players.
Comben's teammates, Jaidyn Stephenson and Griffin Logue, see North Melbourne have three players to break the 34.2km/h barrier this year, while Sydney equals that measure with Nick Blakey, Isaac Heeney and Harry Cunningham also among the AFL's standout speedsters.
GWS, Hawthorn, Melbourne, Port Adelaide, Richmond and West Coast don't have players featured among the top speeds of 2023.
For comparison, the world's fastest man, Usain Bolt, recorded a top speed is 44.7km/h when he set the world record for the 100m sprint in 2009.
Fastest AFL players of 2023
Gary Rohan (Round 1) - 37.8km/h
Charlie Comben (Round 7) - 37.8km/h
Izak Rankine (Round 7) - 36.0km/h
Gary Rohan (Round 12) - 35.4km/h
Charlie Cameron (Round 14) - 35.2km/h
Nick Blakey (Round 14) - 35.2km/h
Bradley Hill (Round 6) - 35.1km/h
Esava Ratugolea (Round 10) - 35.0km/h
Jed Bews (Round 1) - 35.0km/h
Jaidyn Stephenson (Round 12) - 35.0km/h
Harry Cunningham (Round 10) - 34.7km/h
Brodie Smith (Round 16)- 34.7km/h
John Noble (Round 12) - 34.6km/h
Jed Bews (Round 2) - 34.5km/h
Brandon Walker (Round 4) - 34.5km/h
Griffin Logue (Round 10) - 34.5km/h
Jesse Motlop (Round 9) - 34.4km/h
Oisin Mullin (Round 12) - 34.3km/h
Gary Rohan (Round 6) - 34.2km/h
Nick Hind (Round 8) - 34.2km/h
Bobby Hill (Round 11)- 34.2km/h
Oskar Baker (Round 13) - 34.2km/h
Hewago Oea (Round 15) - 34.2km/h
Isaac Heeney (Round 10) - 34.2km/h
Every AFL club's quickest player in 2023
Adelaide: Izak Rankine (Round 7) - 36.0km/h
Brisbane: Charlie Cameron (Round 14) - 35.2km/h
Carlton: Jesse Motlop (Round 9) - 34.4km/h
Collingwood: John Noble (Round 12) - 34.6km/h
Essendon: Nick Hind (Round 8) - 34.2km/h
Fremantle: Brandon Walker (Round 4) - 34.5km/h
Geelong: Gary Rohan (Round 1) - 37.8km/h
Gold Coast: Hewago Oea (Round 15) - 34.2km/h
GWS: Callum Brown (Round 12) - 33.9km/h
Hawthorn: James Sicily (Round 11) - 33.8km/h
Melbourne: Kysaiah Pickett (Round 10) - 34.1km/h
North Melbourne: Charlie Comben (Round 7) - 37.8km/h
Port Adelaide: Kane Farrell (Round 10) - 34.1km/h
Richmond: Maurice Rioli Jr. (Round 5) - 34.1km/h
St Kilda: Bradley Hill (Round 6) - 35.1km/h
Sydney: Nick Blakey (Round 14) - 35.2km/h
West Coast: Jack Petruccelle (Round 10) - 34.1km/h
Western Bulldogs: Oskar Baker (Round 13) - 34.2km/h