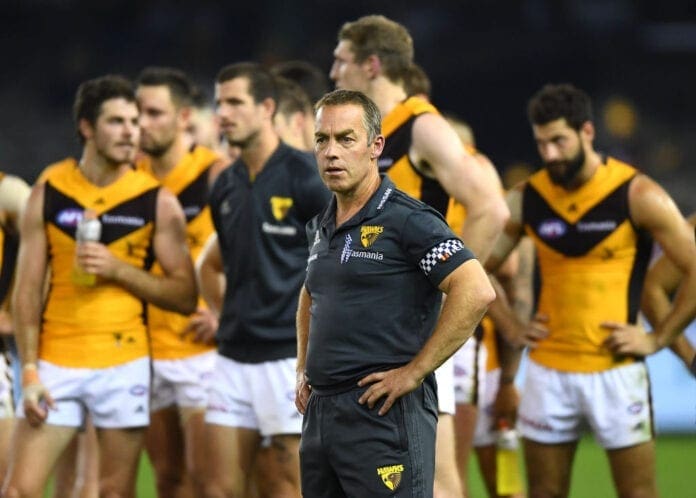 Tasmania's demand for their own AFL license has hit near breaking point, with the state's government threatening to walk away from their negotiations with North Melbourne and Hawthorn if things don't start ramping up soon, per The Herald Sun.
North Melbourne and Hawthorn's current deal with the Tasmanian government to play games in the state runs out at the end of 2021.

A letter has been sent out by Tasmanian premier Peter Gutwein stating that they will not renew the license with the two Victorian clubs unless they have a clear indication of when an AFL license is coming, and expect a response in the coming days.
A spokesperson from the Tasmanian government affirmed the reports that a letter had been sent to the AFL.
"The Premier has recently written to the AFL in relation to Tasmania's continued bid for an AFL licence," the spokesman told The Herald Sun. 
"We understand that there was an AFL Commission meeting this week which included discussion on a potential Tasmanian AFL licence.
"The Premier has had a telephone conversation with Mr McLachlan subsequent to this meeting and been advised that he will receive a response to his letter in coming days."
Hawthorn president Jeff Kennett said the club would like to renew their license with the Tasmania government, but would also be keeping their options open.
"From Hawthorn's point of view, we have been there for 20 years, we have invested a great deal of time and effort into Tasmania and we would like to stay," Kennett said.
"However, we have to think about our own obligations to our members.
"We would be irresponsible as club administrations if we weren't considering all options now."
Kennett added that he is worried that a stand-alone Tassie team may not survive financially without significant help.
"I appreciate the Premier putting it in those (frank) terms. He is entitled to do that as he is the Premier of a Sovereign State," he said.
"But I would hate Tasmania to throw out Hawthorn and North Melbourne and end up with a team that is so financially bereft that it can't compete.
"It would be a disaster for Tassie, it would be a disaster for the AFL and we know the AFL has had a tough year (in 2020).
"They have no liquid funds per se and this year we have already border closures, so we have no idea what this year will bring."
The AFL will continue to keep in contact with the Tasmanian government on the current situation.