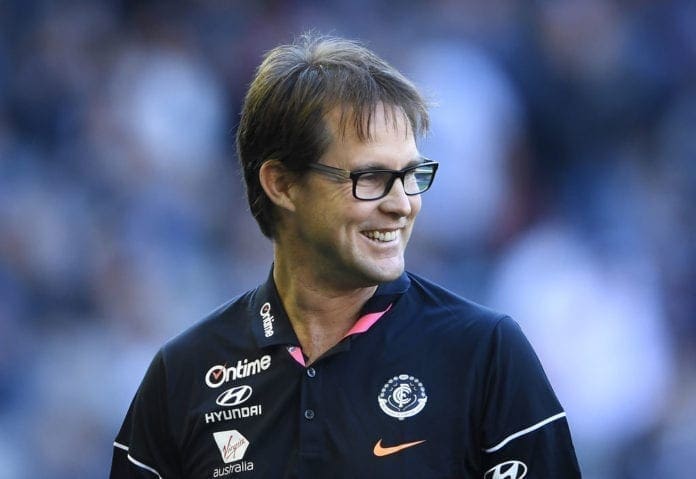 Former Carlton coach David Teague has landed an assistant coaching role at Richmond for 2022 and beyond.
The 40-year-old was sacked by Carlton at the end of the 2021 season after an independent review deemed his game plan was too heavily focused on offence as opposed to defence.
https://twitter.com/Richmond_FC/status/1439859954886737920
Teague called out the Carlton board after his final game saying that he felt he knew the review wasn't going to go in his favour and that he felt like didn't get enough support from those above him.
He lands at Punt Road to work underneath 3-time premiership coach Damien Hardwick who reached out and supported Teague when he was under mounting pressure at the Blues.
"I've had a few other coaches reach out to me and [the other night] Damien Hardwick reached out to me," Teague said back in August.
"He talked about Richmond's courage to back him in when things weren't going well in 2016. He went through a similar thing.
"It gives you confidence and I'm really hopeful that our club backs me in and has the courage to stick to the cause and to finish what we've started."
Teague has a deep CV as a line coach, including time spent at Adelaide as their forward line coach when the Crows made the Grand Final in 2017.
SEE ALSO: Frontrunner emerges for Blues top job
A fresh start is exactly what Teague believes he needs after a tumultuous year in the hot seat at Carlton.
"Coaching is my passion, and I am excited by the opportunity to get to work with a new group of players and at a new club," Teague said in a statement.
"I am looking forward to getting to work this pre-season and embracing the challenge that we all have, to climb the Tigers back up the ladder in 2022.
"It is great to be involved."
Richmond General Manager of Football Performance, Tim Livingstone, said Teague would be a valuable asset to a Richmond side looking to bounce back into the eight next year.
"David is a highly skilled and experienced coach who will be of great benefit to our players and his fellow coaches," he said.
"We are excited to have David on board and welcome him and his family to the Richmond Football Club."
Teague's first game in the box for the Tigers will be against the Blues in the traditional season opener.