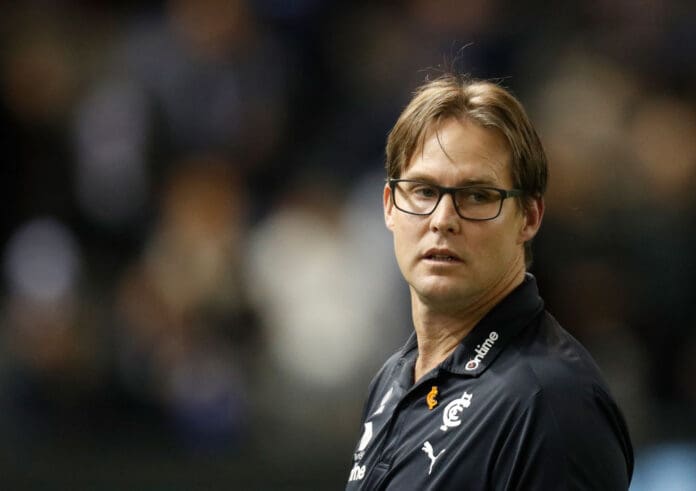 Three-time Richmond premiership coach Damien Hardwick has reportedly reached out to under-fire Carlton senior coach David Teague to offer his support, as Teague is left in limbo over his coaching future at Ikon Park.
Carlton's board will reportedly meet on Thursday night to discuss its external review into the club's football department, the findings of which are likely to decide whether or not Teague continues as senior coach beyond 2021, according to an AFL.com report.
Hardwick himself was put through a similar situation during 2016.
Reassured by his discussions with Hardwick, Teague will be hoping he is similarly fortunate with his current situation.
"I'm coping OK," Teague said.
"There's a fair bit going on. I'm super proud of the way our coaching staff, football club and football administration have gelled together and kept turning up. Inside the four walls in here, it's a really good place at the moment in terms of coming in to get your job done.
"I've had a few other coaches reach out to me and [the other night] Damien Hardwick reached out to me. He talked about Richmond's courage to back him in when things weren't going well in 2016. He went through a similar thing.
"It gives you confidence and I'm really hopeful that our club backs me in and has the courage to stick to the cause and to finish what we've started.
"I've said all along, I really believe in what we're doing. I believe in this playing group and where we're going. The reassurance to have someone like 'Dimma' to reach out and to understand what I'm going through, it's really nice and comforting."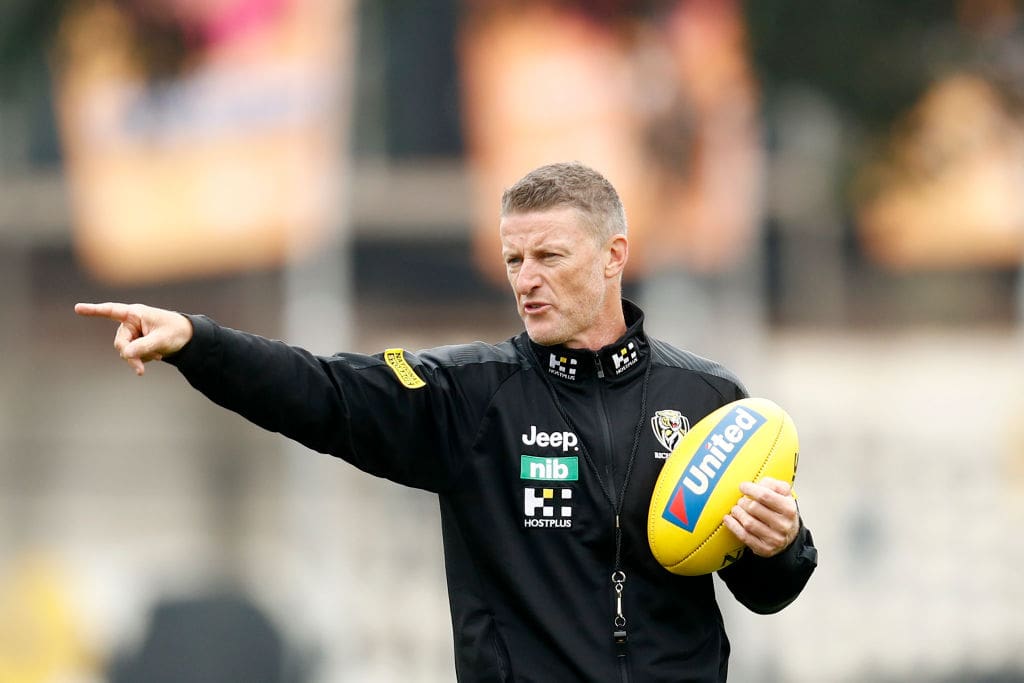 Teague believes the Blues board will not come to a final decision by the time Carlton plays Port Adelaide in its second-to-last game of the season this weekend.
"I'm committed to doing this season and next at the moment," Teague said.
"They're going to get the review tonight, so I dare say they'll need a bit of time to ponder that. But I'm planning to coach out the season and that's what I'll do. I'll do that to the best of my ability and with the support of the guys around me.
"I'm really confident that I'm the guy to take this club forward. I believe in myself and I believe in the people here and the players."
As Carlton's head man, Teague has a win percentage of 43.8% and has not coached the Blues to a finals appearance since taking over midway through the 2019 season.