Tasmanian premier Jeremy Rockliff has delivered a stern warning to the AFL, threatening to pull vital funding should the AFL not "respect the magnitude" of their offer to aid their bid in becoming the 19th AFL license.
Presidents from all 18 clubs are set to hold crucial talks next month and will vote on the matter of expanding the competition to the island state.
The Tasmanian government has already tabled a substantial "non-binding" offer of $10 million each year for up to 10 years, along with another $50 million for "club set up costs and high-performance facilities" to strengthen their bid.
But amid an important period in the AFL's mulling over expansion, Rockliff has sent an emphatic message to league boss Gillon McLachlan.
"Today I have made it clear to AFL CEO Gillon McLachlan Tasmania's expectations regarding Tasmanian AFL and AFLW teams," Rockliff's statement reads.
"In May, the State of Tasmania put forward a non-binding offer to progress the AFL's considerations with respect to granting AFL and AFLW licenses to Tasmania.
"No expansion club has ever come near replicating an offer like this.
"While there is value because Tasmania will derive a significant return, the government will withdraw its offer if the AFL doesn't respect the magnitude of this offer."
Rockliff has also made it clear that the Apple Isle state won't fully fund a new boutique stadium while understanding the infrastructure is critical to their bid.
McLachlan has strongly suggested in the past that a new stadium will likely be a key prerequisite in giving Tasmania the green light.
"This is a decision for the State of Tasmania, not the AFL," Rockliff continued.
"It is also a condition that the club must be supported by Tasmanians to be successful and to be so it must not just be seen as Tasmania's team, but to operate as a truly Tasmanian team with the governance reflecting the enormous investment our Government will provide the AFL.
"It is also my explicit expectation that the Tasmanian club will be treated equally and fairly by the AFL in funding matters consistent with other similar-sized and expansion clubs.
"Our offer also remains contingent upon several other assumptions ... including funding both male and female talent pathways, the establishment of a Tasmanian VFL team, and a guarantee that games will be played in both Hobart and Launceston.
"We are very close to a final decision and I have called on the AFL to make good on its commitments and to treat Tasmania with the same equity and respect it has provided other states.
"The only way we make history is together."
According to AAP, an AFL spokesperson detailed that "the AFL continues to work through the 11 agreed work streams with the Tasmanian Government."
Those streams include finances, sponsorships, player retention, talent pathways and a new stadium in Hobart, with Tasmania's bid likely hinging on the latter.
"We feel quite comfortable the others can be completed," AFL GM of broadcasting and club Travis Auld said, via News Corp.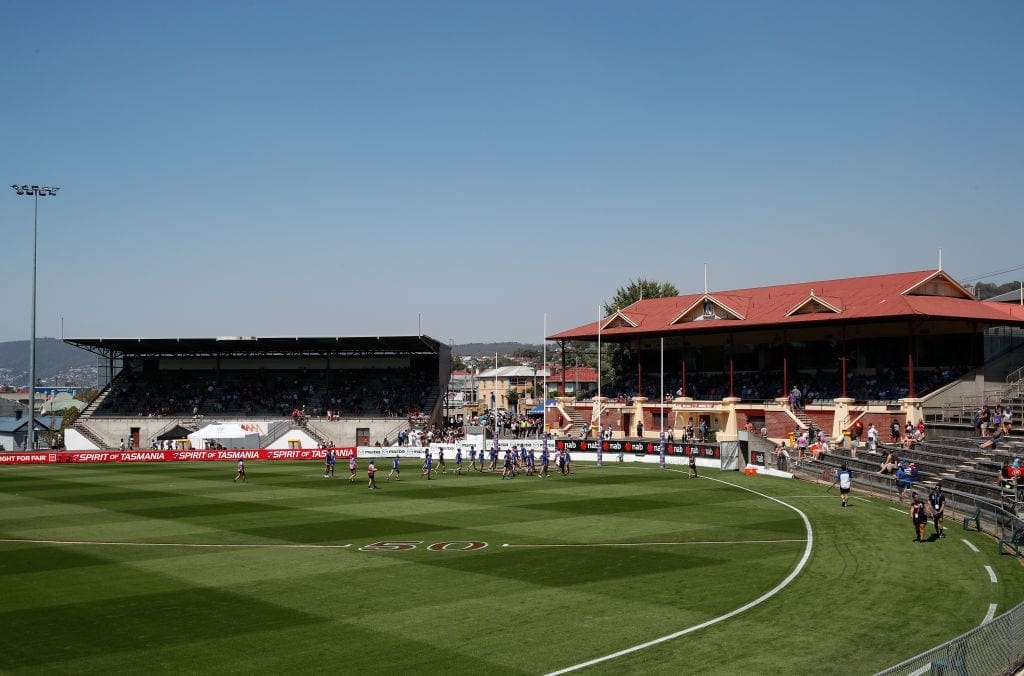 "A piece of work like this for a piece of infrastructure like this (the stadium) takes a lot of time to get to a point where we can recommend something like this through to the commission and then the clubs.
"We've been pretty clear a stadium sits as a fundamental pillar of a successful team and nothing has changed there."
A near-30,000-seat stadium located at Regatta Point could cost the competition more than $750 million, with a cheaper option also being weighed up at Macquarie Point.