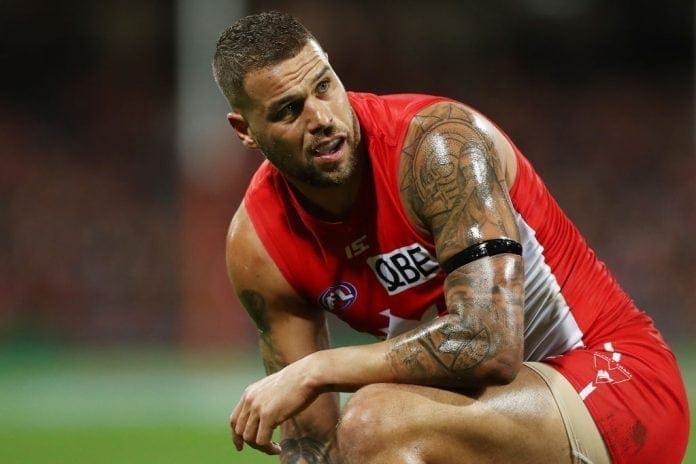 Sydney Swans superstar Lance Franklin faces over six weeks on the sidelines after injuring his hamstring at training on Wednesday, according to Fox Sports' Tom Morris.
It is believed that the 33-year old's injury is worse than first thought, with the club awaiting Thursday's scan results.
Franklin could not walk without pain which indicates the injury is significant and means six weeks could be the best case scenario.
The four-time Coleman medallist suffered two hamstring injuries last year both to his left leg, while the latest setback is to his left leg.
Franklin is in the third-last year of the mega nine-season deal he inked with Sydney back in 2013, with this year and 2021 standing as his highest-earning campaigns.
Former Geelong forward Cameron Mooney said on Fox Footy Live that moving Franklin to a wing to keep him more active could help extend his career.
"People talk about the older players you have to rest them and give them a week off. You actually need to keep training to keep the body going," he said.
"I was talking to Kingy upstairs about it, 105 kilos. Buddy doesn't do anything at a nice pace, everything is flat out. Whether he's leading or running, it is speed.
"When your hamstrings are going at 33 years of age, and his game is revolved around that real power and going flat out, you are concerned about what can he do for the rest of the season.
"Can he change the way that he plays? Does he play on a wing like (Nick) Riewoldt did at the end of his career?
"So he maybe plays that position where he is not sprinting as hard, at a consistent pace or do you put him down at full forward line and say 'mate we don't want you to lead or move', that just takes him away from his game."