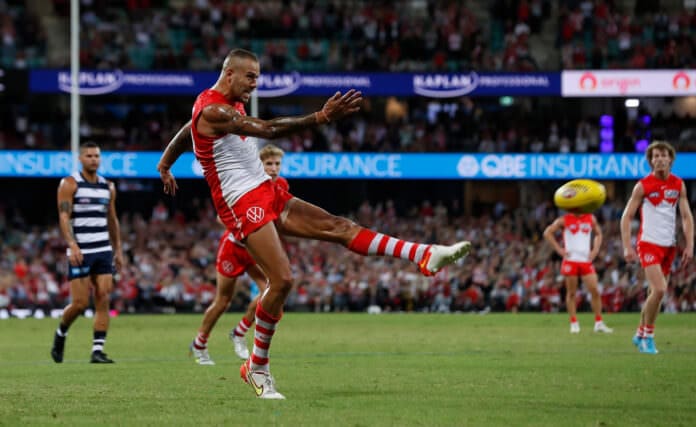 The Swans have revealed superstar Lance Franklin's playing status for Thursday night's important clash with Richmond, as well as announcing midfielder Chad Warner and forward Joel Amartey are unavailable for selection.
According to Sydney's Round 16 injury report, Franklin will be available for selection for Thursday's game, with Head of Physiotherapy and Medical Services Damian Raper stating 'Buddy' took part in the Swans' main training session this week.
"Lance completed a training block over the weekend and took part in our main skills training this week. He has recovered well and will return to play against Richmond," Raper told SydneySwans.com.au on Tuesday.
As for the influential Warner, who dominated the first match-up between the Swans and Tigers at Gather Round, the midfielder won't play after succumbing to a calf strain.
Raper claimed Warner's return-to-play status is yet-to-be-determined.
"Chad has sustained a calf strain and will miss this week's game against Richmond. He will then be assessed further by our rehabilitation team to determine his return to play timeframe," stated Raper.
Meanwhile, burgeoning key forward Amartey, who recently cemented his future in the Harbour City, will be managed.
The Swans are choosing to remain cautious with their emerging goalkicker after he suffered a hamstring injury almost two months ago.
"Joel will be managed this week and will not play in Thursday night's match against Richmond. He has now put together a solid block of playing time since returning from a hamstring injury which kept him out for seven weeks and we will continue to take a proactive approach to his management," said Raper.
Injury Update: Who's in and who's out? 👀

— Sydney Swans (@sydneyswans) July 4, 2023
On the other side of the ledger, the Tigers will be without hamstrung midfielder Jayden Short, however, they will welcome the return of superstar Dustin Martin and possibly contested-ball beast Dion Prestia.
Both clubs' selected sides will be announced on Wednesday evening.
Sydney's season-defining meeting with Richmond at the MCG is fixtured for Thursday, July 6 at 7:20 PM (AEST).