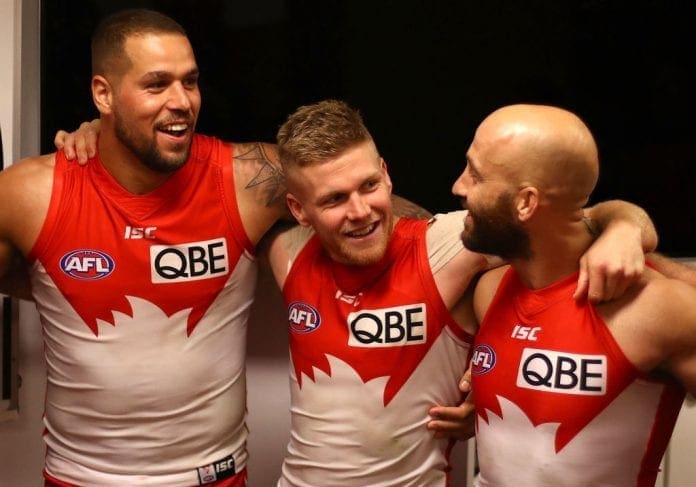 Sydney Swans veterans Dan Hannebery and Jarrad McVeigh will be making a last-minute effort to prove their fitness ahead of round one clash against the West Coast Eagles.
The pair have had an injury-riddled pre-season, with calf injuries sidelining the pair throughout the JLT Community Series.
Hannebery missed a large amount of time during Sydney's pre-season due to both groin and calf injuries, only making strides in his recovery two weeks ago when he re-joined the training group. McVeigh could potentially miss his fourth straight season-opener due to a calf issue he suffered a month ago.
Swans senior coach, John Longmire has given the duo an opportunity to get in match form before the season commences and is in high spirits that they'll be available come Sunday.
"Macca [Jarrad McVeigh] had a really good pre-season including some match play," Longmire told the Daily Telegraph.
"He's done a fair bit of work. He missed just under four weeks and has been back training for a couple of weeks. He is not out of this week and Hanners [Dan Hannebery] has had a really good 10 days of training with the team."
Longmire also appeared on RSN Radio Tuesday morning and reiterated his optimistic outlook on the important pair, holding out hope they'll be available for the weekend.
"We've got a training session today and one on Thursday, so we'll sit back and make those decisions," Longmire said on RSN Radio.
"They're putting their case forward in a training sense, so we'll make that call Thursday."
However, Swans midfielder Luke Parker has his doubts, telling SEN Radio he doesn't believe the team will risk bringing the Swans duo back too early.
"I wouldn't know if he [John Longmire] doesn't want to go to many blokes who are underdone. I think you can't have more than a few blokes who are a bit underdone," Luke Parker said on SEN Breakfast.
"They're up for selection but yeah, I'm not sure."
The Sydney Swans will kick off their 2018 campaign against the West Coast Eagles at Optus Stadium this Sunday.