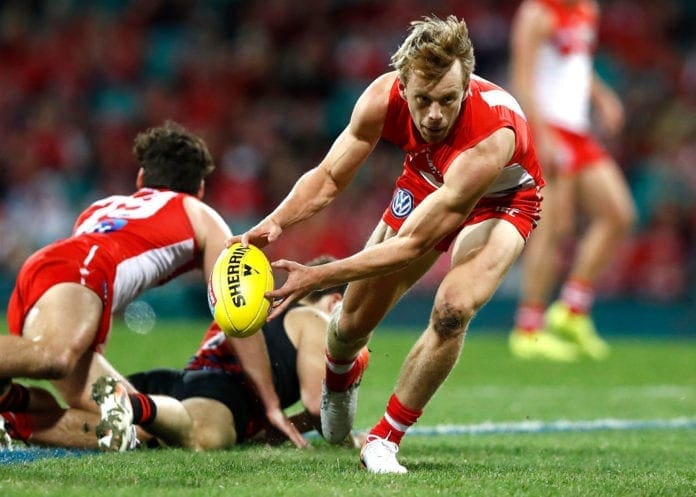 Sydney look poised to release young guns Callum Mills and Nick Blakey into more permanent midfield positions in 2021.
In the case of Mills, it's been a long time coming – he won the 2016 Rising Star award off the half-back line and has had a permanent position since.
But Sydney coach John Longmire told AFL Media that it's about to change.
"It's never been about whether Callum can play midfield, we know he can play midfield and be very good at it," he said.
"Two years ago we trained him in our midfield, then we lost Heath Grundy, Jarrad McVeigh and Nick Smith all at once so we had to put him back.
"We've been rebuilding our defence to a large degree and a lot of experience has been part of our back six, so he's been part of that."
Blakey was drafted as a tall forward in a star-studded 2018 AFL Draft, blessed with good speed, agility and skill sense.
After a solid debut in 2019, Blakey showed towards the tail-end of last season that he can play further afield.
Some thoughts from #AFLSwansGiants

1. Love the game plan. Love the work rate.

2. Nick Blakey is a wingman. He will be exceptional.

3. Rampe. Lloyd. Parker. Leadership.

4. We have a 'gang of youths'.

5. Rowbottom. Stephens. Foot. Future. #Bloods2020 #SydneyDerbyXIX

— Joe Moore (@joedmoore1979) August 13, 2020
"He's 196cm or 197, but that doesn't necessarily mean he's going to be a key forward just because of his build," Longmire said.
"A couple of them, particularly Nick, we want them to play to their strengths and take the game on a bit more.
"It's not always going to work for him, but when you've got the tools that he has it's good to be able to use those tools."
The additions of both Blakey and Mills would further compliment what will be an exciting midfield group over the next decade, featuring emerging players such as James Rowbottom and Dylan Stephens.
"You go (Callum) Mills, (Jordan) Dawson, (Ollie) Florent, (James) Rowbottom, (Will) Hayward, (Nick) Blakey, (Tom) McCartin … I think the Swannies have just about the best (under-23) group in the comp." – Terry Wallace pic.twitter.com/YiW4fMzQaD

— Swans Central (@swanscentral) August 19, 2020