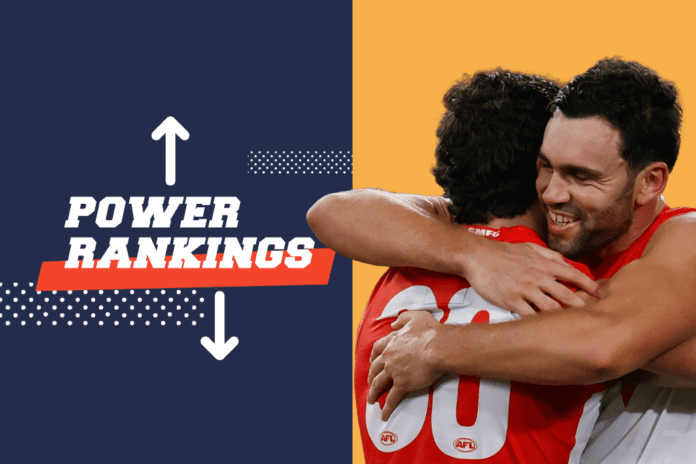 The first of three bye weeks could be served to skew the seedings in this week's Power Rankings with some teams using their extra game to make ground or leapfrog those ahead of them.
But some of those teams, while having played one more game than some, proved this week they are every bit worth their rise. Sydney and Fremantle's massive wins lose no credence despite the bye week. Both teams proving the top-four race is well and truly on.
1. Melbourne (-)
Holding on by a thread. Not to their premiership hopes but to their number one spot in these rankings. Back-to-back losses to fellow contenders with both losses coming with really little resistance once the opposition got their tail up. The Demons will be fine and will benefit from getting Steven May back, but had Brisbane beat Fremantle, top spot on both the AFL ladder and the Zero Hanger Power Rankings would have been gone.
2. Brisbane (-)
The Lions missed out on a chance to go top of the AFL ladder in a tough loss to Fremantle on Sunday night. While they lost no admirers, the pre-season theory that there was daylight between Melbourne, Brisbane and then the rest of the competition is losing its following. Brisbane needn't worry yet, but the top four race is well and truly on.
3. Fremantle (-)
They're back. The Gold Coast and Collingwood losses were nothing but a hiccup and now erased from memory after back-to-back wins over Melbourne and Brisbane. It was widely expected four weeks ago that Fremantle would split their four most recent games, but not in a sequence that would confirm their premiership credentials. Nat Fyfe is due back after getting through the WAFL too.
4. Carlton (-)
Not much the Blues could do to go up in the rankings given they had the bye, however, considering their recent luck a week with no injuries is a good week. The likes of Harry McKay, Marc Pittonet, Mitch McGovern, David Cuningham, Caleb Marchbank and Zac Williams are all a week closer to returning, while Jacob Weitering successfully underwent shoulder surgery. Next week against Essendon a must-win though.
5. Sydney (+1)
Two wins on the bounce from seemingly doomed positions have shown the AFL world that the Bloods culture is running strong for the red and the white. Saturday night's win over Melbourne proved they are still a premiership threat, let alone a top-four contender. Lance Franklin comes back after the bye as well.
6. St Kilda (-1)
Saints can consider themselves very unlucky to go down despite not playing a game this weekend. They are in very good shape coming out of their bye and will be well set up to make a push for a top-four spot in the second half of the year.
7. Geelong (-)
A solid win over the Western Bulldogs but that is carrying less weight by the week at the moment. The impressive feature of the win was that they did it largely without Tom Stewart, who was subbed out with concussion. They struggled last year when Stewart went down and when the Dogs got back in the game it seemed the Cats were lost without him again, but they steadied. Six goals from Jeremy Cameron was a welcomed sight for Cats fans too.
8. Richmond (-)
Another team who got through their bye round unscathed. They have a big few weeks coming up where they will be tested against some of the better teams in the competition after collecting some wins against teams you'd expect them to beat.
9. Collingwood (+1)
Collingwood are in the race for the top eight as much as anyone. They are playing a game-style that stacks up against the best and will now head into a monster Queens Birthday clash against Melbourne off the back of three wins in a row. Their balance of experience and vibrant youth is paying dividends on both ends of the scale.
10. Western Bulldogs (-1)
Some might say their effort to get back in the game was brave but this is a game they would have been expected to win 12 months ago. It was a game they needed to win to solidify a spot in the top eight as well but they were blown away from the first bounce. They lose Bailey Smith for two weeks after his headbutting incident before they face a season-defining month.
11. Gold Coast (+1)
Finals are well and truly on the cards. The Suns have five games coming up on the run home against current bottom six sides. They beat North Melbourne, as was to be expected of any finals contender. But they obliterated the Kangaroos in a mature and professional performance that is starting to become more familiar with Gold Coast.
12. Port Adelaide (-1)
Harsh given they couldn't defend their position but they will get their chance. They are in extraordinarily good shape considering they were 0-5 and in all sorts. They are now in a race for finals and with Charlie Dixon back they are in much better shape than what could have been expected.
13. GWS (-)
It's a big second half of the year for GWS. Both on and off-field. On-field they need to decide whether this list can take them back to finals or do they need to start rebuilding on the run? It's hard to know given the talent on the list but the next few months will define the direction the orange tsunami goes in.
14. Hawthorn (-)
At three-quarter time on Sunday the Hawks seemed to have the game in their keeping. They'll be super disappointed to have let the four points slip from their grasp but again their ability to fight back and claw their way into the game was on full display. They're just about must-watch every week at the moment.
15. Adelaide (-)
A win over West Coast counts for about as little as possible at the moment. Adelaide did their work early and held the Eagles at arm's length for the rest of the day. Credit to them for not slipping up but it's hard to heap too much praise on them this week.
16. Essendon (-)
They announced a review of the football department, so that's a positive. An injury over the bye weekend to Andrew McGrath may see him miss this week which is a cruel blow. A huge week for the club with a blockbuster Friday night clash with Carlton to celebrate their 150th birthday. A poor loss to a weakened Carlton team may speel real trouble at Tullamarine
17. North Melbourne (-)
North Melbourne managed to lose by more than West Coast this week which nearly sent them to 18th in these Power Rankings, but they cling on for now. It's hard to find too many positives for the Kangaroos at the moment. Could be a long year.
18. West Coast (-)
The game was over as quickly as it began on Saturday afternoon. A loss by under 50 points is somewhat a step in the right direction but they were never in the game against the Crows. Adam Simpson is under the pump.