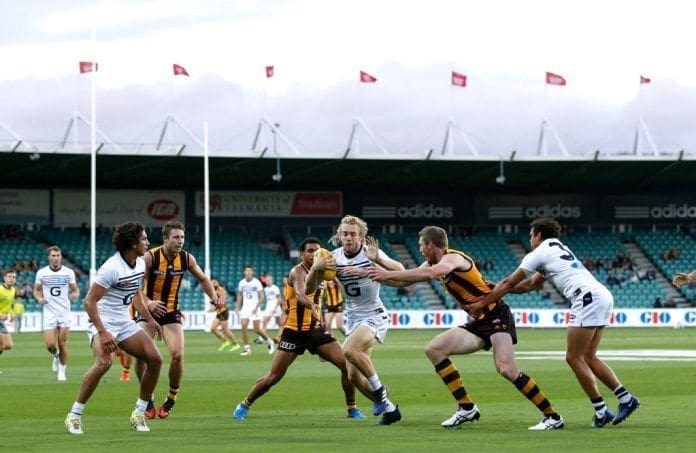 The growing tensions between the AFL and the Tasmanian Government continue to frustrate locals of the island state, with league boss Gillon McLachlan revealing last week the competition will require another 12 months to decide on adding a 19th license.
The AFL believes the financial implications of adding a new club during the midst of a global pandemic is ill-advised, with the organisation posting a $22.8 million loss for last season alone.
The league has looked to go over the head of the state government's funding in continuing to play for premiership points in Launceston and Hobart, but will need to broker a deal with Hawthorn and North Melbourne that would be at a cut price without the aid of the additional revenue from the government.
St Kilda have also looked into playing home games in the Apple Isle, while negotiations look to be reaching breaking point as Tasmania threaten to walk away from hosting AFL matches if they aren't given a clear timeline of expanding to a 19th club.
"The AFL owes Tasmania an answer." ABC commentator Alister Nicholson says Tasmanians have a right to feel let down by the AFL. #offsiders pic.twitter.com/4xkd44rShQ

— Offsiders ABC (@OffsidersABC) February 21, 2021
While Tasmania is seen as the obvious candidate for the AFL should the league confirm its plans for expansion, many believe the current financial situations within several of the competition's current clubs should be resulted first.
Gold Coast chairman Tony Cochrane is the latest to echo the financial implications adding a 19th club would have on the league given the current climate, believing the AFL must wait at least another decade before making a decision to expand.
"Not in my time. I think it's completely unrealistic," Cochrane said on SEN.
"We need to spend at least the next 10 to 15 years bedding down the 18 teams we've got. A number of those teams, ourselves included, are on a very tight financial rein and until we've got everybody into clear air, I can't imagine the Commission in their wildest dreams would expand the competition.
"And of course it's impossible to add one team because one team doesn't do anything for your media rights - I've been in media all my life and I don't know a media company alive that wants to purchase a bye. A bye round is worthless to a media organisation.
"Unfortunately, the AFL has kicked this can down the road."

Premier Peter Gutwein didn't hold back on ABC Grandstand today with @QuentinHull, after the AFL rejected Tasmania's demand for a timeline towards their own team.

Listen to that full chat here: https://t.co/tc2hhzA2L3 pic.twitter.com/xx6eTnZ5Yb

— ABC SPORT (@abcsport) February 20, 2021
"So I think the emphasis must be on, and I'm sorry for those people in Tasmania, I understand you're going to be upset, but the emphasis in the next 10-15 years must be on consolidating the 18 teams that are already up there and over a period of time have had an awful lot of money and resources put to them.
"And we need to grow the competition from that base, and get that right, before we put our head out and try and expand again."
Hawthorn coach Alastair Clarkson flagged the AFL should consider expanding to 20 clubs, with two new sides residing in Tasmania and the Northern Territory.
"Our club, I think is strong of the view that in a national competition it would be fantastic for Tassie to have their own club," Clarkson told AFL.com.au last week.
"I've also got the view, and I'm not sure if it's shared by the club, that if we're a truly national competition, that we should have a side out of the NT.
"Make it a 20-team competition, everyone plays each other once and perhaps you might have a blockbuster where you play one of your rivals and it makes it a 20-round season.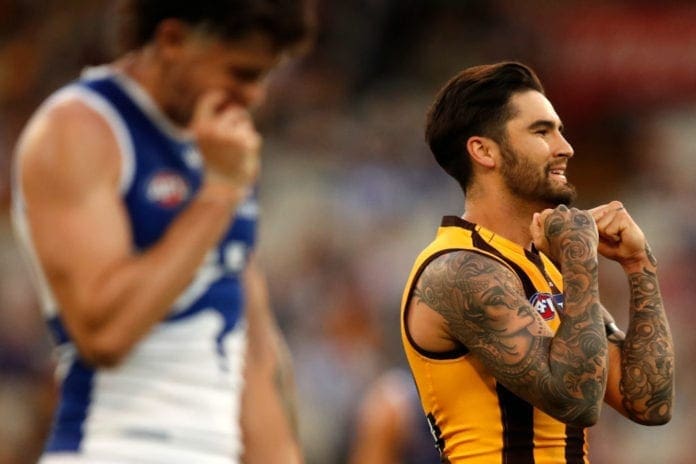 "I reckon that'd be great for the game but that's not for me, it's for the regulators of the game."
Eight home-and-away season matches are currently scheduled for Blundstone Arena and University of Tasmania Stadium for 2021, in what is the final year of AFL's current agreement with Tasmania.