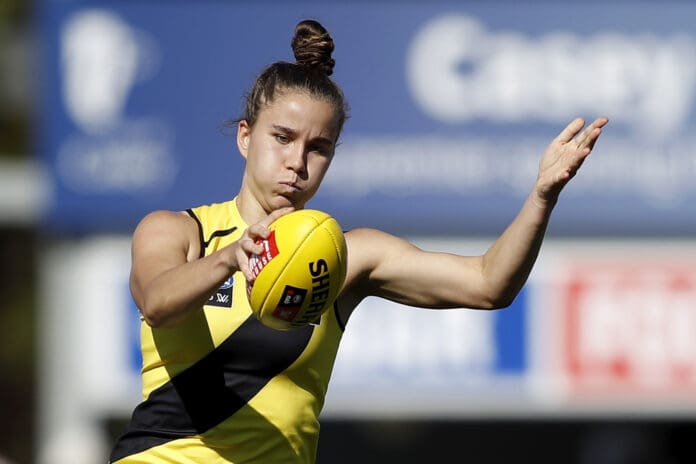 Richmond young gun Ellie McKenzie will miss the commencement of the AFLW season after it was confirmed the 19-year-old had sustained a calf injury.
In an official statement released on Monday afternoon, the Richmond Football Club stated they would be taking a "conservative approach" to McKenzie's rehabilitation.
The move to sideline the former No.1 draft pick on ice was said to have been made as the Fitzroy junior was unable to gain the necessary conditioning during game scenarios.
While the news of McKenzie's withdrawal comes only days before the start of the Tigers' 2022 campaign, Richmond AFLW High-Performance Manager Matt Parker expressed that a "long-term view" to her return remained the club's preferred course of action.
"Ellie has had a really unique injury to her calf, which she has been working through for quite some time and managing carefully with our medical team," he said.
"Ellie has so much football in front of her both this season and beyond, so we have taken a long-term view, and while it is disappointing that she will miss some football, we all understand how important it is we get this right.
SEE ALSO: AFLW season preview: Richmond Tigers
"The injury has been a very challenging experience for a 19-year-old to have, but Ellie has dealt with it with excellent maturity and professionalism right throughout the lengthy off-season."
Richmond's AFLW boss, Kate Sheahan, also paid praise to McKenzie's resilience in the face of adversity.
"Ellie has been exceptional throughout this pre-season with her willingness and hunger to continue to improve her overall game despite these challenges," she said.
"Ellie has developed a fantastic working relationship with our medical team, and she understands that she will be stronger for this in the long run.
"We are thrilled with the huge steps she has taken as a young athlete this off-season, and while we won't put the pressure of a return date on this injury, we have optimism that Ellie can make a meaningful impact this season."
This setback will mean that the AFLW Player's First-Year Player of the Year in 2021 miss her side's season opener against St Kilda on Friday, January 7.
And with no current timeline set for her return to action, it is not yet known when the Northern Knights product will be afforded a chance to add to her, thus far, glittering nine-game career.