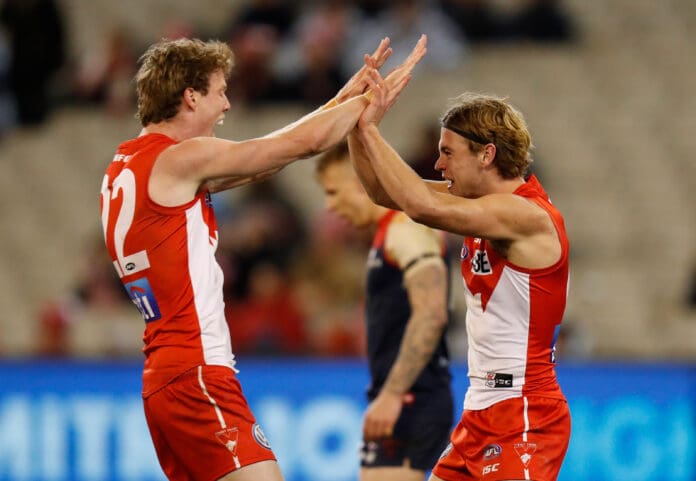 Sydney defender Nick Blakey has committed to the Swans for an additional seven years.
The deal will see Blakey remain a Swan until the end of 2031 by which time he will be 30 years of age.
The defender is in career-best form averaging just shy of 21 disposals in the backline. His run-off defence has been crucial for the Swans this season, as he provides a great attacking threat whilst also being a versatile defender.
In his fifth year at the club, Blakey is pushing for his maiden All-Australian blazer after proving to be a vital piece of the Swans' future. Despite the decimated backline that Sydney has played with for most of the year, the 23-year-old has been a shining light.
Speaking by way of a club statement, Blakey expressed that Moore Park and the Swans were home to him.
"This is my home. I grew up supporting this club, so to be here for a while longer is very nice and I'm very excited for the future," Blakey said.
"I can't see myself playing football anywhere else, so to be here for another eight years, with next year as well, is exciting. I'm very humbled that the club is signing me on for that long.
"Our team is all so close. We're really good mates and we're building something special, so hopefully this group sticks together, and we can do some exciting things in the future."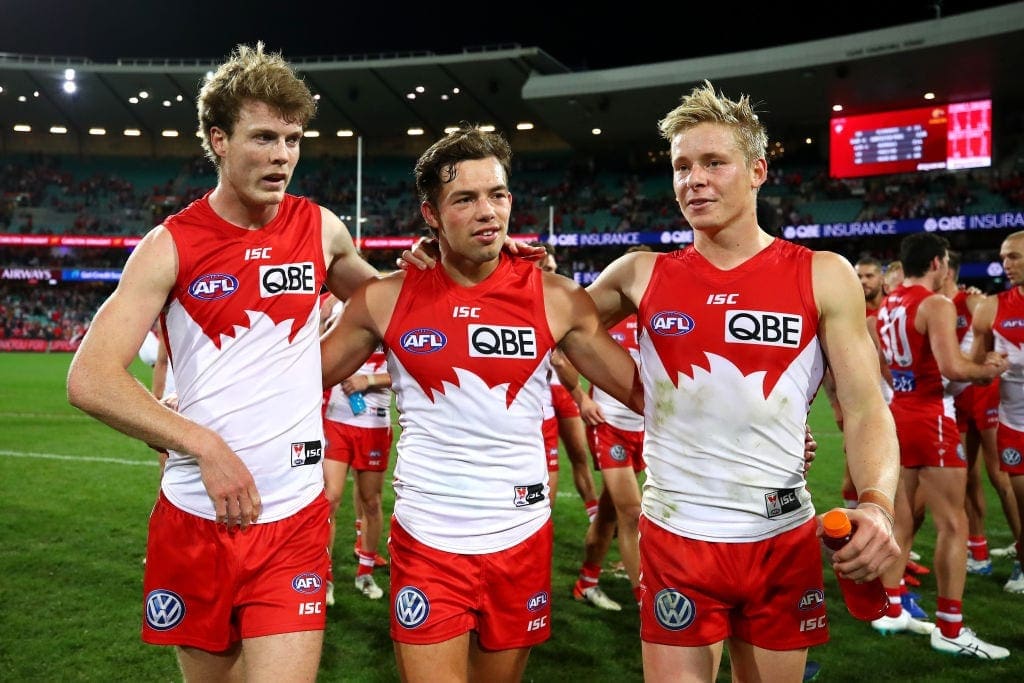 Sydney's Executive General Manager Charlie Gardner paid his praise to the rising talent, claiming that Blakey's acted as a core member of the playing group.
"Nick is a great young man and a very important part of our young group, so we are delighted that he has chosen to extend his career with the Swans long term," Gardiner said.
"He has some unique talents on field and has worked incredibly hard to overcome injuries over the past couple of years to turn himself into a high-quality defender and provide enormous flexibility to the team.
"Nick has a very strong connection with the club having come through our Academy program as a talented junior and is a much-loved figure amongst his teammates and our staff. He brings great energy and enthusiasm and I'm sure our fans and supporters will continue to enjoy watching him play in the years ahead."
The Blakey deal is just the latest of Sydney's long-term contracts with multiple players committing to the team for the majority of their careers. Star midfielder Callum Mills is at the Swans until 2029 while Issac Heeney and Tom Papley are locked in until 2028.
The Swans also took the opportunity to announce that Angus Sheldrick had inked his own extension with the club, signing on the dotted line to remain part of John Longmire's unit until the cessation of 2025.
Sheldrick, 19, made his way into the club's fold with the 18th pick of the 2021 National Draft, with the Western Australian making his senior debut last season.
Blakey, Sheldrick and the Swans will ook to continue making strides this season when they take on the Saints at the SCG under Friday night lights.