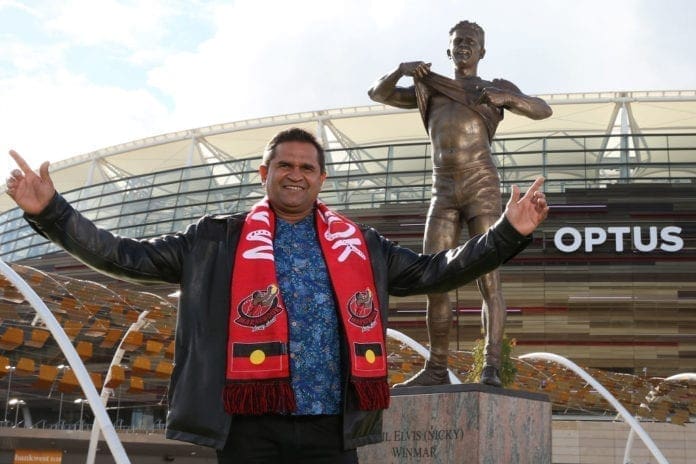 St Kilda legend Nicky Winmar released a statement on Friday following the events of Thursday night's Western Bulldogs vs. Brisbane Lions clash at Marvel Stadium.
Bulldogs key forward Jamarra Ugle-Hagan recreated Winmar's iconic gesture at Victoria Park in 1993, lifting his Bulldogs guernsey to proudly display his skin colour, after it was revealed the 20-year-old Indigenous Australian was racially abused during his side's game against St Kilda last weekend.
The powerful moment, as well as generating a loving response from his teammates on the field, prompted a statement from Winmar the following day.
"I'm proud of Jamarra for standing up for himself," stated Winmar.
"It's up to the new generations to reinforce the stance I made back in 1993. I'm still here, still involved with the issue, but it's been 30 years now, it's like a big relay race, time to pass on the baton.
"I spoke to Luke Beveridge today, to thank him for supporting Jamarra, and other indigenous players at the Western Bulldogs.
"It's a great club, that I respect. I was welcomed and felt supported when I played for them in 1999.
"Things are getting better, with increased awareness, and kids are getting educated in schools now about racism in sport and in society, which is great. There's still a few who can't control their negative attitudes, all we can do is keep supporting each other, and keep calling it out.
"I also want to congratulate Jamarra for his outstanding on-field performance - 5 goals, keep up the good work!"
Winmar signed his statement "Still black and proud".
Post-game on Thursday evening, Ugle-Hagan emotionally detailed his decision to channel Winmar, as well as his experience during the week leading up to the game.
"I knew it was coming up to 30 years since Nicky Wimar did that, but it just came in the moment," Ugle-Hagan said.
"I felt pretty proud to be going out there with all my mates who supported me through a tough week. To do that in front of everyone, hopefully it makes a stance in the moment.
"Hopefully people look back on it in 30 years."
Ugle-Hagan's five majors helped spur the Bulldogs to a much-needed victory.