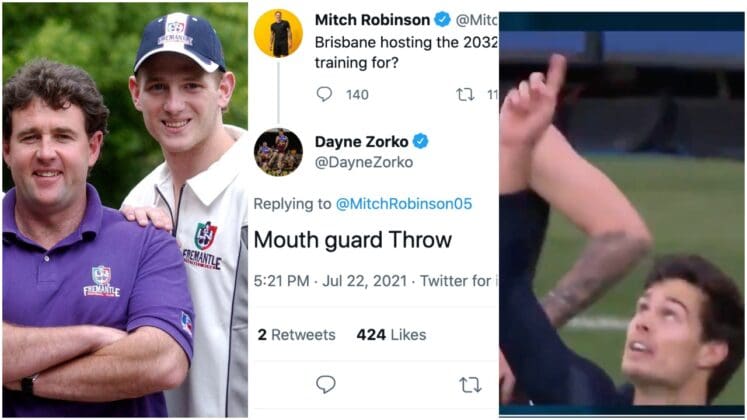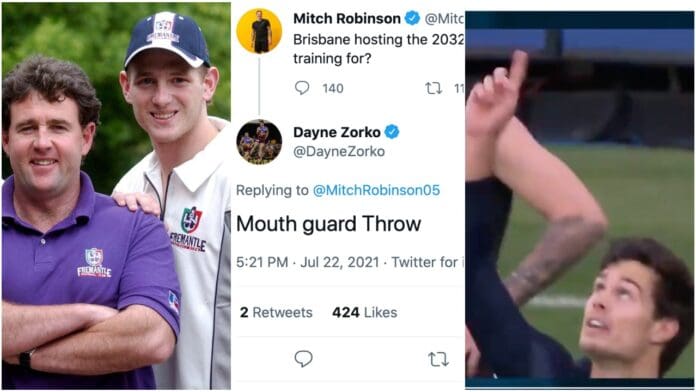 'Social Talk' is back again for another week, and yet another week to take a look at what's made headlines around the footy world this week.
Here's what's made the news on the socials this week:
COVID Chaos Causes Adelaide Clubs To Do The Run Around
With South Australia joining Victoria and New South Wales in lockdown this week as a result of COVID outbreaks, both Adelaide-based clubs were forced to scramble out of the state and relocate to Melbourne for a period of time, but it wasn't without its struggles.
With the announcement coming in the morning by SA premier Steven Marshall that the state would be going into a seven-day lockdown, both Adelaide and Port Adelaide players and staff were informed to pack their bags and head to the airport for an immediate relocation to Melbourne.
Once at the airport though and waiting to head onto a flight, both clubs were then told to head back to their respective clubs as they wouldn't in-fact be leaving Adelaide.
After heading back to the club, later on in the same afternoon, an agreement was made that both clubs would then indeed officially relocate, forcing yet another trip to the airport as they boarded a flight to Melbourne and will remain there until further notice.
What a day for both the Crows and Power players and staff, and the fixture and travel confusion certainly resonated with the fans.
So tell me why the Crows play the Hawks rather than the Dogs as originally scheduled?? 🤔 @AFL @Adelaide_FC

— Phelpsy (@MarkPhelpSA) July 20, 2021
Covid. Where is everything is locked in…and then it's not.

From playing Coll and Haw at home, to flying to Melbourne, to a Showdown being brought forward - and to now going back to the airport.

Just a bloody amazing day for Adelaide and Port Adelaide.

— Sam Edmund (@Sammy__Edmund) July 20, 2021
For 'Serge'
Whether you're a fan of the Carlton Football Club or not, the emotional moment from Jack Silvagni post-game would certainly have touched the hearts of many football fans alike.
With the passing of grandfather and Carlton legend Sergio Silvagni still very fresh in mind heading into the Blues' Round 18 clash with arch-rival Collingwood, young Blue Jack Silvagni fronted up in brave fashion under tough circumstances.
Silvagni went on to play arguably the best game of his young career so far, kicking a goal and also taking a spectacular grab that played a big helping hand in a huge Carlton victory over the Pies to keep their finals chances alive.
Per Nonno. 💙 @jacksilvagni#AFLPiesBlues pic.twitter.com/e2LqDUMEIy

— Carlton FC (@CarltonFC) July 18, 2021
Another winner for the Blues 🙌

Jumping Jack Silvagni is the @FOURNTWENTY Mark of the Year nominee for round 18

To vote next week, head to google and search 'afl vote'. pic.twitter.com/6hokC8qyG1

— AFL (@AFL) July 22, 2021
But, it was post-game that certainly hit the feels.
At the completion of the Blues' victory, an emotional Jack shed tears in what was undoubtedly an immensely tough week for the Silvagni family.
Blues fans and those alike expressed their love and appreciation for Jack and the Silvagni family, and the toughness shown to play a game of football given the circumstances just days out from the game.
Well done, Jack!
We 💙 you Jack. https://t.co/PbAz7XxH18

— Navyblue_Bec (@navyblue_bec) July 18, 2021
😭😭😭 HE WOULD BE SO PROUD 💙💙 https://t.co/nBXwfX5nK2

— G E M M A (@gemmakidd104) July 18, 2021
Port star brings up game 300
Port Adelaide star Travis Boak brought up an amazing AFL feat this week, entering the 300-game club as the Power defeated Collingwood on Friday night.
Boak, 32, known for his elite ability to win the football and impact a game in a number of ways, has had a fantastic career at the Power with a number of personal accolades.
He is a former captain of the club (2013-2018), a three-time All-Australian (2013, 2014, 2020), a two-time John Cahill medallist (2011, 2019) and a three-time showdown medallist (Game 1 2013, 2020 and game one 2021).
Power fans, and in particular president David Koch, sent out a congratulatory message for Boak ahead of game 300.
Well done and go well, Travis!
On field credentials are incredible. But @travisboak10 is an even bigger legend as a bloke. Remember 2012 & that secret Cats delegation … he stuck with us & put his hand up to help Kenny lead us out of the wilderness. Loyalty, community, family… #Boak300 #weareportadelaide https://t.co/1XG8I5rNvS

— David Koch (@kochie_online) July 22, 2021
300 games.

Travis Boak you are a champion!#AFLPowerPies pic.twitter.com/zFpsulQNTk

— AFL (@AFL) July 23, 2021
Freo veteran to go around one more time
Despite fears from the Fremantle faithful that this could be the last time they see star veteran David Mundy don the purple and white, Mundy had other ideas, announcing he would be going around one more time in 2022.
Ahead of an astounding game 350 this week, 'Barra' announced on the Old Bull, Young Buck podcast with co-host Griffin Logue that he would go around again in 2022 after an impressive 2021 season to date.
Mundy, 32, has always been a consistent performer over the course of his 18-year career, but is currently having one of the best seasons in his career, averaging 25.1 disposals per game in what was only topped in 2015, where he finished eighth in the Brownlow that season and could be headed for another solid finish in 2021.
Many were quick to congratulate Mundy on the announcement.
Could he reach the illustrious 400 game club when it's all said and done? If he keeps playing at this level, one would think it's a decent shout.
Well done 👏, deadset Jet ✈️ https://t.co/gVjeH08BV3

— Warren Tredrea (@warrentredrea) July 21, 2021
David Mundy after being drafted to Fremantle, colourised. #MMGSport

📸 Julie Mercer pic.twitter.com/HGALsGNXYu

— Tyler Maher (@tylermaher5) July 22, 2021
Lions banter as Brisbane land 2032 Olympics
With the announcement that Brisbane would be hosting the 2032 Olympics, Lions star Mitch Robinson was quick to ask what event he should be training for ahead of the games.
Chiming in to Robinson's post with a bit of banter was Lions captain Dayne Zorko, who made reference to an incident earlier in the season that could potentially be used as good practice for the Olympics - throwing his mouthguard.
Mitch wasn't too keen on Zorko getting attention for his suggestion.
Noooo don't encourage him 🤦🏼‍♂️ https://t.co/Kg1J7gwMy1

— Mitch Robinson (@MitchRobinson05) July 22, 2021
THAT Heat-map
Young Blues star Sam Walsh had one of the more dominant games of football for the year over the weekend, leading the Blues to victory over the Magpies with 39 disposals and a match-sealing goal that only adds to the ever growing and impressive career he's already having at age 21.
But, it was his heat-map from the game that made the rounds on the socials this week.
Looking at Walsh's heat-map and the areas of the ground which Walsh spent most of his time on the ground, you can see it symbolise... yeah, I think you know.
And yes, this is indeed a true heat-map. I even had to look it up myself on the official AFL app to see if it was legit, and it's as legit as you could get.
Quality stuff.
Jokes write themselves, so I'll take a day off https://t.co/gdGIhZ2Jqr

— Tom Carpenter (@Carpo34) July 18, 2021
Saints Pain
St Kilda and its fans have had it tough over the years, no doubt.
With only the one premiership for the club (1966) and what feels like an eternity since the club has achieved any sort of success, it's definitely hit them harder than they'd like to admit.
Our own Nick Splitter basically labelled the pain of Saints fans alike in one tweet.
St Kilda Football Club history https://t.co/jzsN9eWQEE

— n 1 c k (@nicksplitter) July 22, 2021