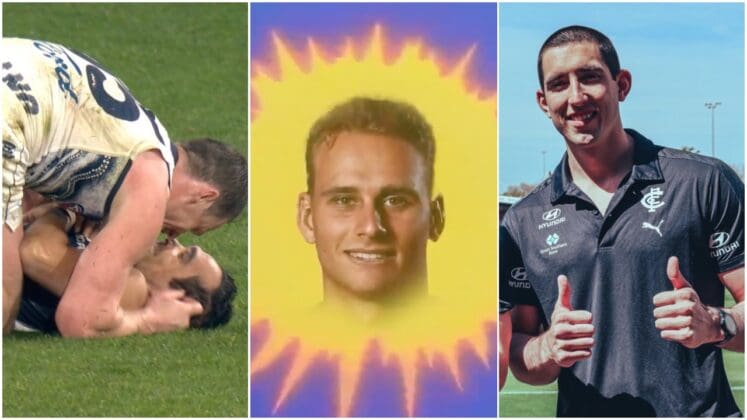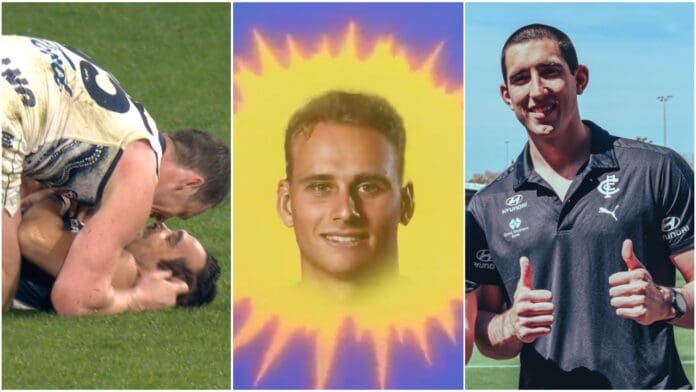 It's that time again to take a lighter look into yet another big week of AFL.
Here's what's happened this week.
The Adam Cerra Party began 
There is a party at  Princess Park as Adam Cerra joins the Blues despite being offered an impressive pitch by Melbourne Football Club.
The midfielder revealed to Sportsday he "did consider Melbourne" but will play for Carlton in 2022.
Fans were stoked at the news and happy that Cerra received the ultimate birthday gift - a Blues' jersey!
Happy Birthday Adam 🎂
#QueCerraCerra, whatever will be will be.

— Carlton FC (@CarltonFC) October 7, 2021
The best gift of all... 🎂
Happy birthday @AdamCerra. How does it feel to receive the best gift of all?#GOBLUES pic.twitter.com/enHNS8xTJh

— TalkingCarlton.com (@TalkingCarlton) October 7, 2021
Sam Walsh
Patrick Cripps
Adam Cerra

Bring it 🥶

— Thomas Hayes (@thomashayes_) October 7, 2021
Will Brodie heads West ☀️   
Will Brodie has turned up the heat at Fremantle and supporters are not complaining!
Brodie will make the move to the West after a trade deal with the  Gold Coast Suns. 
He is a hard player to predict however the change of scenery may be exactly what he needs for a fresh re-start to his career after only playing six senior games in the last two years.
Fans on social media said they can not wait to see Brodie play in purple for the 2022 season!
The former top 10 pick jumped on the socials to express his excitement with joining the club and to thank the fans for their support so far.
Welcome to Freo Will Brodie! I've got a feeling you are going to reach your top 10 potential and first Premiership with us given your amazing new young team mates and our incredible coaching staff, executive and club culture.

— Matt Taylor (@matttaylor_1) October 6, 2021
And then the Draft Stampede began...
Will Brodie was traded by the Suns along with picks 19, 61 and 69 for the Dockers!
Check out this clever video of how the Dockers are feeling heading into the draft 👀
The Green Light for Cats contract extensions
The Cats have given the green light by extending the contracts of  Bradley Close, Rhys Stanley, Zach Guthrie, Gary Rohan and Francis Evans. 
The Cats did not have an ideal finals campaign but are looking to bounce back in 2022 for another shot at Premiership contention.
Check out this Squid Game post from Geelong Cats, that even had fans commending the media team for their outstanding work!
Pies tunnel vision to Daicos!
Collingwood is seriously committed to securing Nick Daicos - the son of Collingwood great Peter Daicos and brother of Collingwood's Josh Daicos.
The Pies have made a pick swap with the Suns to ensure they have enough points for the potential No.1 draft pick. However the big question is 'Can Nick Daicos live up to his AFL hype?'
Take a look at what fans think of Collingwood putting most of their eggs in the Daicos basket!
in seriousness, hopefully all this manoeuvring doesn't put too much pressure on nick daicos. it's not his fault the club has sold the farm on 2 drafts for him. if he doesn't work out as expected it's on collingwood, not him

— Lenny Phillips (@lenphil29) October 4, 2021
The whole circus of reporting on whether we will have enough points for Nick Daicos and carrying on like there is a chance we can't get him is just stupid at this point.

He has literally signed a 4 year contract with us. No matter what happens, he will be a Pie in 22'

— Luke H (@LukePH10) October 5, 2021
Happy that Crispy finally won a B&F before Nick Daicos comes in and wins the next 10

— Gordon (@beetgordon_) October 1, 2021
Cripps gets behind Sam Docherty and shaves his head! 
Carlton star Patrick Cripps shaves his head to raise money for the Peter MacCallum Cancer Centre to help teammate Sam Docherty.
Docherty announced in August on Instagram that his battle with testicular cancer had returned and he will undergo a round of chemotherapy.
The cause has taken off with many players and fans following in Cripps' footsteps of shaving their heads and donating to Peter MacCallum Cancer Centre.
#doingitfordoc
Love this from Crippa ❤️

Donate to the @PeterMacCC here: https://t.co/igNFPkp9be pic.twitter.com/Dkvkuk5f34

— AFL (@AFL) October 7, 2021
There was only one player who could kick things off.

Skipper does it for the skipper. @patrickcripps, you're the man. 🥰

DONATE TODAY: https://t.co/EGSiSeNsQT#DoingItForDoc pic.twitter.com/YOsTs3YYOE

— Carlton FC (@CarltonFC) October 7, 2021
Not to mention other clubs are also getting around the cause and supporting Sam Docherty's battle with cancer.
SOS. Fish. Weiters.

Did it for Doc. ✅#DoingItForDoc pic.twitter.com/Um191xMP7m

— Carlton FC (@CarltonFC) October 8, 2021
Eddie joins the Cats 🐱
Eddie Betts ended his stellar career this year and has jumped straight into his new role as a development coach for Geelong.
After his impressive footy on the field and leadership off the ground, Betts has a lot to offer as a coach and role model to the current and future generation of AFL players.
Geelong fans and players are welcoming the former Carlton star with open arms!
Welcome to Geelong Eddie Betts ..

💙🤍💙🤍💙 pic.twitter.com/GqdK5DpTjH

— Mick (@mickt74t) October 5, 2021