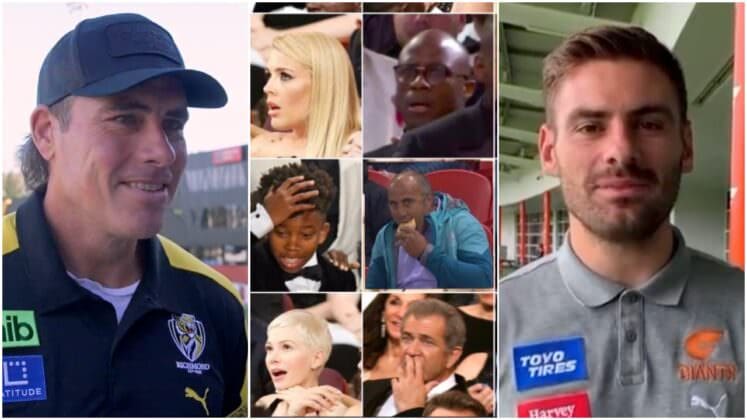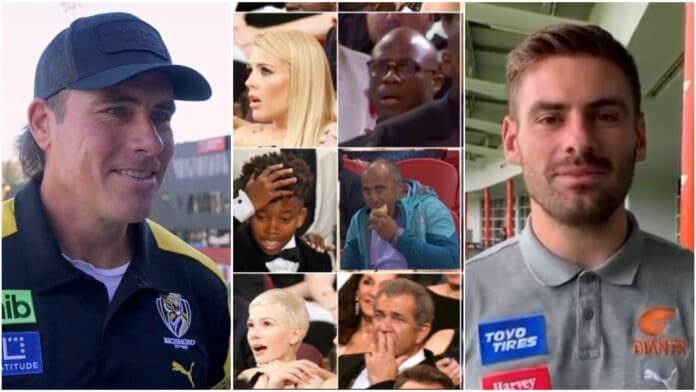 Social Talk is back for 2022. Across another busy week in the AFL we get to look at how clubs, players and fans have been active across social media.
Here's what happened this week.
There's something in the air on April 1st 🤔
I'm sure we have all woken up a bit confused on April 1, particularly with the news of two notable names said to be re-listed.
on Friday GWS Giants tweeted that Shane Mumford was confirmed to be re-listed. Mumford, who joined the Giants in 2013, retired from AFL in 2017 due to a serious ankle and knee injury but continue to link up with the New South Wales club before calling time on his career again last year.
Leon Cameron has confirmed the GIANTS will re-list Shane Mumford in the mid-season draft.

— GWS GIANTS (@GWSGIANTS) March 31, 2022
Although, it isn't all as it seems, with fans commenting their theories.
Thinking April fools, but also quite possibly legit 😂 Well played 👏

— Vossy (@Vossy017) March 31, 2022
"My goal is to continue playing for the GIANTS until I can run out alongside my two sons, both who are currently aged under six.

😂 Well played.

— John Dough (@JFDough) March 31, 2022
— 4th And Long Radio LLC (@FourthLongRadio) March 31, 2022
Richmond Tigers had the same idea, announcing the return of Matthew Richardson to the field! We can only hope it's true...
And it seems like others agree.
This would be one of the highest attended, most watched regular season game this year if he made an appearance on field

— Jordan G 🌀 (@straightens638) March 31, 2022
Wish this wasn't a joke and he really was.

— Chris (@chris_writer76) March 31, 2022
The AFL reacts to 'the slap heard around the world'
We have all seen what happened at this year's annual Oscars ceremony, but the AFL world has taken its own spin on it.
Ex-Carlton player Marc Murphy recently indulged the hosts at ABC Sports Radio about a similar outburst he once witnessed on the training ground. Murphy went on to explain how Setanta Ó hAilpín, another ex-Carlton player, attacked fellow teammate Cameron Cloke at training in 2009.
Have a watch and giggle yourself.
in the spirit of Will Smith's Oscars outburst, @marcmurphy3 recalls an unexpected flare-up on the training track #oscars #afl pic.twitter.com/JP85w9Si0S

— Corbin Middlemas (@CorbinMiddlemas) March 29, 2022
Live Oscars's reactions! Wow!! #Oscars #AFL pic.twitter.com/E0WY3GHRjz

— Vic Vinegar (@Dubs1er) March 28, 2022
Sports journalist Sam McClure also had a crack at lightening up the mood following the Oscars...
The AFL has just declared Will Smith's hit on Chris Rock as "careless".

— Sam McClure (@sam_mcclure) March 28, 2022
AFLW finals on the horizon 
With the two AFLW preliminary finals coming up this weekend, there is a lot of excitement in the air. The 2022 preliminary finals are set to see Adelaide Crows clash with Fremantle Dockers and Melbourne Demons host Brisbane Lions at the MCG in a league first.
The Demons' men's side threw their support behind their AFLW team ahead of Saturday's must-win game.
A finals buzz at the Dees 😍

Our AFL side will be loud + proud in the stands on Saturday for Melbourne's AFLW Preliminary Final at the 'G.

Game details 👉 https://t.co/ZYO2MCsRZy pic.twitter.com/1YHQ8rf3vV

— Melbourne Demons (@melbournefc) March 28, 2022
We are sure to see history being made this Saturday.
Melbourne, we have arrived. pic.twitter.com/ca0NJFDjz8

— Brisbane Lions AFLW (@lionsaflw) April 1, 2022
Scoping out our prelim venue 🏟 #foreverfreo pic.twitter.com/03brv3SMVZ

— Fremantle Dockers AFLW (@freodockersAFLW) March 31, 2022
Yay or Nay 🤔 was thinking of adding Fearny Fearn to the back. Should I add anything else to the front pic.twitter.com/sk2qwpVjbz

— Fearny Fearn 🖤🤍🌈🦄🦔 I ❤ AFLW & VFLW (@fearnyfearn172) March 31, 2022
Sam Naismith takes next step in recovery
Sydney player Sam Naismith posted a wholesome tweet that we just can't get enough of.
Naismith was moved to the inactive list for the 2022 season, with his last performance for the Swans coming two years ago. A recent tweet from Naismith appeared to show the ruckman is on track with his 12-month knee rehabilitation.
Fans were nothing but excited to see this, and certainly made that clear in the comments.
Keep up the good work Sam! 🤩
Great stuff. Hopefully first of many milestones knocked off on road to full recovery 👏👏

— Trevor Tye (@trevajct) March 29, 2022
Great work Sam! Can't wait to see you in the red & white again ❤️🤍🦞

— Kimberley Ramplin (@Kimbo_Ramplin) March 29, 2022
A PSA for some footy fans (and commentators) 
To end on a combination of funny yet wholesome, the AFL recently posted a video with a range of players, letting us in on how to correctly pronounce their names.
Men's version of how to correctly pronounce some names in the game - getting it right means more to people with "different" names than they would generally let off.

Full clip —> https://t.co/5ZgEazLQn9 pic.twitter.com/RC1KNTJLJ7

— Nadine Rabah (@NadineRabah25) March 30, 2022
Some also had fun with it 🤣
If you're not sure how to pronounce Christian Petracca, just put on an Adelaide accent.

— Happy Capybara (@CapybaraHappy) March 31, 2022