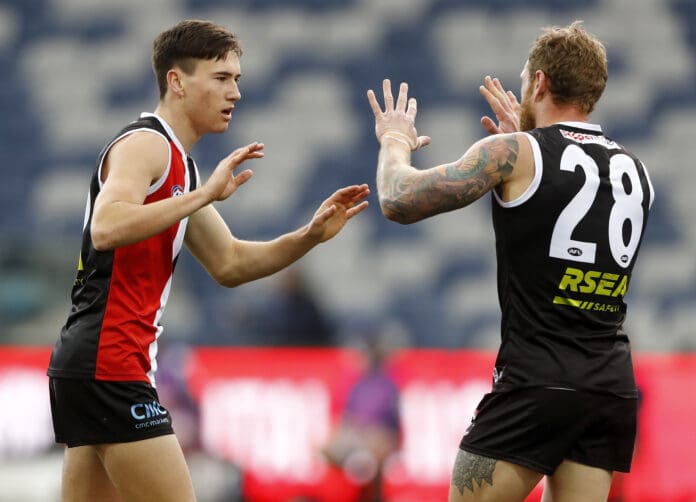 Cooper Sharman's journey to the AFL stage has been like no other, having moved between several states and sides to finally find himself recruited to St Kilda via the 2021 Mid-Season Rookie Draft.
A former member of the Giants' Academy, the Leeton local made the venture to Melbourne to study commerce at Deakin University.
A move to the heartland of football saw Sharman continue his young career, joining Eastern Football League side Balwyn.
Led by former Swans, Bulldogs and Suns senior coach Rodney Eade, the Tigers welcomed the New South Welshman with open arms.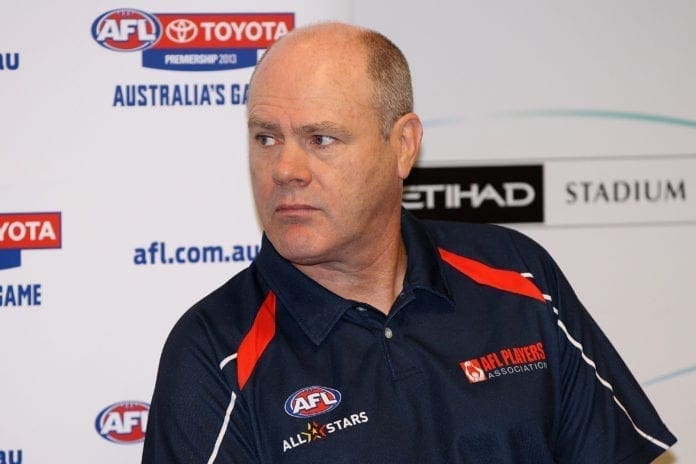 Initially trialled through their reserves, Sharman was soon a key figure in the club's senior side after flourishing in their pre-season preparations and even had recruiters flocking to Balwyn Park.
Immediately impressing, Sharman was eventually selected into the Oakleigh Chargers' 2019 squad, a side that boasted the likes of Matt Rowell, Noah Anderson and Jamarra Ugle-Hagan.
Speaking on the Unpluggered Podcast, Eade spoke on Sharman's x-factor and impact after joining the Tigers several seasons ago.
"You could just tell on the training track, all of us said 'this kid's got something'," Eade said.
"His progression was slow, but his raw talent was exceptional. A very quiet lad, very compliant.
"He'd get eight or nine possessions, but he would do something special every now and then.
"He played the last third of the year at Oakleigh. They had Rowell and Anderson, but more-so Jamarra, and I feel [Sharman] was pushed to the side.
"I got a feeling that AFL clubs looked more at what he couldn't do, rather than what we could do.
"If he was an Irish kid, clubs would have been doing handstands and backflips over him.
"Cooper's a really good field kick, has got a high footy IQ and reads the game very well."
Sharman was set to feature for Coburg in the VFL the following year, before the competition was scrapped due to the COVID-19 pandemic.
Couple of SANFL clubs working the phones hard in pursuit of Victorian players. Cooper Sharman, who shot to prominence under Rodney Eade at Balwyn in 2019, an early strike for Woodville-West Torrens.

— Paul Amy (@PaulAmy375) November 17, 2020
The 21-year-old soon made the switch to South Australia, joining SANFL side Woodville-West Torrens via some links with fellow Leeton locals.
A short but dominant stint with the Eagles was enough to have Sharman back on the radar for AFL recruiters, with the Saints opting to select the crafty forward with the 21st selection in this year's Mid-Season Draft in June.
Eade said the selection is sure to be one that will pay off for the Saints.
"Full credit to St Kilda, they took him," he said.
"What you see now is only the tip of the iceberg, I think he can become a really good player."
A four-goal haul against Fremantle in Round 23 was the perfect conclusion to Sharman's maiden campaign in the AFL.
COOPER SHARMAN
Defender

St Kilda
A thriving performance in the absence of teammate Max King, Sharman's fifth and final game of the 2021 season had Saints fans salivating.
When asked which players Sharman reminds him of, Eade turned his attention to the young gun's marking capabilities and forward craft.
"He reminds me a bit of a Jeremy Howe type player," Eade explained
"There's one mark he took at Balwyn, he had his feet on a bloke's head. He can do that.
"The contested marks he took last week were really well timed, he's got a good jump.
"He can play that hybrid forward role [too], he can get up the ground a bit like Jack Gunston. That's probably his best role.
"The sky's the limit with him, he can really improve in a great way."
Sharman's first AFL pre-season will take place this summer, with the Saints spearhead hoping to cement his place in Brett Ratten's forward structure for the 2022 season.
Mixing with King, Tim Membrey and Rowan Marshall in the Saints' attack, Sharman could be a pivotal catalyst in aiding the red, white and black back to the September action.
You can listen to the full interview with Rodney Eade on Unpluggered Podcast wherever you get your podcasts or via the player below.