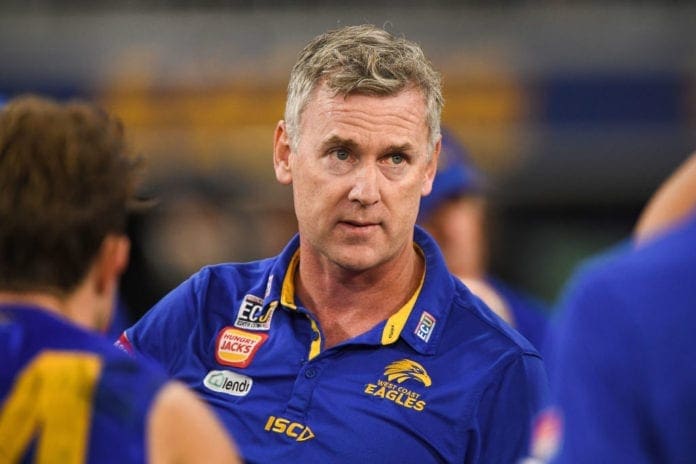 Financial cuts to AFL clubs could force recruiters to overlook talented players in the draft and favour kids from private schools with stable families, according to West Coast Eagles coach Adam Simpson
Speaking on 3AW, Simpson stated that the soft cap cuts will affect the clubs' ability to draft riskier products who are a "hassle off field."
"You're more inclined to go safer in the draft and you'll draft the same type of player- Mum and Dad are still married, kids go to the private school, not too much hassle off-field," Simpson said.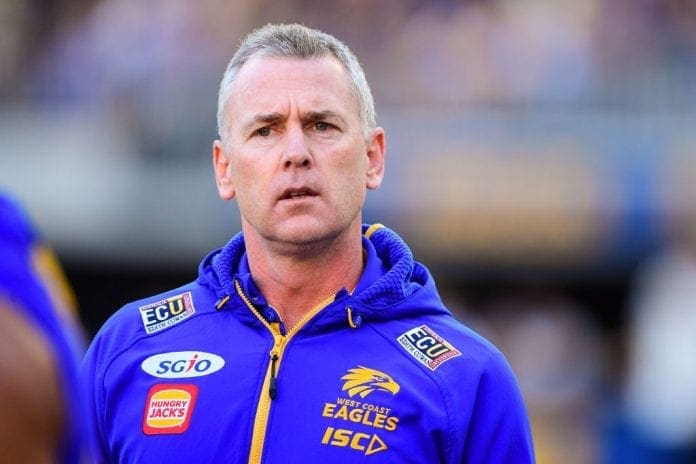 The AFL made a $6.2million cut from the football departments' soft caps due to the ongoing COVID-19 pandemic, leaving clubs a "coach short and a couple of medicos short."
Simpson said greater resourcing would allow for clubs to select more "risk-takers" and develop athletes "in the long run."
"You really want to go for the talent and geez this kid needs a lot of help, we can resource that with support around mental health issues or family support or learning difficulties," Simpson continued.
Many of the AFL's top draft picks hale from private schools and the chances of kids with challenging circumstances and non-private educations will become increasingly slim as the AFL continues to make cuts on the resources.
According to Fox Sports, West Coast, Geelong and Richmond all argued for a greater increase by more than $1 million to the soft cap back in May, whereas other clubs - including North Melbourne - were happy for the cap to remain at its level following the COVID-19 crisis cuts.
"These type of things you're happy to take a risk on because you can resource it but we just don't have that anymore," Simpson added.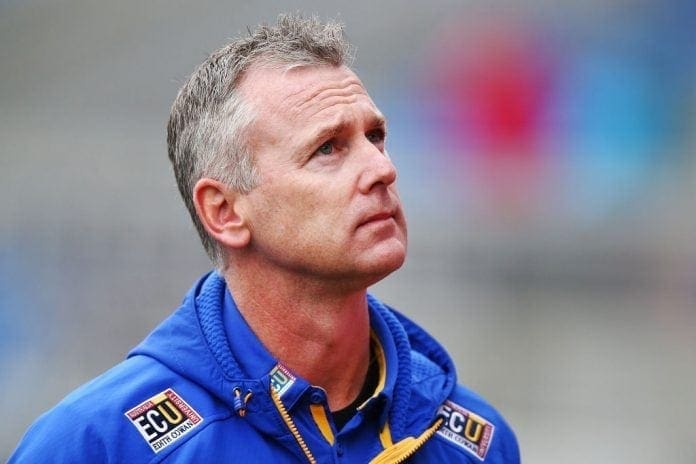 Simpson released a statement following his comments on the situation, clarifying the point he was looking to make whilst stating his apology.
"I would like to clarify some comments which have been misconstrued after an interview I did with 3AW during the week," the statement reads.
"The point I was making around drafting young players in the current environment with football department resources being stretched, is that it becomes more difficult to provide the necessary support to help some kids succeed.
"Our club and I have always supported diversity and the various pathways available to them to play at the highest level and we will continue to do so. We all love those great stories and celebrate the people who take different journeys to make their mark on the game.
"We all want to see risk-takers, don't we? We will always select the best players and people for our club. We take great pride in having a positive influence on the players we draft, so they are better players and people whenever they leave the environment.
"I sincerely apologise if I have offended anyone with the reports that have stemmed from the initial interview. It was never my intent – nor has it been the club's position – that any players would receive preferential treatment."