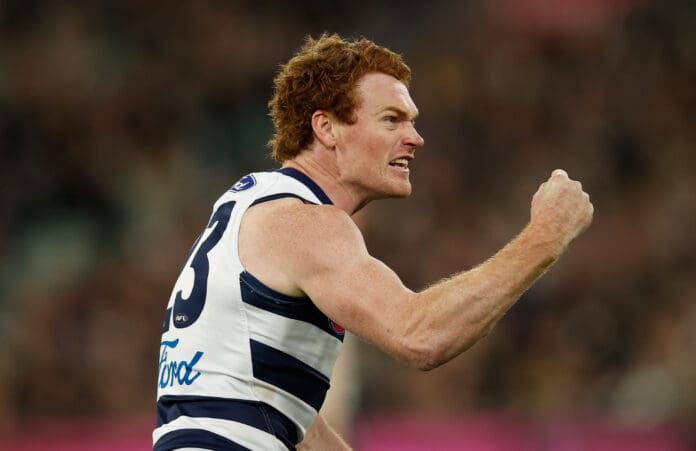 Nobody was meant to be thinking it.
And for those that fixed themselves before the box or filled the stands in any of his recent finals outings, nobody was expecting it either.
However, in the end, for Geelong to get over the line and shake off their qualifying finals horrors, it took the most maligned Cat to claw his side over the line.
Across his last four finals, Rohan has justifiably earned the punter's chagrin.
Five touches in a grand final, followed up by just 26 for an entire series, with only four shots splitting any of the sticks.
With Rohan feeling the acid ahead of Geelong's latest qualifying final, Cats head coach Chrs Scott - a lifelong defender of peers and pupils - jumped to the redhead's defence.
"I just don't buy that there's pressure on him," Scott said during the humdrum of the week.
"I don't think anyone who knows footy is thinking, 'For Geelong to win, Gary Rohan has got to dominate'."
But while Scott's words could only be seen as a vertical bat plonking the ball back down the wicket, they acted as both an invitation and, ultimately, a prophecy.
Given Rohan's recent numbers, few of the 91,525 that rolled through any of the MCG's 7 gates would have had the tried and tested commodity coming out as the hero.
However, nobody told Gary.
Although able to compile 12 touches and a pair of majors by the cessation of the third term, even if Rohan's three marks and two tackles had proven welcome as the game remained in the clinches, they hardly foreshadowed what was yet to be etched.
With his contemporaries, on either side of the ball, trading scoreboard barbs - Johnson with a jab, Cameron from the turnbuckle, Elliott from celebrity row and De Goey in the dying rounds - it was Rohan's rise, grab and goal from a Cobden mile out that stapled the contest closed.
Yet, for the the 31-year-old, on the final year of his deal at Kardinia Park, there was still time for shade amongst the light, with his botched chest mark, trip and nerveracked assist sewing it up for good.
Falling flat on his hide did little to add polish to what will forever be his day, Rohan's efforts to feed Max Holmes in the minutes after his long-range major saw him join namesakes in the annals of Ponsford Stand lore.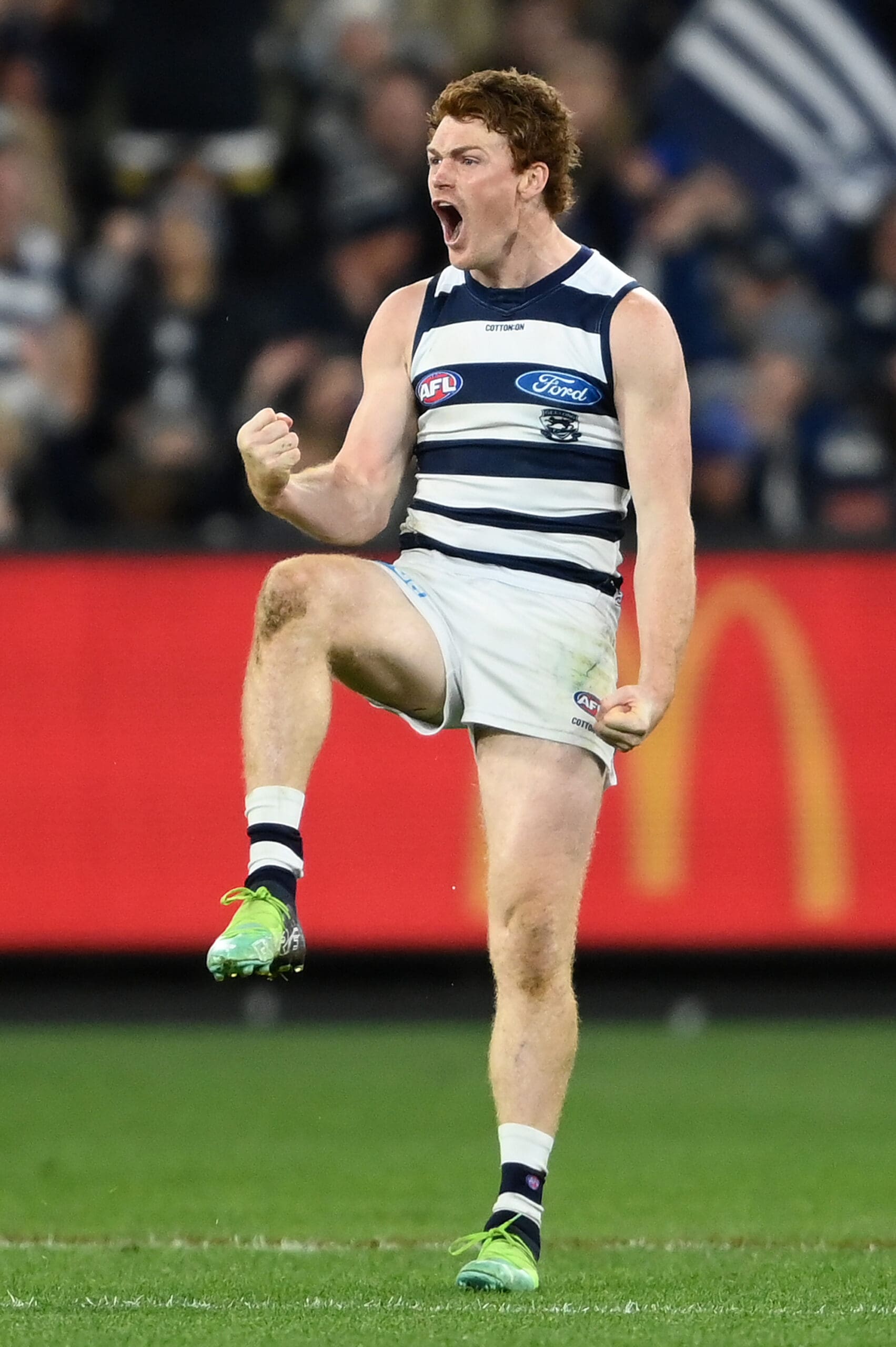 Given the shallower stakes, Cats fans may not recall Rohan's goal for eternity like Gary Ablett Snr's blade through North Melbourne's heart in '94 and the son of man's scything run in '07, but if an irritable drought is to end this Spring, then it won't be for nought.
Speaking in the wake of a final that had the nicotine averse pleading for ignition, even if most were basking in Rohan's glow, Scott claimed he lived in a different sphere - one only the forward facing could find.
"I prefer just to speak about today and the moment and not get drawn into the past," Scott retorted to early questions regarding Rohan.
Still, while the walls were up, with his bat, once again, plonked over the popping crease, even Scott could concede the warm sentiments surrounding his oft slandered forward.
"It is gratifying, I don't mind saying that," Scott added.
"We are really clear on what he can bring to our team, in the way we play. He's absolutely an energy giver. His teammates love playing with him. I'm just really proud of him today."
Throughout the course of a press conference that jumped between prickly, po-faced and droll, Scott stated that symbols meant little to him and his clowder.
But with Geelong earning their pass through to a preliminary final less than 24 hours after Sydney cracked Melbourne at the same venue, it would take a skewer through the eyesocket to have missed the enhanced liklihood of Rohan facing his former side in what would be his third decider.
Symbols may not be Scott's go, but for the bloodnut who bled for the Bloods, the signs all point to a poetic chance to rid himself of the managerie of monkeys that seem to wake every September.
At least in our world anyway.