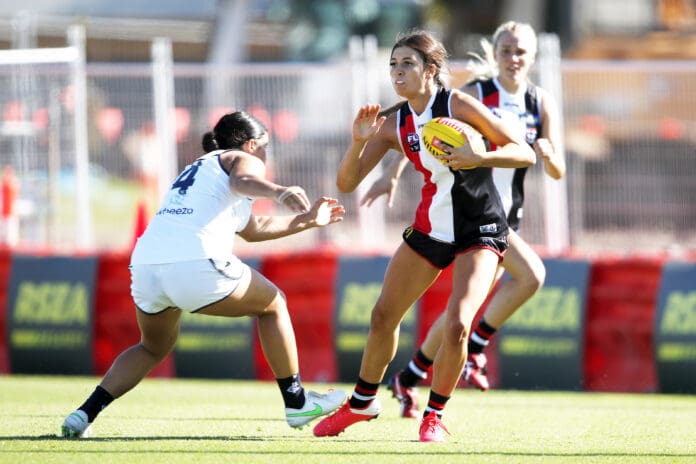 St Kilda star Georgia Patrikios has taken a leave of absence from the club just months ahead of the upcoming AFLW season.
All sides have looked to make a return to training ahead of Round 1 in January, with Patrikios' decision to step away from the Saints a major blow to their early premiership credentials.
A two-time best and fairest, the 20-year-old was named in the 2021 AFLW All-Australian team following a career-best campaign in the red, white and black.
As reported by AFL Media's Sarah Black, Patrikios will take leave for an unknown period of time, with the Saints releasing a statement in regards to the midfielder's decision.
"Georgia Patrikios is currently taking time away from the club," the statement reads.
"The club is committed to supporting Georgia through this period and will continue to ensure she has access to support and personal welfare services.
"We ask that Georgia's privacy is respected at this time."
AFLW clubs have made a return to training following a delayed season start for their 2022 campaign amid the impacts of the COVID-19 pandemic.
St Kilda are the only Victorian club yet to confirm their vaccination status ahead of the 2022 season, with all seven local rivals having revealed every player has already received at least one vaccination.
The AFL released its vaccination policy for the upcoming AFL and AFLW campaigns, requiring all players to be fully vaccinated in order to play, train and attend club premises.
The league's requirements state players must have received their first dose by October 22 and be fully vaccinated by November 26 this year for Victorian clubs, in line with the state government's directions.
The AFL also stated that should players not comply with the requirements in the abesnce of an exemption, clubs have the capabilities to:
Transfer the Player to the inactive player list (meaning the Player can be replaced) and pay the Player 25% of (for AFLW) their contracted salary or (for AFL) the CBA minimum base salary
Keep the Player on their playing list (meaning the Player cannot be replaced) and pay the Player not less than 25% of (for AFLW) their contracted salary or (for AFL) 25% of the CBA minimum base salary
Terminate the Player's playing contract with the agreement of the Player
Exercise any rights the Club may have at law to terminate the Player's playing contract, but such rights are not to be exercised prior to 18 May 2022.
The AFL are yet to confirm the fixture for Round 1, with the opening weekend of play flagged to commence January 6 – 9, 2022.