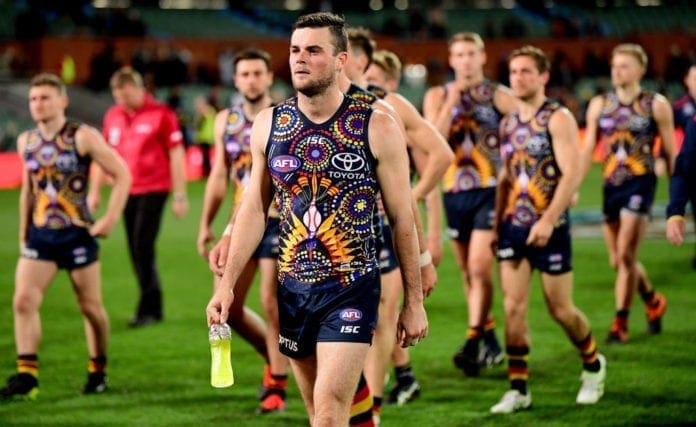 New St Kilda recruit Brad Crouch has opened up on his final few years at Adelaide, stating he now needs a clean slate after a "frustrating" ending to his career at West Lakes.
Crouch, 27, departed the 18th-placed Crows at the conclusion of the 2020 season, exercising his free agency rights and joining St Kilda on a reported four-year, $700-per-season deal.
The hard-nosed onballer was a key member of Adelaide's 2017 Grand Final side, where the Crows fell one step short of premiership success as Richmond were victorious with an eight-goal advantage.
Since the defeat, the Crows have won just 25 of 61 matches and finishing no higher than 11th, with Crouch telling SEN he was keen on a new beginning.
"I definitely did (need a fresh start)," Crouch told SEN Breakfast.
"I probably felt it for a couple of years while I was over in Adelaide.
"I don't know whether I was getting run down in the same environment, I think the way that we were playing at different times late last year was a bit frustrating.
"For me, I want to get back to playing good finals football again and being in a decent team."
Despite losing several key figures since 2017, Crouch believes the club held enough manpower to deliver in 2020 and should have won more than just the three matches.
"It was hard to deal with because we still felt we had a lot of the personnel around," Crouch said.
"We lost five or six key personnel but at the same time we were still under performing in comparison to what sort of talent we had on our list.
"It was definitely frustrating but it's refreshing for me now to go and have an opportunity somewhere else."
Crouch will return to face his former club when the Saints host the Crows in Round 13.