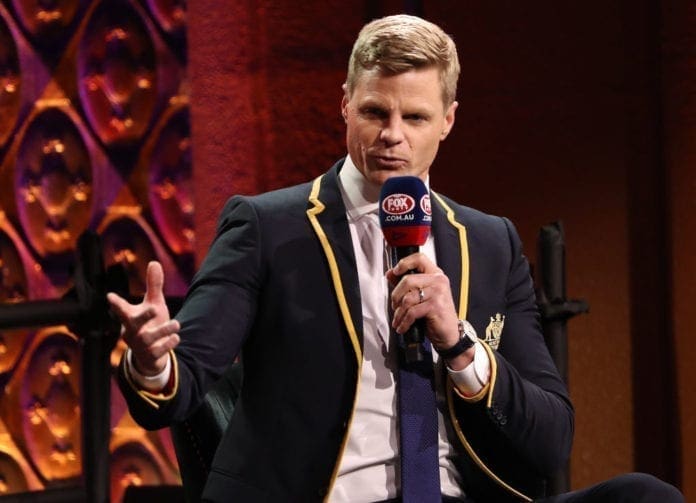 St Kilda great Nick Riewoldt and two-time premiership Swan Jude Bolton headline changes to the AFL and AFLW All-Australian selection panel, with Luke Darcy resigning from his position on committee.
Riewoldt and Bolton will join the adjudicating body for 2021, filling the spots previously held by Darcy and the late Danny Frawley.
After joining the Western Bulldogs in a directing role, Darcy announced he would step aside from his duties on the selection panel.
Two former champions of the game have been appointed as All-Australian selectors, with changes also made to the @aflwomens panel.

— AFL (@AFL) February 15, 2021
The AFLW selection committee have also added two renowned names to their All-Australian jury, with two-time premiership Crow Courtney Cramey and former Demons and Cats defender Melissa Hickey joining the panel.
"We look forward to Courtney, Jude, Melissa and Nick's unique insights and perspectives on the game as members of the AFL and AFLW All-Australian selection panels, respectively," AFL football operations boss Steve Hocking said, per Fox Sports.
"Each player has enjoyed a decorated career in their own right and their success as players has them well-placed as selectors of men's and women's All-Australian teams for years to come.
"On behalf of the AFL, I would also like to acknowledge and thank Luke for his contribution as a selector over a period of 10 years."
AFLW All-Australian Selection Panel
Nicole Livingstone (chair), Sarah Black, Courtney Cramey, Tim Harrington, Melissa Hickey, Steve Hocking, Sharelle McMahon, Kelli Underwood, Josh Vanderloo, Shelley Ware.
AFL All-Australian Selection Panel
Gillon McLachlan (chair), Kevin Bartlett, Jude Bolton, Steve Hocking, Glen Jakovich, Chris Johnson, Cameron Ling, Matthew Richardson, Nick Riewoldt, Warren Tredrea.