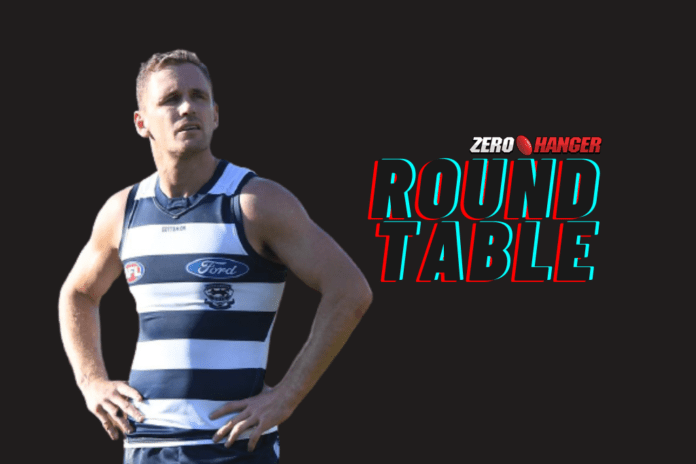 There is nothing worse than an umpiring howler. To the naked eye of many everyday football fans every umpiring decision is considered complete rubbish or "BALLLLLLLL". But when a last minute decision costs a team the four premiership points, it comes under heavy scrutiny by all, sometimes even by the AFL.
There have been a number of examples through the early stages of the 2021 season, with contentious umpiring calls unfairly sealing the fate of a number teams.
The Round 2 clash between Geelong and Brisbane saw a contentious no call cost the Lions dearly, when Zac Bailey arguably pinned Mark Blicavs holding the ball right in front of goal with 10 seconds on the clock.
SEE ALSO: AFL release verdict on Cats v Swans umpiring decision
And again just this weekend, Geelong were on the other side of an unfavourable umpiring decision. With time running low late in the fourth quarter, a Jeremy Cameron mark was considered not to have travelled the required journey and costing the Cats a close range shot on goal close to the siren.
It's clear that Jeremy Cameron should have been awarded the mark on the goal line last night, but would he have kicked it from that angle after the siren?#9AFLSFS | Watch @channel9 pic.twitter.com/BTrS0dwL1S

— Footy on Nine (@FootyonNine) May 2, 2021
Both decisions were later admitted to be incorrect by the AFL, and consequently have provided many talking points. The most recent of which has been the inclusion of a 'Captain's Challenge'.
Ex-St. Kilda champion Leigh Montagna has urged the AFL to consider the introduction of a Captain's Challenge to fix the umpiring howlers that cost teams premiership points.
"We have to get up to date with the times." Montagna stated on Fox Footy's First Crack. "Every other sport around the world has the ability on-field to challenge the decision… Why don't we get to that stage now with the AFL?"
It's a fair question to ask. The NBA and NFL in America have coach's challenges. Cricket has DRS. Soccer has VAR. All have the ability to take a closer look into pivotal plays within a match and ensure that the correct decision is made. Although the AFL has "The ARC", but is it enough?
SEE ALSO: Former Cat and Saint has day out in state league with 248 ranking points
It has been heavily debated within the Zero Hanger office, with our team all having their take on the topic. Should the AFL introduce a Captain's Challenge? Check out the responses below!
Nick Splitter: The Captains Challenge concept is an interesting one as Leigh Montagna is right – many other major sports across the globe feature a challenge of sorts. But AFL is different. We've established the ARC review system for scoring, and we've already seen complaints about how long that process takes in a game that is – right now – increasingly getting longer and longer.
My question is how is it managed? Is it only for certain types of free kicks? What happens if the ball is in play when the challenge is called? Do the umpires stop play? If play continues and a goal is kicked 90 seconds later, does the ball go back to the point of the incident? Australian Rules Football is a much more fluid game than many of the other codes Joey mentioned and I think while the concept is fine as a standalone theory, in practice, there are far too many variables in play at any time to make it a realistic possibility in the short term. It's a no from me.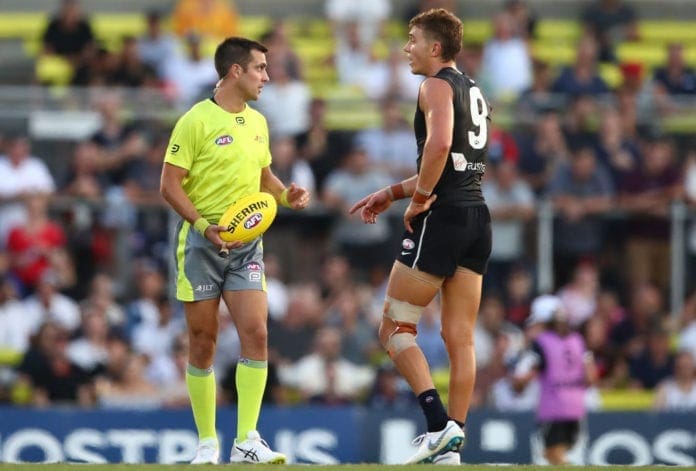 Mitch Keating: Yep. Would make an umpire's decision accountable at the time and not after the match. One successful review per game for either side shouldn't bring the game to a halt all too often.
Jake Benoiton: A captain's challenge is a ridiculous idea, the game already has enough stoppages and delays with score reviews and the 60 second break between goals and the bounce. A captains challenge would quickly be manipulated as a way to slow the game down for teams needing a moment to set-up, there is no need to bring in another way for players to slow the game down. Would be abused quick-smart.
Ed Carmine: With coaches and pundits already complaining about the current length of the game, it would make very little sense to add a 'captain's challenge' in the near future. Although this may work in other sports that operate with a 'stop/start' type of nature, the fact that our game flows, is attritional and has imperfections is what makes it so entertaining. Any efforts to correct these perceived unsound elements are likely to prove futile.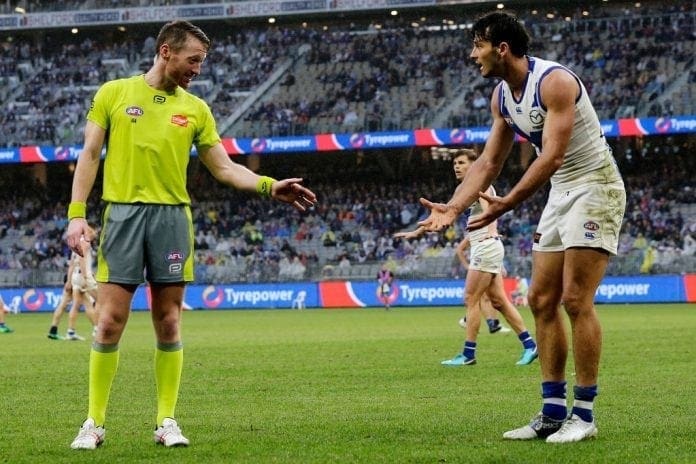 Ed Lemmo: Introducing a Captains challenge is a knee jerk reaction to the past round's umpiring indiscretions. The only way I would see a major change in overriding previous calls is ARC to introduce a fourth umpire that would oversee and review 50/50 calls.
However, the suggestion that we need to look to other international sporting leagues for inspiration in order to combat these issues are not in the games best interests. Some of the most talked about footy folklore stories have all been deeply rooted in highly questionable umpiring decisions, so where would the drama be in footy if every decision is cut and dry? Keep the drama in footy, some calls will be ambiguous, but in the end, introducing a captains challenge could create more issues than it solves.
Cameron Kellaghan-Tasker: I think that the AFL should introduce a Captain's Challenge or a challenge of some description in the near future. The question is how would they do it without ruining the free-flowing nature of the game that makes AFL so great and unique? It will most likely be clunky and provide a number of challenges to implement early, whether it be how many each team gets, what they're allowed to challenge, who get's to make the call, etc. But it has to be something that is strongly considered.
The VAR wasn't the most well-oiled machine to start with but now has to be considered a success, helping ensure the best calls are made every match. I believe that is the natural progression for the ARC. We have officials watching every game, we might as well utilise them to prevent further costly missed calls.
What are your thoughts on a potential Captain's Challenge? Is it a good idea or will it ruin the game? Let us know in the comments section!