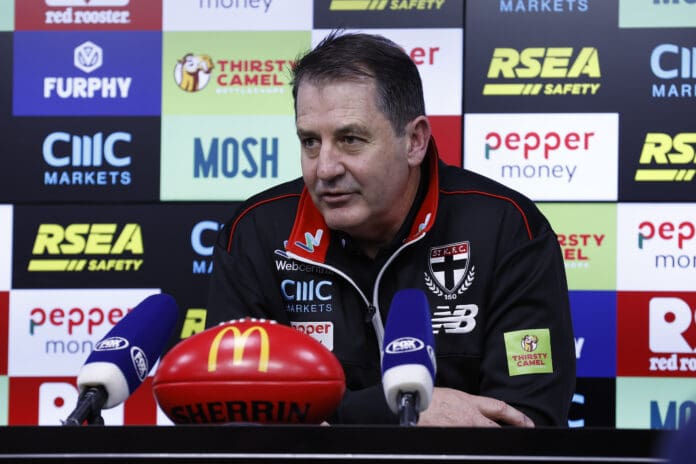 Another box-office Ross Lyon press conference followed St Kilda's Sunday twilight win over North Melbourne, with the Saints coach addressing a trio of topics before even addressing any media questioning.
A primary point of concern for Lyon revolved around an injury to star runner Brad Hill, who was forced out of the match and escorted to hospital following a heavy collision with North Melbourne's Aidan Corr.
SEN's Tom Morris revealed on Monday morning that Hill was coughing up blood after the incident, with St Kilda's coach revealing no further details regarding the type of injury or extent.
Lyon did feel the need, however, to comment on his star veteran's valuable contribution to the club despite a relatively maligned tenure with the Saints.
"I hope everyone involved with the club saw what he stood up for tonight," he said.
"He's been pretty special for me since I've been through the door. 
"I know there's been criticism wrapped around Brad, all I know is he's a three-time premiership player, stood up on the biggest games, and runs himself to death."
However, arguably the most intriguing moment of the night came when Lyon took aim at Marvel Stadium's ground managers for failing to appropriately manicure a suitable playing field for the match.
The stadium's roof was left open overnight, allowing rain and dew to affect the surface.
Lyon was particularly critical of Sunday's playing surface, stating the football was "like a cake of soap" and adding his belief that the game's broadcasters "have a right to be disappointed".
"It was like a cake of soap for both teams," Lyon claimed. "Seats were wet for fans ... I think our broadcasters have a right to be disappointed.
"We rang the ground manager pre-game, they didn't know why (the roof was left open)."
Reading between the lines, it seemed Lyon felt the gravity of the contest wasn't respected by Marvel's management.
"I'm pretty sure if it was Essendon v Bulldogs, Friday night, they wouldn't have left it open all night, all morning," he said.
"I thought we got treated with contempt, both clubs."
While an eight-point defeat of North Melbourne left fairly little to celebrate, Lyon was pleased with the character of his young squad and their ability to "dig out" in the final term.
"A few people stood up; (Mitchito) Owens in the ruck, (Rowan) Marshall forward … Cooper Sharman went to (Ben) McKay [and] did a good job, (Jack) Sinclair again into the midfield.
"That quarter resembled basically how we were playing in the first seven weeks of the year," he said.
The Saints are clearly down on form, though, despite sitting sixth on the ladder late into the season with another winnable battle against Hawthorn upcoming.
Since their 5-1 start, St Kilda's youth and inconsistent ball movement has been exposed by teams like Adelaide and Gold Coast in bad defeats, while Hawthorn, West Coast and North Melbourne have all challenged the Saints with tight tussles going down to the wire.
While a finals berth remains a very realistic possibility, it is clear that Lyon is looking further down the line, focussing primarily on youth and consistency with performance.
"There's just wild swings in our ball movement ... We need to find a happy medium. 
"(Anthony) Caminiti, (Mattaes) Phillipou, Mitch Owens... they're only babies."
Few picked St Kilda to play finals during the pre-season, and few are jumping aboard now despite their position ahead of Round 20.
The rise of Carlton, Geelong, GWS and Essendon has seduced the majority of tipsters enough to exclude St Kilda from their top eight, however, a Sunday afternoon clash with Hawthorn at Marvel Stadium presents another opportunity for the Saints to keep their top-eight spot intact.
It is yet another dangerous game for St Kilda against a side that upset them just nine weeks ago, and with just one win separating 5th and 11th on the ladder, it is a must-win game for Lyon and the Saints.