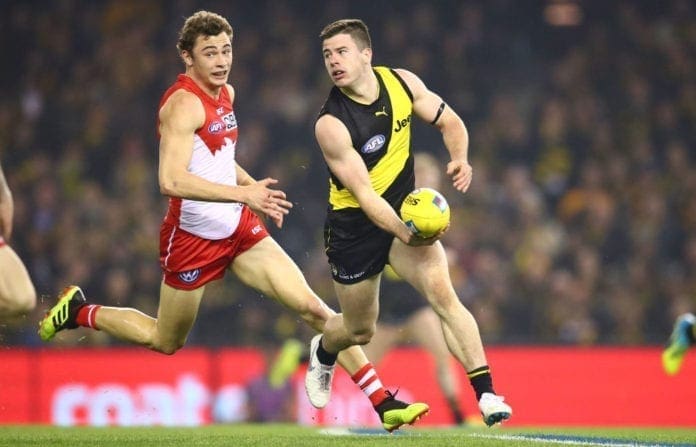 Richmond live wire Jack Higgins is reportedly attracting interest from rival clubs while Gold Coast continue to show curiosity in teammate Nathan Broad.
Higgins suffered a brain bleed in 2019 and after a steady recovery, made his return to the training track late last year. The 21-year-old featured for the Tigers in their opening pre-season game but has since struggled to break into Damian Hardwick's side.
According to SEN's Sam Edmund, the out-of-luck forward has gained interest from rival clubs.
"I think they may have been a few calls made (by opposition clubs) on this," Edmund said.
"Whether he'll leave or not seems wildly unrealistic, I think he stays and he's got Richmond very much running through his veins and given everything he'd been through from a health perspective, it would be really hard to prise him out of there.
"Given his status (not being in the side), definitely calls have been made."
Higgins is contracted with Richmond until the end of the 2021 season, while Broad remains without a deal for next season.
Broad is understood to be in the sights of the Suns, with Edmund revealing there is some interest in the 27-year-old.
"Nathan Broad remains unsigned at Richmond and he's been linked to Gold Coast, who have a lukewarm interest.
"They're not red-hot on him, it's more lukewarm given what they've got in that position."