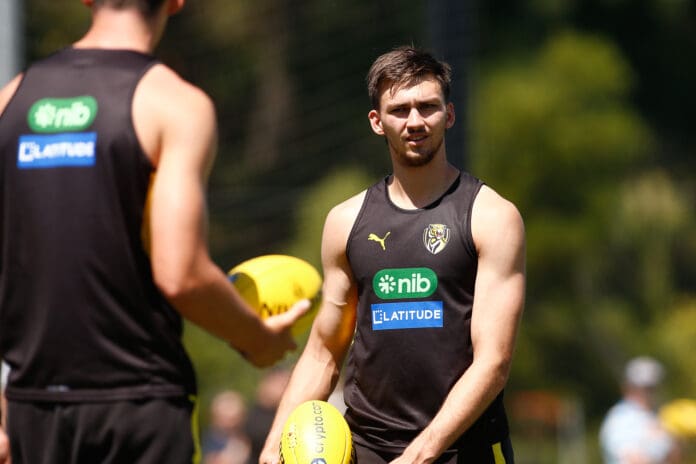 Richmond key defender Josh Gibcus will be sidelined for the remainder of the 2023 season as he continues to nurse a burdensome hamstring injury.
On Tuesday evening, via Richmond's official injury update, the Tigers decided Gibcus won't play again this year, as he continues to experience discomfort in his hamstring after injuring it during the pre-season.
Gibcus, a second-year key-position backman, had increased his workload in recovery but felt more issues during training last week that didn't provide positive enough signs to the club that a full recovery could be made at some stage this season.
Richmond General Manager Football Performance Tim Livingstone spoke via RichmondFC.com.au on Tuesday about the Tigers' decision to sideline their young defender for the remainder of the season.
"We have decided to rule Josh out for the season and allow him and our medical staff to turn our focus towards next year and beyond," he said.
"It has been a frustrating year for Josh, and his recovery has had its challenges, but we have been pleased with his attitude and efforts to recover throughout the year.
"Unfortunately, he will not play any football this year, but we view him as a long-term player for us that will grow from this experience."
It was reported earlier in the year that Gibcus could've returned from his hamstring injury suffered in January, however, by May he'd suffered a setback that shifted the club's focus to be more cautious about a potential return.
Gibcus put forth a promising debut season in the back half, averaging 9.2 disposals, 6.6 pressure acts, 5.7 spoils, and 1.3 intercept marks in 2022. Going forward, his size of 196cm and 91kg will provide the Tigers with welcomed help in defence, provided he can overcome this early-career hurdle.
Gibcus was selected by Richmond with Pick 9 at the 2021 National Draft, playing 18 games in his maiden season.